Serious Education ... plus the most fun you can have in metal finishing.
How to remove silica scale from faucets, etc.
(2007)
Q. I am looking for a non-abrasive method to remove silica build up on faucets, shower heads, etc.
Mark Schanfein
homeowner - Los Alamos, New Mexico
---
(2007)
A. Commercial products like Lime Away and CLR are made for the purpose or removing build-ups, Mark. If they are ineffectual, my suspicion is that the problem is actually pitting in the underlying zinc die castings. That can't be fixed.
Ted Mooney, P.E. RET
finishing.com
Pine Beach, New Jersey
---
(2007)
Q. Ted,

Thanks for the feedback, indeed Lime and CLR do not work, and the white build up I am talking about is on the plastic shower nozzle and the interior glass surfaces of the shower stall. Our water analysis shows high concentrations of silica. Is there a chemical approach to remove this type of scale?
Mark Schanfein
[returning]
- Los Alamos, New Mexico, USA
---
(2007)
A. Those cleaners are essentially organic acids for removing carbonates of calcium and magnesium. They won't remove silica, which is itself acid (at least chemically, although it's not corrosive-type acid).

Just because the water has a high silica content, does that necessarily mean the deposits are silica? Maybe it's just soap scum that will come off with an alkaline cleaner?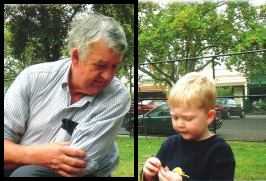 Bill Reynolds
consultant metallurgist
Ballarat, Victoria, Australia
We sadly relate the news that Bill passed away on Jan. 29, 2010.


---
(2007)
A. You might try cleaning it with a solution of 2 -4 tablespoons of bicarb of soda in hot water, followed by a rinse followed by straight white vinegar. Repeat two or three cycles and see if anything happens. Scotch brite, even fine ones will probably scratch the plating.
James Watts
- Navarre, Florida
---
(2007)
Q. Actually, my public works department said to try Lime Away and CLR and if that did not take it off, it confirmed it is silica. Definitely not soap scum, especially on the shower head. It is also building up on the glass shower door. I can scrape it off with a razor blade. That is not a practical approach for a showerhead that is made out of plastic with the water slots filling up with the deposits and so the desire for a chemical approach. It looks like there is not one from the responses so far.
Mark Schanfein
[returning]
- Los Alamos, New Mexico, USA
---
(2007)
A. I have the same issue and have tried EVERY product that there is without success until I found this one. It is called A-maz =>

from www.somaca.com and it comes with a scrubby. You must work the product very hard but it will remove everything. Then I use a glass product made for car windows to repel water and apply two coats (Aquapel). Even with this protectant my water has so much silica that I clean over this 1x per week with kaboom. Reapply repellant 1x per month. When I first used A-maz I did not think it worked. Then my contractor brought some over and really worked it in and it did most of the trick. Good luck!
lois cole
- salem oregon usa
---
(2007)
A. We've had the same problem and found a product called Spot X [link is to product info & reviews at Amazon] that works beautifully. Also, as far as the showerhead, CLR [linked by editor to product info at Amazon] will do the trick but you must soak the part in full strength CLR for 24 hours or so. Hope this helps.
Eddie Cruey
- Davidson, North Carolina
---
November 27, 2008
A. Mark from Los Alamos is right about the high silica content in our water. I live nearby and have the same problem with these white-ish spots on my shower door. I had the water tested and confirmed my water had unusually high silica levels. I have tried all the usual remedies but the one that did work and removed over 8 years of silica deposits is A-maz.
I used a Black & Decker mouse =>

with a non-abrasive polishing pad [a surface similar to a 3M "scrubby] and applied the A-maz to the shower door, let it dry over a few minutes and then applied the mouse to the area. I would wet the polishing pad with liquid spray A-maz every so often to loosen up the dried Amaz paste on the pad and this would continue to remove the silica from the glass. The glass shower door is as clear and bright as the day it was installed!
Chrys Fisher
- Santa Fe, New Mexico, USA
---
April 30, 2016
A. The white spots on the bathroom fixtures, sinks, shower doors, shower heads are indeed silica! CLR (Calcium-Lime-Rust) will not remove them! Razor blades or steel wool, or Scotch Brite pads (mechanical operations) will remove the silica -but scratch them in the process. About 30 years ago, we were able to buy a glass cleaner at our local hardware store (I think it was called 'Sparkle' at the time - not the stuff called Sparkle now) that was dilute hydrofluoric acid (on the label) and would remove the subject spots. I've tried to buy hydrofluoric acid via internet vendors - but the ones that I have tried will not sell to a residential address, even though I run a technical business out of my house/garage/lab.
Louis Rosocha, PhD
Applied Physics Consulting, LLC - Los Alamos, New Mexico
---
September 14, 2016
A. Source for 3% hydrofluoric acid:
shopwindowcleaningresource.com/crystal-clear-740.html

Crystal Clear 550
Mike Strevell
- Los Alamos, New Mexico US
---
January 10, 2017
A. A source of weak hydrofluoric acid was available under the trade name "Iron Out". It was a small brown plastic bottle found in the laundry department of many stores and was used to remove iron stains from fabrics. There are two types of Ironout and I don't recall what the new one contains. The brown bottle contents will certainly remove silica stains but be wary of using it on glass. Wear polyethylene gloves and avoid skin contact. Hydrofluoric acid is extremely bad news for you.

The second product is "Cerama Bryte" that is used to polish glass stove tops. It contains a fine abrasive and citric acid. Excellent for removing silica stains from glass shower doors.

Make sure to get rid of the soap scum first before using either product. Soap scum will block the chemistry from happening.
Kurtis Kelley
Materials Engineer - Saint George, Maine, USA
---
January 2017
A. Hi. Hydrofluoric acid is very dangerous, so people should not use it unless they are familiar with it and trained regarding it, are following directions to the letter, and have calcium gluconate gel =>
on hand. But, yes, there are some products available to consumers which contain it, including Whink [linked by editor to product info at Amazon] (this comes in a brown plastic bottle). Good luck.
Regards,
Ted Mooney, P.E. RET
finishing.com
Pine Beach, New Jersey
---
March 26, 2017
A. Read the feedback.

Silicates are tenacious and difficult to remove. Those suggesting "greenie" solutions of Vinegar and Bicarb soda then scrub it have fallen into the trap that the Vinegar and bicarb do SFA and it's the physical agitation that eventually removes the scale. Vinegar (acetic acid 5%) works on carbonate scale but NOT on silicate; full stop, end of story.
Mild solutions containing hydrofluoric acid (HF) are the only solution to silicates scale. WHY? Because it's the same acid that's used to etch glass (Silica). Agree with previous comments; please be exceedingly careful with any solution that contains HF. I would advise:
1. Please read up as much as you can prior to use.
2. Don't get it on glass; it will etch the glass very quickly and permanently.
3. Only use where you can control the run off drips & splashes 100.00% to ensure that the acid is completely washed away at the end of the treatment.
4. Calcium Gluconate gel is the antidote for skin contact after immediate washing with water.
5. Serious contact WILL REQUIRE hospital treatment.

Now if you still want to do this you can find many HF containing cleaning solutions in aluminium mag wheel cleaners as manufacturers use SULPHURIC ACID mixed with SODIUM HEXAFLUORIDE to make HF in the mixture but don't have to declare it on the label as they never added it into the product.

OK, last bit of advice : consider very carefully the potential of this to go wrong and the cost of a new shower head.

Regards,
Anthony Symons
Integrated Hygiene Management - Lawson Blue Mountains Australia