Live! From beautiful Pine Beach New Jersey: Welcome to the world's most popular metal finishing website
topic 46130
Gold plating over stainless steel
A discussion started in 2001 but continuing through 2018
2001
Q. I need to plate gold over a stainless steel housing for solderability and cosmetic purposes. What is the recommended thickness of gold and do I need an interlayer plating for adhesion or migration reasons. If so, what options do I have and what thicknesses should the interlayer be. I can not use nickel due to high losses in RF applications.
Rob McCulley
- Salisbury, Maryland, USA
---
2001
A. You might try a product from Enthone called "Aurobond TCL". It is designed for plating a gold strike over stainless steel. We use it on stainless steel for decorative plating strikes. You then could follow it with a thicker layer of gold in the 1.5 micron neighborhood. That way you can avoid nickel altogether.
Good Luck!
David Vinson
Metal Arts Specialties - Leonard, Michigan
---
2001
A. If you want to plate gold on stainless steel you can plate directly by OneStepGold, you can get from Gold Touch, but you have to use brush plating system.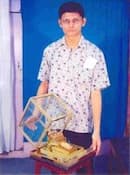 Dipen Pattni
jeweler/goldsmith - Dar-Es-Salaam, Tanzania
---
---
To minimize your searching efforts and to offer multiple viewpoints, we've combined some threads into the dialog you're viewing. Please forgive any resultant repetition or failures of chronological order.
---
---
Gold plating on stainless steel battery contacts
2002
Q. I want to do 0.25 micron gold plating on stainless steel battery contacts which have to be soldered on PCB afterwards. I would like to know with what material shall I pre plate these stainless steel battery contacts, and what type of gold plating would be best for my requirements.
Thanks,
Alok Narang
- Delhi, India
---
2002

A. You'll want nickel plating under the gold, and a "hard gold" topcoat, I believe.




Ted Mooney, P.E.




finishing.com




Pine Beach, New Jersey




Striving to live "Aloha"





---

2002

A. Start with a nickel strike for adhesion and then use a high purity soft gold (99.9%) for solderability. You will get better results with a thicker plate, maybe 1 to 2 micron.

Neil Bell
Red Sky Plating

Albuquerque, New Mexico




---
2002

I'll defer; my book knowledge is trumped by Mr. Bell's hands-on knowledge :-)
Ted Mooney, P.E.
finishing.com
Pine Beach, New Jersey
Striving to live "Aloha"
---
---
2004
Q. Hello ,
I am trying to find out the viability of gold plating over stainless steel & /or porcelain. As an enthusiastic property developer I wish to install gold plated toilet fittings , including the toilet bowl! I assumed a readily available stainless steel bowl would make a good start if such a plating process is possible?
If so could someone elaborate as to the recommended process; I might then try to find a tradesman to reproduce.
If not could someone indicate whether porcelain is possible as similar to gold detail used upon china / crockery?
If gold is not possible / viable / recommended for either material could someone recommend another metal to plate either substrate that would look similar to gold ? Maybye even cheaper if I were lucky! Thank you in anticipation.
Darren Yandle
Property Developer - Seymour , Victoria, Australia
---
2004
A. Gold plated stainless steel toilet bowls have already been employed on luxury private jets, so if you investigate that field you will find plating shops who know what to do. I don't see any particular reason you could not apply gold edging to porcelain as is done on fine china, either.
silly :-) But if I had that kind of money, I could put it to better use than flushing it down a toilet :-)
Ted Mooney, P.E.
finishing.com
Pine Beach, New Jersey
Striving to live "Aloha"
---
---
Gold plating on stainless steel watch case
2003
RFQ: I am looking for a jeweler who can restore the gold plating on my Movado watch case.
Robert C
[last name deleted for privacy by Editor]
- Palm Springs, California, USA
---
---
2007
Q. I am a jeweler. I have been tried to do different way to gold plating on stainless steel. I used nickel plating before I work on gold plating, but it never bonds good on stainless steel. Please give me advice, thank you
Don Truong
owner - Houston, Texas
---
2007
? Don, How can anyone help you if we do not know the process that you are using -- concentrations, times and amperages (+ rinses).
James Watts
- Navarre, Florida
---
2007
A. You need something called a Wood's Strike. It's nickel chloride, in a solution of hydrochloric acid. Follow that with a standard Watts nickel plate; then, the gold. This should make a nice adherent deposit.

Dave Wichern
Consultant - The Bronx, New York
---
2007
A. Hi Don,
There are golds that plate directly on s/s. Normally an acid gold strike is used, followed by a hard acid gold, if you need additional gold plated thickness. Precious metal suppliers can help you with the proper acid gold strike.
Another option would be to use a low efficiency Woods Nickel Strike directly on the s/s to obtain good adhesion, followed by your gold plate. Good Luck!
Mark Baker
Process Engineer - Syracuse, New York
---
---
Adhesion criteria for gold plating stainless steel connectors
2007
Q. I have some uncertainty on what constitutes acceptable adhesion on gold plated, stainless steel connectors. It is custom to do the "crush" test where the part is compressed until it fractures. What I see is that there is loss of adhesion between the Wood's Nickel strike and the 303 SS substrate. This is only happening in the most highly stressed areas around the fracture. The plate cannot be lifted back from there. Also I used abrasive blast to remove the plate and I saw no indication of blistering. The edges were well feathered. I also cut through the plate with a knife and could not get any lose plate. Is the crush test practical to judge these connectors in real life applications? It would seem to me that a customer would have to crush the connector to ever realize any plate adhesion problem. Does anyone have any advice on this?
William Calvert MSF
Plating Shop Employee - Philadelphia, Pennsylvania, USA
---
---
May 31, 2009
Q. I'm looking to manufacture a charm and need some advice. I want the piece to look like 14k gold but don't want the expense. What material should I use to make a beautiful looking gold piece without spending the money. Metal with gold plating possibly?

Thanks for your help!
Lauren Murphy
- Redondo Beach
---
December 16, 2011
A. Hi, Lauren.
The substrate could be copper, brass, bronze, nickel, or german silver with gold plating. Rather than applying a thick and durable layer of gold, you can apply a thin layer (say 20 millionths of an inch) followed by a clear e-coat or other clear coat. God luck.
Regards,
Ted Mooney, P.E.
finishing.com
Pine Beach, New Jersey
Striving to live "Aloha"
---
---
Gold plating on stainless steel
November 21, 2015
-- this entry appended to this thread by editor in lieu of spawning a duplicative thread
Q. As a first timer I can gold plate a coin. But when it comes to watches how come the gold solution does nothing at all. My kit says alkaline clean then acid activation then plate. Where am I going wrong?
Kai Lung
hobby - England Lancs
---
November 22, 2015
A. Hello, it takes a special gold solution to plate directly on stainless. It is very similar to an acid gold strike. It's been a long time since I worked for a precious metal for electroplating supplier, but you can get the plating solution from a reputable supplier.

Mark Baker
Process Engineer - Phoenix, Arizona USA
---
Gold plating onto SS Foil 304
September 17, 2018
-- this entry appended to this thread by editor in lieu of spawning a duplicative thread
Q. I am plating Gold onto SS 304 using TSG-250 (Transene product) neutral pH. I've had some good luck but the variability is huge and the yield is horrible. Sometimes, I get black residue on the cathode (SS foil). What are reasons for this? I am keeping everything clean and making sure the SS foil surface is prepped, using 10% HCl for 5 minutes.

Can electrode clips contaminate the bath? What is a recommended bath set up?
Tenzin Nanchung
- Boston, Massachusetts, USA
---
September 2018
A. Hi Tenzin. I can't speak for Transene, of course, but I don't think that product is intended for plating directly onto stainless steel.
Stainless steel is a very passive surface and must be activated; ideally you would start with a Wood's Nickel Strike to activate it (you can search the site for numerous threads about Wood's Nickel. If you need a "gold-only" process, there are low efficiency gold strikes that can activate stainless steel but it's probably not TSG-250, and you probably need a sulfuric electro-acid rather than a dip in HCl. Good luck.
Regards,
Ted Mooney, P.E. RET
finishing.com
Pine Beach, New Jersey
Striving to live "Aloha"


If you have a question in mind which seems off topic, please Search the Site