World's #1 on-line resource since 1989
-----
Problems with Phosphor Bronze
1999
Q. I have a diaphragm type spring 5.5 inch dia. x .020 thick of phosphor bronze (ASTM B139) which is required to be electroless nickel plated. My question is will hydrogen embrittlement be a problem with this process as with non electroless plating? We are presently waterjet machining the part and then hand polishing to 20 micro inch before plating.
Howard Waller
- Muskogee, Oklahoma
---
1999
A. I have never seen a reference to a problem with hydrogen embrittlement on any bronze.
1st, it is probably too soft to be a problem.
2nd, It is normally associated with grain boundaries and carbides, but not always.
I will be looking forward to the answer from somebody that knows , for sure.
James Watts
- Navarre, Florida
---
1999
A. I plated a 0.5 mm dia. phosphor bronze wire for my customer. After two weeks he came back complaining that the wire is extremely brittle.
I did a fresh job for him with anodic cleaning and Asymmetric A.C. plating and that worked.
I have not come across any reference that says explicitly that phosphor bronze is prone to hydrogen embrittlement. Vijay
Yashawant Deval
electroplating shop Pune, maharashtra, India
---
---
Increase phosphorus bronze wear resistance
2003
Q. We are using a phosphorus bronze alloy for sizing a polystyrene profile in a cooling tank, an extrusion downstream process. We are using phosphorus bronze for the reason that the output depends upon the thermal conductivity of the sizer material. The problem is that the sizer gets wear lines very soon after about 48 hours of continuous operation and is then discarded. The sizer is a 30 mm round bar with a 7 mm bore which sizes the solid plastic profile. I want to know how can I increase the wear resistance of phosphorus bronze and what type of coatings are possible on the inner side of the calibrator?
Sachin Mutha
EXTRUSIONS - Pune, India
---
2003

A. Sachin, have you considered changing the alloy used? Aluminum bronze would be quite a bit stronger than phosphor bronze, and beryllium copper far stronger than that. Of course, beryllium copper will be far more expensive than phosphor bronze- but if it lasts far longer, it may be worth it, right?

I can't think of any good coating to put on the interior of the die. Perhaps others are more clever.

Good luck!




Lee Gearhart




metallurgist - E. Aurora, New York





---

2003

A. Polystyrene is usually extruded at 390 °F; the downstream temperature is still high enough that you are concerned about thermal conductivity. The wear resistance of phosphorus bronze could be increased by cold-working. I don't think a coating is advisable; it could spall and contaminate the product.

I suggest a switch to a higher strength (harder) material with higher thermal conductivity. The table below shows Cr-copper, low Be-copper and Be-copper alloys give a choice of properties ranging from good hardness/best conductivity to best hardness/good conductivity.

  Cu alloy       UNS#       Yield Strength, MPa    Thermal cond.
  Ph-5%Sn       C51000          131-552*           84 W/m-K
  0.7%Cr        C18500              530           324 W/m-K 
  low Be        C17500          650-870           200 W/m-K 
  Be copper  C17200,C17400     965-1340       105-130 W/m-K
 

*Max. YS for C51000 at max. cold worked condition. Properties for Cr- & Be-copper alloys in precipitation hardened condition. Be-copper has high abrasion resistance; in the injection molding of plastics, Be-copper molds can last for tens of millions of parts. Data are from MatWeb.com, ?Copper and Copper Alloys: Compositions and Mechanical Properties, CDA No. 36, 12th Edn., London (1964), Metals Handbook, Vol. 2, 8th Edn., ASM, Metals Park, OH (1964), Plastics Engineering Handbook, 4th Edn.

Ken Vlach

[dec]
- Goleta, California


Finishing.com honored Ken for his countless carefully
researched responses. He passed away May 14, 2015.
Rest in peace, Ken. Thank you for your hard work
which the finishing world continues to benefit from.



---
---
Phosphor Bronze turns dark red or black
2007
Q. Dear Sir,

We are a Company in India manufacturing Copper and Copper alloy Cold Rolled Flat Strips, Sheets, etc.

Usually we experience blackening/ Dark Brown/ Deep Reddish Color on Copper and Phosphor Bronze Strips, these cut-to-length sheets (size 350 mm width x 1200 mm length x 0.2 mm thickness) are packed as a bundle of 50 to 60 Nos. sheets one over the other and then the bundle is wrapped by a VCI Paper from Daubert; over the VCI we have a Polythene (poly ethylene) sheet which is wrapped over and then taped from all sides. (No Desiccant like Silica Gel is being used as the bundle has no free area and in case we put the Silica Gel bag over the sheets they dent the sheets) over this Polyethylene sheet we tie a Cover of Gunny cloth before final dispatch or transferring to the finished product warehouse.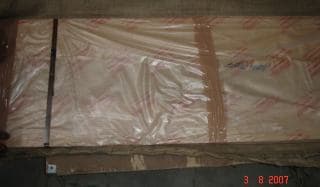 The packed bundle
Surprisingly when the bundle is opened up after, say, around 10 to 15 days we get to witness this:
1. The Top and the Bottom Sheets which are in direct contact with VCI paper have the same original Color. The other side of the sheet which was not in contact with the VCI paper turns black/ deep reddish in the center area.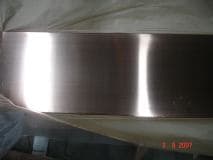 Topmost sheet, in contact with VCI paper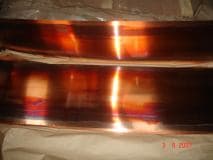 Top sheet lifted to show underside and next sheet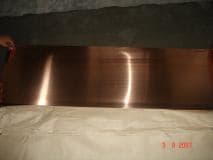 Bottommost sheet, in contact with VCI paper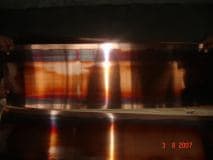 Another discolored sheet in the stack
2. The Rest of the Sheets in the stack turns black/ deep reddish. The sheet color is original to about 50/60 mm from all the edges in a Zig Zag pattern. We attribute this to VCI paper as the vapor could have traveled to only 50/60 mm from the edges and thereby protecting it.
We would request the experts in this forum to help us to provide some measures to prevent this discoloration and to let us know the root cause of the problem.

Process inputs:
i) We pickle the Strips with 10% Sulphuric Acid - Water Rinse - Mechanical Brushing by Nylon abrasive Brushes with lots of water - Secondary Water Spray - Hot Water Spray (De-ionised / RO water (TDS Less than 40) - Heater Blower to dry the Strip - Recoil the Strip - Coil Transferred to Cut to length line - Stack Made - Wrapped with VCI paper - Wrapped with Polyethylene sheets- Taped - Sent to customer or Stored in Our Warehouse.
Questions:
a) What could be the reason of the Strip being discolored, and why is it being discolored, is it Copper Oxide or any other thing.

b) What trials should we carry out to ascertain the actual problem?

c) Any other input which experts would like to give. We would give the feedback after taking trials as suggested by the experts.

d) Some of our staff experiences that if the sheets are allowed to be in open (not Packed) this discolouration does not happen, and if we enclose the sheet in a packing this discolouration would happen. Is this true, if yes could some one explain.

e) One more thing which we would like to share here is that if we recoil the Strip in Hot Condition i.e. above 60 Degree C, after the pickling operation the sheets tend to discolor. Could this be attributed to the condensation of moisture between the coil wraps? If any one has an idea for this it would be much appreciated.
In case you need any further clarification please reply on this forum and we would revert back immediately.

With Best Regards / Vidu
VIDU GOYAL
MANAGER - REWARI INDIA
---
2007
A. Use a light basic solution (less than 5%). Try first with CaCO3. Finally use a ultra light oil film (paper towel impregnated and passed over the metal) in order to avoid all kind of reactions.
Let us know please the results.
Jose Castellanos
- Minneapolis, Minnesota, USA
---
---
Top layer peels off Phosphor Bronze in stamping process
January 23, 2020
Q. We have encountered Phosphor Bronze(C5210R-HC) material peel off after High speed stamping process. Defect area looks like top layer of material came up in certain areas and the particular area noticed abnormal dented part surface. Can you please clarify whether this defect is because of raw material or stamping process.
Sanil Karkunja Ramesh
3G Precision industry - Gelang Patah, Malaysia
---
January 2020
? Hi Sanil. This is raw, uncoated, Phosphor Bronze -- and it delaminates during a stamping process? Do I understand you? If so, it sounds like a raw material problem, but good photos to mooney@finishing.com for posting here might help.
Regards,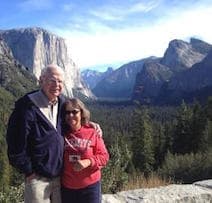 Ted Mooney
, P.E. RET
Aloha -- an idea worth spreading
finishing.com - Pine Beach, New Jersey
---
January 24, 2020
Comment: Thank you sir (Mr.Ted Mooney)for your kind reply.
Yes, its uncoated phosphor bronze .It was not detected at our in process checking, it has been detected at Customer location before plating.
Defect was found in 1 meter area only.

Attached photos for your reference.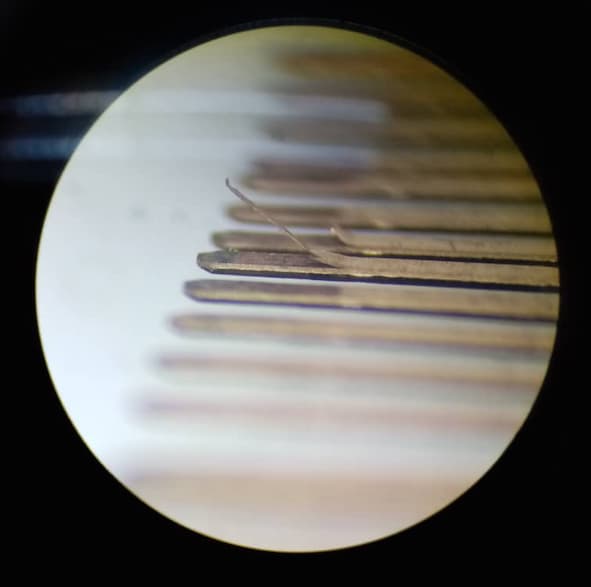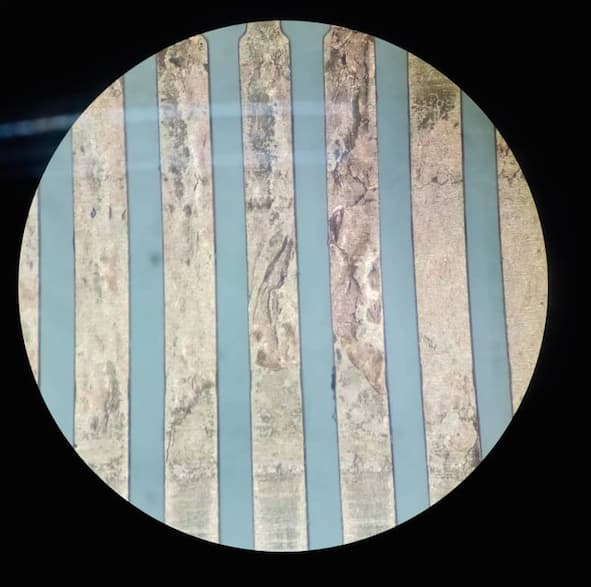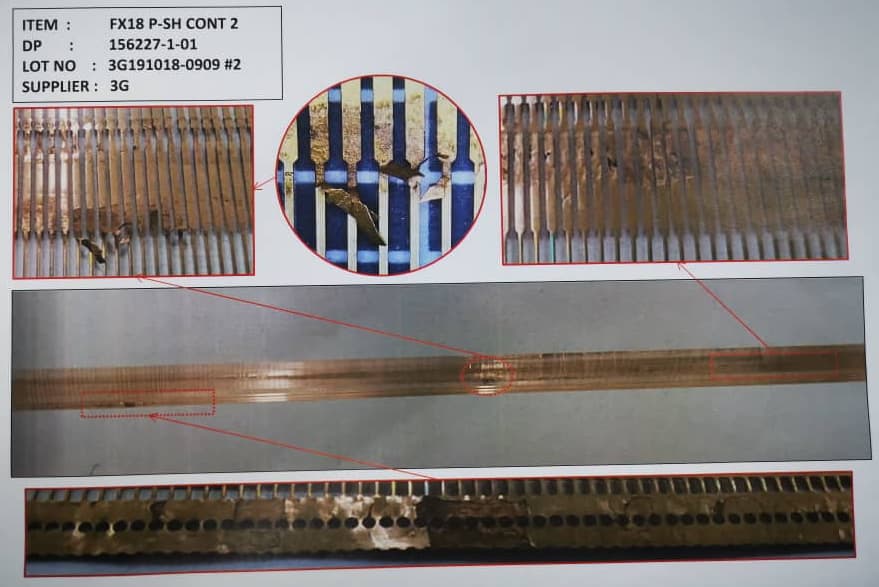 Sanil Karkunja Ramesh
3G Precision industry - Gelang Patah
---
January 2020
A. Hi Sanil. I have no experience either with stamping or with phosphor bronze, so no point in my bloviating any theories; but thanks for the pics which will hopefully help someone help you :-)
Regards,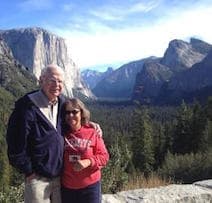 Ted Mooney
, P.E. RET
Aloha -- an idea worth spreading
finishing.com - Pine Beach, New Jersey