topic 46041
Electropolishing 430 stainless steel (4xx series, 400 series)
Need an Electropolishing Service?
Please Contact:
A discussion started in 2000 & continuing through 2017
(2000)
Q. Hello!
We are electropolishing stainless steel work (300 series) in 60% phosphoric (concentration 85%), 20% sulfuric (concentration 98%), 19% water and 1% alcohol, and at 80-100 amps/dm square. The works include foundry piece and kitchen things that are made of stainless steel ( ßÊ2-8 mm),
Please reply to the following questions:
1. If the tank size relates with the variety of the works being electropolished?
2. Why part of the works have "off white" after electropolishing?
3. How to improve the brightness of the work?
In addition, we want to know that how to electropolish ferritic stainless steel (i.e., 430) -- please let me know the information about it.
Any help would be appreciated. Thanks!
SUN LINBAO
- guangzhou city, guangdong province, chinese mainland
---
(2000)
A. SUN
1. Yes the tank size makes a difference to the size of parts, Parts/ solution can over heat the bath if too much current; the best polishing comes from consistency of the temperature and contents of bath components. Please note that most SST electropolishing is a little more forgiving than than some electro-plating baths.
2. Could be material / sludge in bath / contaminate rinse/ bath out of control/ "brightener system"
3. I would always recommend going to a proprietary type bath.
Chris Snyder
plater - Charlotte, North Carolina
---
---
Dark color on electro polished 430 stainless
(2005)
Q. We are having our 430 stainless rod stock electro polished by an outside vendor. At various times the part of the lot of components come back with a dark tint to the polished surface. The polisher claims that this is happening randomly in his process and believes it has something to do with the material. Has anyone any experience with this condition?
Greg Palmer
- Dyersburg, Tennessee, USA
---
(2005)
adv.
Send us a small piece with dark tint for testing. We will test if electropolishing in saline solution can remove it. See picture of 400-series stainless steel polished.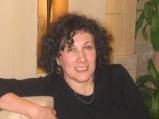 Anna Berkovich
Russamer Labs
Pittsburgh, Pennsylvania
---
(2005)
A. I have been asked this sort of question many times over the years and in my experience, where a problem arises concerning either a material or a process, it is almost never from a microstructural, compositional or mechanical variation in the material. There is usually something happening at some stage of the process, more often than not during handling, packaging, environmental conditions during storage, or suchlike.
Regards
Martin Rich
- Plymouth, Devon, UK
---
---
We already electropolish 300 series; what will change for 200/400 series?
(2007)
Q. Hi my name is brad and have been electropolishing 300 series stainless steels for years using a phosphoric/sulphuric combination. Recently the need to electropolish 200 and 400 series stainless steels has started. Will there be a major change in the chemical compositions of my tanks and if so how? Is there a chemical composition that will electropolish all 200,300 and 400 series grades?

Your response will be greatly appreciated

thanks
Brad
Brad Wilcocks
electropolishing plant owner - Kzn, South Africa
---
(2007)
You can electropolish 2xx and 4xx in the same solution, but neither will polish as well as 3xx. Also watch carefully for possible etching and don't over polish. You may find a phosphoric/chromic solution works better for 2xx and 4xx.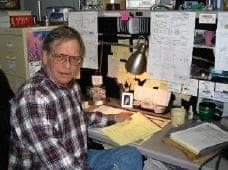 Jeffrey Holmes, CEF
Spartanburg,
South Carolina
---
(2007)
I am of the opinion that 200 and 300 series stainless steels will polish very well using conventional sulphuric/ phosphoric acid mixes. However, 400 series stainlesses will present a problem due to the risk of included carbides. If you want to electropolish 400 series, you should ask your supplier for specialist solutions.

Trevor Crichton
R&D practical scientist
Chesham, Bucks, UK
---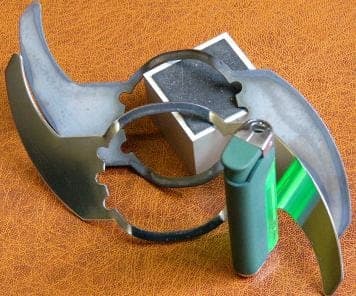 (2007)
adv.
You can electropolish everything in one electrolyte to mirror finish, however you need to switch to acid-free electrolyte.
see picture attached of 430 stainless steel before and after electropolishing.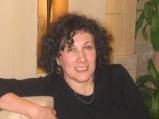 Anna Berkovich
Russamer Labs
Pittsburgh, Pennsylvania
---
---
(2007)
Q. I'd like to try electropolishing 316 stainless steel. What concentrations of Sulphuric and phosphoric acids are typically used? Should there be any other additives? I currently do anodizing and am setting up a separate stainless steel tank to try the electropolishing in. Thank You in advance, John B.
John Best
- State College, Pennsylvania, USA
---
(2007)
A. 75% by volume of 85% phosphoric + 25% by volume 66 Be' sulfuric, no water. Heavy buss and current density 50-100 asf. Temp 80-100 °F. Use ventilation.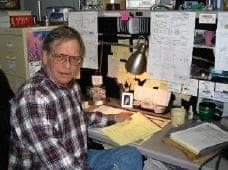 Jeffrey Holmes, CEF
Spartanburg,
South Carolina
---
---
Electropolish 430 series stainless steel
February 5, 2010
Q. My name is Geeno from Bangkok,

Please help me how to electropolish 430 series. I try to electropolish but it does not look good like 304 series. I use Phosphoric and Sulfuric for 430 series but, it's not working at all. It works with 304 series. Please help me with what chemical I should use to electropolish 430 series?

Thank you
Geeno Wong
student - Bangkok, Thailand
---
February 16, 2010
A. I have electropolished stainless steels, mainly 304 & 316. I have tried electropolishing 400 series stainless steels, but they do not develop the highly bright finish that 304 & 316 achieve when electropolished using solutions containing phosphoric and sulfuric acid. I believe the Electropolishing Engineering Handbook lists some formulas for 400 stainless steel electropolishing. Also some of the suppliers in this forum I believe market 400 series stainless steel electropolishing processes.
Thomas Kemp
- Cleveland, Ohio, USA
---
---
December 15, 2014
Q. Dear All,

We have electropolished the SUS 430 part, but we faced a few problems after electropolishing.

a) Part is yellowish. How to clean the yellow?
b) Part in grey colour and the grey colour is happening not for whole piece but partially only.

c) What chemical composition for electropolishing SUS 400 series as we want to erase off the problem that arose. May we know that the chemical composition for SUS 300 series be the same to electropolish the SUS 400 series?

Please advise.

Thanks
Eric Teo
- Penang, Malaysia
---
December 16, 2014
adv.
Since my previous post in 2007 (and not a great picture), we have switched from acid-free electrolyte for 410, 420, 430 and 460 stainless alloy (and similar) to Universal electrolyte. The Universal Electrolyte works fine for electropolishing 400-series for many of our customers. There are no yellow spots or uneven polished areas. Modified Universal electrolyte can electropolish even high-carbon alloy. Also continuous electropolishing of wire, rod or conveyor ss line, local electropolishing, or barrel electropolishing of small parts in bulk - all this can be done in Universal Electrolyte.

Contact me for more information.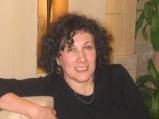 Anna Berkovich
Russamer Labs
Pittsburgh, Pennsylvania
---
---
Black/Brown Spots on Electropolished parts??
October 19, 2017
Q. Hi all,

Does anyone have any idea what the black/brown spots in the pictures could be from?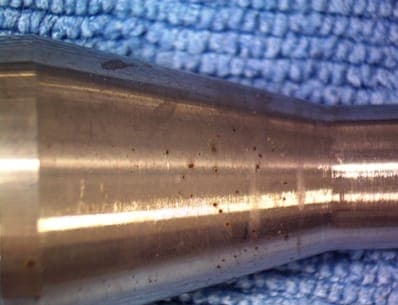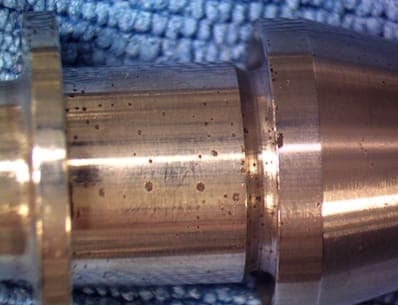 We are completely at a loss as to what it is causing this issue. We are pretty sure it is from EP, but these spots do not show up right after EP'ing. They show up some time (days) later.

Our strongest guess is the parts are not being properly cleaned before and after EP.

Some reference info...

SG of acid is 1.72 (within the spec, per manufacturer of acid).

Material in picture is 455 SS.

Parts are heat treated prior to EP and are covered in Heat Oxide.

The current density we are using is between 1 amp/in2 - 2 amp/in2 (the surface area of the part is 24.72 in2).

Bahrgavi Ogaale
Quality Engineer - Milwaukee, Wisconsin
^- Privately contact this inquirer -^


This public forum has 60,000 threads. If you have a question in mind which seems off topic to this thread, you might prefer to Search the Site