60,000 Q&A topics -- Education, Aloha, & Fun
topic 45934
Nickel plating followed by tin plating is blistering
A discussion started in 2007 but continuing through 2019
2007
Q. Hi,

I have a problem in nickel and tin plating. This plating process is nickel plating followed by matte tin plating. After subjecting the assembly to 222 °C for about 1 minute, we found tin blistering appearing on the top surface. What is the root cause for that? How to solve it? Kindly share.
Thanks.
Francis Leow
- Ang Mo Kio, Singapore
---
2007
A. Hai! Friend,
This is common. After nickel plating, substrate should be keep in Tin bath for one minute (Nickel activation). Thereafter you should apply current slightly. Initially do not give load current.
Please follow this procedure.
ANYWAY GOOD LUCK
P.KARTHIKEYAN
- Bangalore, Karnataka, India
---
2007
A. I actually had this same problem a while back. The material I was running was being continuously plated though. It was nickel followed by matte tin. The material was then taken through an infrared oven, which produced what appeared to be blisters after reflow. After several months of investigation, it was found that the blisters were not really blisters at all, in fact, they were solid blobs of tin. It turned out that there was a great deal of organic contamination in the bath, and we also found a higher than normal level of carbon in the deposit. After cutting, and carbon treating the bath, we found that the problem went away. We also changed our additive package to a low-organic product. Hope this helps.
Michael Berrier
plating shop - Addison, Illinois, USA
---
---
2007
Q. Hi Michael,

Do you have or know related literatures or IPC, JEDEC, etc., documents, that supports this finding of blobs of tin (blisters)?

Thanks,
Rio B Palmes
EMS - Philippines
---
---
January 5, 2012
Q. Hello,

I'm currently facing a strange problem with an interconnector which enables me to link 2 circuits.
This interconnector is firstly soldered through a lead free reflow operation, and then soldered on the second board with a selective wave.
During the reflow soldering operation (lead free °C peak = 245°C for 45-50 seconds) the interconnector's pins:
1/ Change color (from light yellow to grey / violet color)
2/ Tin solder drops appear on the pin.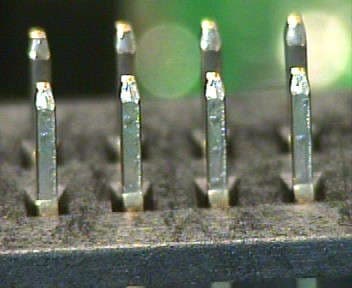 Then I sometimes have trouble performing the selective wave, and get some bad soldering or de-wetting.

I looked in the forum and found something very similar to this here.
Michael Berrier: Tin blistering at 222 °C.

Can you tell me what kind of organic contamination I must look for?
How to check them (with chemical bath supplier's support if needed)?
On the discoloured interconnector, how can I know that there is organic contamination? What kind of test can be done on the discoloured pin to show it?
Gerald LE REUN
Supplier quality engineer - Paris, France
---
---
July 18, 2019
-- this entry appended to this thread by editor in lieu of spawning a duplicative thread
Q. I've been tin plating some brass pieces after under coat nickel in order to reduce soldering times. However, when the part is heated up in order to receive the solder, the tin layer starts "bubbling", leaving a very bad finish.
Basant kumar
employee - UDAIPUR india
---
July 2019
A. Hi Basant. We have many threads about this issue and we attached your inquiry to what I hope is a helpful one. Please get back to us with your comments about the suggestions previously offered. Also, to be clear, you see no brass under the blisters, right? Thanks.
Regards,
Ted Mooney, P.E. RET
finishing.com - Pine Beach, New Jersey
Aloha -- an idea worth spreading