World's #1 on-line resource since 1989
•
-----
Electropolishing of stainless steel problem: "frosting"
Current question:
June 1, 2021
Q. Electropolish small tubes and some parts will show 'frosting' in a linear pattern along the length of the tube and at the top adjacent to plastic molding. Additional information: tubes experience heat treatment in same area of visual frosting, tube positioned vertical in EP tank with tube down and plastic top, tubes are placed within EP tank with wire inside tube. Requesting confirmation the picture is frosting and possible considerations for cause.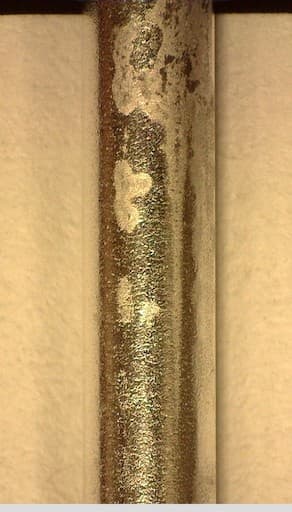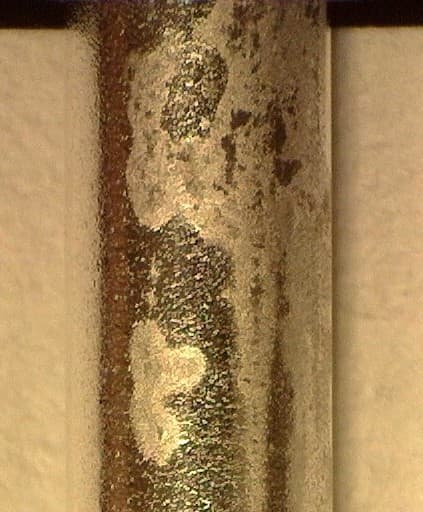 Robert Wood
- Collinsville, Oklahoma
---
June 2021
A. Hi Robert. I'm not quite sure what I'm looking at. Is the tube already inside a clear plastic sleeve or clear plastic casting for this photo?
Luck & Regards,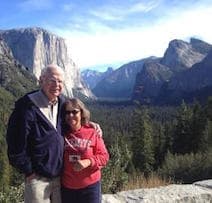 Ted Mooney
, P.E. RET
Aloha -- an idea worth spreading
finishing.com - Pine Beach, New Jersey

---
June 7, 2021
The picture is of SS only; lighting gives strange color but shows the variation in appearance.
Robert Wood
[returning]
- Collinsville, Oklahoma
---
---
---
Closely related Q&A's, oldest first:
1999
Q. I am experiencing a problem with electroplating T304SS wire shelves. Random wires will come out with a "frosty" appearance. SEM/EDS has not identified any contaminants, and metallography of cross-sectional samples reveals that the "frosty" surface appears to have been corroded (i.e., substantial amount of metal loss). I am now targeting the raw material, but am at a loss for why this is happening? Thank you,
Jim Cirilli
testing laboratoriy - New Castle, Delaware
---
1999
A. This frosty pitting sounds like etching, the two most common causes of which are probably the current density too low and water in the electropolishing solution.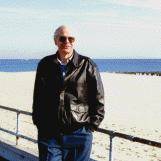 Ted Mooney
, P.E.
Striving to live Aloha
finishing.com - Pine Beach, New Jersey
---
---
1999
Q. We have had 15-5PH stainless steel castings electropolished, and used to have a constant problem with this same random frosting. Our electropolisher tried changing the current densities, and this still did not help. We sent to parts to numerous other electropolishers, and the same frosting still randomly occurred. We never found out exactly what was happening, but seemed to reduce the problem by cleaning off every last trace of grease before they were polished. We placed the parts in a 160 °F bath of sodium hydroxide for 45 minutes. I would be interested in hearing from you if you ever find out the exact mechanics behind this frosting phenomenon as it has been a mystery to me for many years.
Tim Tylaska
- mystic, Connecticut
---
---
To minimize search efforts and to offer multiple viewpoints, we combined previously separate threads onto this page. Please forgive any resultant repetition, failures of chronological order, or what may look like readers disrespecting previous responses -- those other responses may not have been on the page at the time :-)
---
---
2007
Q. Dear All,

We have been working with stainless steel 304 parts that have been shot-blasted then Electropolishing(satin finish, not-that-shiny) for many years with happy result. The new items we are working now is Hairline and Glass blasted with EP.

We found new problem that after the EP process of both kind of surface, the welding seem of the tube become more visible and cloudy unlike other parts which already shiny. We never found this problem before with the Shot-blast.So I was wondering what have been wrong?

Do we need any special kind of treatment before doing so?.

The EP chamber, time and process are all the same.The difference is only mechanical process before EP only (Hairline, Glass blast).

Please help.
Kelly J
Stainless steel furniture manufacturing - Thailand
---
2007
A. Although it is many years since I was involved in electropolishing, I too have seen this problem. It is due to when you weld stainless steel, even austenitic steels like 304, you generate an area around the weld called the "Heat Affected Zone"(HAZ). This is the result of a local change in phase, composition and crystal structure due to the melting process. In the case of 304, you can get carbide precipitation that will change the characteristics of the metal's surface and hence its electropolishing capability. This is, in part, why welded joints can be more susceptible to mechanical failure. It also makes the area around the HAZ more susceptible to corrosion. The problem is not easy to overcome, but one way may be to change your electropolishing solution from one designed for austenitic steels to one that will do both austenitic and martensitic (i.e., 400 series type steels). Your best bet would be to talk with your chemical supplier and see what they have to offer.

Trevor Crichton
R&D practical scientist
Chesham, Bucks, UK
---
2007
Q. Thanks a lot for your response.

I know that it could be those HAZ area but just wonder why it never show when we done the same thing with the stainless shot surface and then EP.

Our supplier work with the ceramic blast and it also give good result around welding area.So I was wondering why?

Does anybody have experience something like this? And please suggest us how to avoid this problem.
Kamontip Jitprasert
[returning]
- Thailand
---
2007
A. The whole thing about shot blasting is that it changes the surface of the metal and removes the outermost layers - electropolishing works on just the surface, so when you have shot blasted the area, you have changed the chemistry and probably the composition of the surface and hence how the electropolishing works. By blasting it, you are also imparting extra work into the surface and again you may be subtly changing the composition of the surface. Electropolishing is a fine balance of surface chemistries that need careful controlling.

Trevor Crichton
R&D practical scientist
Chesham, Bucks, UK
---
2007
A. Have you tried to pickle (Nitric Acid and Ammonium Bifluoride solution) the product prior to electropolishing to remove any possible impurities? We find this a necessary step, especially in the HAZ areas and where components have been sand/shot blasted.
Mario Vorster
- Cape Town, South Africa
---
2007
A. Hi
I suggest you to please give P.R. & hot soak treatment for 6 - 7 minutes before EP & then follow the process with anodic cleaning in 50% sulfuric acid for 30 seconds now after water rinse do the EP , u"ll get good results.
Kuldeep Singh
Wet process employee - Pantnagar, Uttrakhand, India
---
2007
A. If I read this correctly, you used a SS shot blast before and are now using glass bead. The SS shot imparts far more energy into the metal, significantly changing the surface Vs the glass bead.
I will guess that the ceramic media is removing considerably more of the surface, where the glass and SS tend to compress rather than abrade. (It's all relative)
James Watts
- Navarre, Florida