Live! From Pine Beach NJ: The world's most popular metal finishing website, and the internet's friendliest corner
topic 45803
How to differentiate a powder coated finish from a sprayed finish?
A discussion started in 2007 but continuing through 2018
2007
Q. Can you give me the methods to find out the powder coated finish as well as enamel (or epoxy) spray finish? And also give me the functional advantages of powder coating over enamel coating.
BOOPATHY PACKIRISAMY
QUALITY ENGINEER - PONDICHERRY, INDIA
---
2007
Q. Dear Ted Mooney,
My customers are paying more for powder coating then spray painting and I am in a position to justify the rate difference.

As well as I have to prove to my customer that the finish is powder coating to convince him.

Please help me in this issue. I really need a systematic procedure to differentiate powder coating finish over spray finish and also technical advantages of powder coating.
BOOPATHY PACKIRISAMY
[returning]
- PONDICHERRY, INDIA
---
---
Very expensive powder coating didn't survive first B-B-Q
November 13, 2015
I purchased a brand new BBQ pit and paid an additional $800.00 for a powder coat finish. I got the BBQ pit on November 7 of 2015 so the pit is only 6 days old. I cooked on it one time and all the paint peeled off the lid to the fire box. It also started bubbling on the fire box and also came off to a bare grey metal.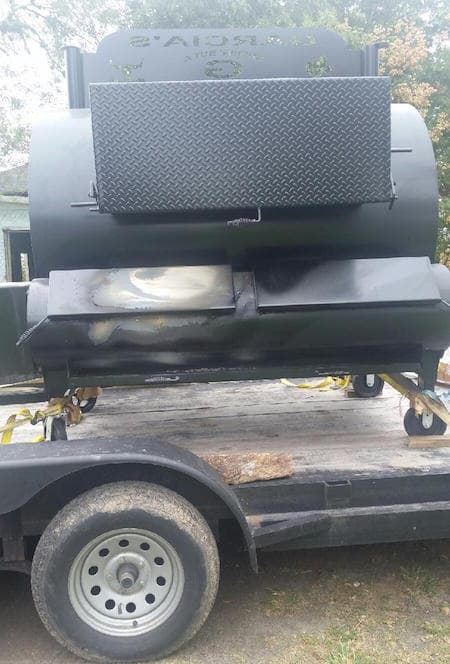 The place I bought the pit told me that was natural, the owner said for me to sand it down and re-paint it myself. Now I paid for a professional BBQ pit to be made to last. I should not have to re-sand and re-paint my BBQ pit after only one cook.
Richard Garcia
- Rockport, Texas, Aransas
---
---
Any Paint alternate to powder coating for Hospital beds?
September 18, 2018
Q. Hi,
I am a manufacturer of Hospital Beds. Most places Powder coating is used for coating in them, but the initial setup cost is coming out to be too high. This gave me a reason to explore if there is some other alternate. I have a paint shop, so if I get the right kind of paint to prevent rust, then I shall go for it immediately.

Need help in this.

Regards,
Rakesh Bhutani
Factory owner - India


If you have a question in mind which seems off topic, please Search the Site