World's #1 on-line resource since 1989
-----
Pits & defects in nickel plus hard chrome plating
adv.

2007
Q. I have observed surface defects (see the photos annexed)on a hard chrome plated tube.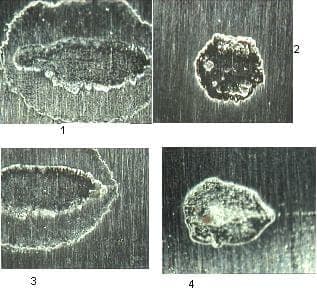 The plating sequence is as follows: Semi-bright (8µ), Nickel Bright (6µ), followed by Hard chrome plating (12-15µ),

The plated surface contains some sort of pit/dent marks. The electroplater claims that the oxidized surface is the cause for these defects.
I would like to know how to identify the cause & eliminate this problem.
Is this defect a raw material defect or processing defect (plating defect?)
Kumaran Chakravarthy
R&D - Chennai, India
---
2007
Q. This is regarding the pitting formed during chrome plating of tubes. Recently, I have found such pits in areas where there is a defect in the weld.
But, the main problem is even in areas where there is no weld, such defects (pits) are visible.
Can you suggest what are the precautions to be taken to avoid such defects?
Kumaran Chakravarthy
[returning]
- Chennai, India
---
2007
A. Dear Mr Kumaran,

I dare say your plater is right in his assessment; what remains for you to do is to stop the corroded parts getting to the plating process.

Best regards,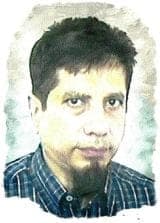 Khozem Vahaanwala
Saify Ind

Bengaluru, Karnataka, India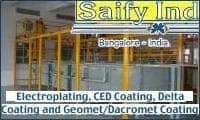 ---
---
March 5, 2020
-- this entry appended to this thread by editor in lieu of spawning a duplicative thread
Q. Dear Sir/Team & Plating Experts,
I am working in Nickel Hard Chrome Plating Plant.
Nickel & Hard chrome Thickness on outer side of MS holo Tube is 12-14 microns each. Plated Tube is used for two/three wheeler telescopic suspension.
Process is as: Hot Soak Degreasing / Anodic cleaning / Water Rinse / Anodic Cleaning / W/R / Sulphuric (H2SO4) Acid Dip 3%-4% / Sb Nickel / Bright Nickel / W/R / Hard Chrome Plating.
I Have two main problems:
1) Some time on plated part very small 4 to 5 nos. pit marks observed.
2) Sometimes on plated parts very small 2 to 3 high spot part observed on plated part. These high-spot part are easily Nail feeling.
I request to you please suggest what is this type defect? Why this found on Part (root cause)? How it is eliminated?
Thanks, Hope!
Rajkamal P.
- Ahmednagar, Maharashtra, India
---
March 2020
A. Hi Rajkamal,

Please send good, focused, photos of this defect to mooney@finishing.com for posting here.

What comment do you have on Khozem's reply to an issue that sounds very similar? Thanks!
Regards,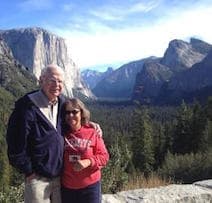 Ted Mooney
, P.E. RET
Aloha -- an idea worth spreading
finishing.com - Pine Beach, New Jersey
adv.