topic 45494
Chlorine from swimming pool discolored my ring
(2007)
Q. I have a supposedly antique ring that is yellow gold on the band and base with a flat area that I thought was white gold set with diamond chip and then a protruding yellow gold base with an emerald in it. I have been swimming a few times this week - three times? - and forgot twice to take the ring off. Today I have noticed that it has completely tarnished - the outside of the "white gold" is not blackened and looks like old silver round the edge, the central bit is a bit less affected but still looks dull. Does this mean it is not white gold - what coverings or metal would two doses of chlorine affect? I am really disappointed as it was a gift. I'm not bothered about value really but it doesn't look as pretty now. Can I do anything? Thanks.
Ellie Mckinlay
- Norwich, England
---
First of two simultaneous responses -- (2007)

A. Hey Ellie,
Chlorine is an enemy of gold, yellow or white. You could bring the ring to a jeweler and have it polished to restore the original look. Good Luck!

Mark Baker




Process Engineer - Syracuse, New York





---

Second of two simultaneous responses -- (2007)

A. Dear Ellie,
Chlorine base chemicals are known to discolor or corrode the surfaces of gold alloys, it can even cause stress corrosion cracking in lower karat gold alloys. Remove your jewelry before swimming in chlorinated pools to avoid this problem. Take your ring to a local jewelry repair shop and have it inspected, cleaned and re-polished. Let the jeweler know that your ring discolored from being in a swimming pool.

Good luck,

Jim Sivertsen




Alloys & Refining - Alden, New York




---
September 27, 2010
-- this entry appended to this thread by editor in lieu of spawning a duplicative thread
Q. I have a 14k white gold wedding band, the other day I put my hand in fertilizer to break it up. Later I noticed it had started to turn yellowish. I have a 5 year warranty. would it be covered under warranty and what can I do to fix this?
Greg Bennett
plating, buyer - New Port Richey, Florida, USA
---
April 9, 2012
Q. Hello,
I make jewelry for many years, beading, no metallurgy.
Seeing my daughter solid 14 kt yellow gold ring with diamonds, I wanted to clean it. I dipped it in a small glass cup with Tarn-X and forgot it for a few hours.
The ring lost its yellow shine, looks very dull, even the diamonds. It looks grey.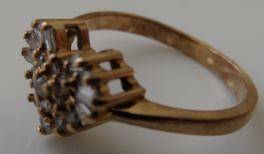 Can I revive this ring? she loves it and has worn it for 8 years. I feel very bad for doing this mistake.

Please help a desperate mother who learned a grave lesson, never leave Tarn-X more than a few minutes. I should have sat in front of it.

Thanks. diana.
diana yegen
jewelry designer - Ocean, New Jersey
---
April 10, 2012
A. Hi Diana.
I think there is very little chance that the diamonds were harmed, but the gold may have been mildly etched. I think mechanical polishing may be needed. Your jeweler has small polishing wheels and compounds he can polish the ring with, and I think it will be good as new. I don't think I'd try it myself unless I had some old jewelry to work with to acquire the skills, but if you do, you could try a Dremel polishing tip [linked by editor to product info at Amazon] with Dremel polishing compound [linked by editor to product info at Amazon]. Please let us know what you do.
Regards,
Ted Mooney, P.E. RET
finishing.com
Pine Beach, New Jersey
---
April 10, 2012

Thank you Ted Mooney for your response, while looking at the ring, yesterday, I attempted to polish it with one of my polishing cloths I bought for my jewelry, thinking I couldn't ruin it more than I did before.

At my surprise, after more than a few scrubs, the ring is yellow, shining as new, my hands and the cloth are black though.

I am very happy it ended up well.

Thank you again. diana
diana yegen
- Ocean, New Jersey
---
August 17, 2015
A. Brush your jewelry with Crest Complete toothpaste and Shazam back to normal.
Richard hurtz
- Vancouver british columbia
---
June 21, 2016

Thank you about the crest comment to bring color back rings It worked like a charm.....
Esther Bevis
- Aurora, Indiana USA
---
---
June 29, 2016
A. I didn't think about my wedding ring when I went on vacation earlier this month with my family. I was shocked when I saw that my wedding ring was tarnished. We spent a lot of time in the pool. I decided to try toothpaste to clean it and it is good as new.
Lisa Hollar
- Ada, Ohio United States
---
November 4, 2016
A. I made the same mistake of going swimming in a high chlorine swimming pool and hot tub at a hotel (I didn't have this problem at my municipal swimming pool) and it turned dark grey.
I rubbed it with toothpaste and within seconds the problem was resolved!
Careful with delicate rings though -- I have a heavy solid silver ring with a 5 mm width and a 1 mm thickness so I wasn't too worried about corrosion since it's a thick ring.
Stefan Bystram
- Gaithersburg, Maryland
---
Jewelry ruined by water
December 1, 2016
Q. Hello,

I recently moved to to a home that is off of the Fox River in Illinois.

The water is HORRIBLE- literally ruining my hair, (rust) and jewelry. For my fake or less than fine jewelry, Ive tried to place pieces in to a basic over the counter quick dip cleaning product. Any and all are ruined after this attempt at cleaning. My engagement ring is 10K white gold- the band is developing a orange tinge. The over the counter quick dip cleaning product does not really work. Does anyone have a good idea of what I can buy over the counter for my fine jewelry as well as for my not so fine jewelry? I'm so confused. Would TarnX work? Ive never encountered water this bad. I am currently waiting for water test results.
Roberta Smith
none of the above - Algonquin, Illinois
---
December 2016
A. Hi Roberta. Sounds like you need a water filter. If your fridge has an icemaker/cold water server, you can probably get filtered cold water from it and see if it's an improvement.
We appended your posting to a thread where Tarn-X was apparently a problem and toothpaste was a solution. Good luck.
Regards,
Ted Mooney, P.E. RET
finishing.com
Pine Beach, New Jersey
Striving to live "Aloha"


This public forum has 60,000 threads. If you have a question in mind which seems off topic to this thread, you might prefer to Search the Site