topic 45438
What is best way to paint / stain oak furniture with black
(2007)
Q. I have a large oak entertainment center and want to paint /stain it black. I want a "distressed" look (not crackle). Does anyone know how to do this?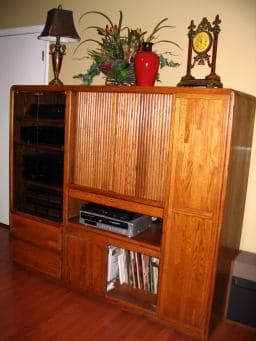 Thanks for any help or ideas.
Audi Dodgens
consumer homeowner - Easley, South Carolina
---
(2007)

A. Audi,
I have earned my living refinishing furniture for almost 35 years and what you want to do is reasonably easy.
Here's how . . .
Go to a paint store and buy a lacquer sanding sealer in a spray can. Lacquer dries very quickly (10 minutes or so) You can also try Walmart's paint dept. for the sanding sealer. In my experience Lowe's and Home Depot don't carry lacquer based products but try them also if you can't locate the lacquer sanding sealer anywhere else. There are also professional finishing websites such as Master's Magic.com.

For the black color go to Walmart and buy Krylon semi-flat (really semi-gloss in sheen) black paint.
Go to a hardware store and buy several sheets of 3M Tri-M-Ite 320 grit sandpaper. ( It's a bluish white color.) and a maroon Scotchbrite pad.
Seal the wood with the lacquer sanding sealer, sand the furniture with 320 grit Tri-M-Ite (3M product) and spray on another coat of lacquer sanding sealer, but do not sand it.
Wait 25-30 minutes while the sealer dries then spray on a coat of the Krylon semi-flat black. Once the semi-flat black dries rub edges and wherever else you want with the Scotchbrite pad to remove the black paint. Rub gently at first. Use ONLY the products I specifically name-do not let the people at Lowe's or Home Depot or elsewhere tell you "This is just as good." because it's not. Lacquer is different than acrylic or enamel and they are not compatible with one another.
For more detailed info on wood finishing, see an article I wrote for Professional Refinishing magazine

Stephen Mann

- Palm Springs, California

---

(2007)

Thank you sooooo much Stephen! I'm so glad you replied. Can't wait to try this out. I feel really good about it since you are experienced in this.

Audi Dodgens

[returning]

homeowner - Easley, South Carolina
---
(2007)
Q. I am curious to know if the suggestions you received for painting staining your wood furniture black worked. I am trying to do EXACTLY the same thing on a coffee table and end table..and am so curious to know how it turned out before I attempt to do the same thing.
Elle Richards
- Seattle, Washington
---
(2007)
A. Elle,
The only thing I failed to mention is that on previously finished furniture there may be some sort of polish (Pledge etc.) left over from either you or a previous owner. This MUST be removed or the paint either won't stick or will fisheye or have some other sort of adhesion problems.
To clean the furniture you can use mineral spirits [linked by editor to product info at Amazon] BUT BE CAREFUL IT IS HIGHLY FLAMMABLE. Work in a WELL ventilated area, lightly soak a clean rag and wipe the piece numerous times (2-3) until you feel confident the wax (polish) is gone. Then use my technique.
I do, however, recommend you strip the piece to bare wood to make sure there will be no finishing problems.
If you strip the piece and still have problems use shellac as a sealer-shellac covers and adheres over virtually anything that causes finishing problems.
Stephen Mann
(returning)
- Palm Springs, California
---
June 13, 2008
Q. Just wondering how the entertainment center came out. I'm about to do my dining room table and a couple other pieces
Thanks!
Cindy Morton
- Excelsior Springs, Missouri
---
December 12, 2008
Q. Stephen, I tried to spray paint a furniture black and it turned out BEAUTIFUL. I thought I can spray some parts that I felt was too thin and needed more black, so a few days later, I used a new can of spray paint. Lo and behold, there were bubbles forming on the furniture. sigh... help! Thank you!
Terri C
[last name deleted for privacy by Editor]
- NYC, New York
---
---
November 5, 2010

Q. I am in the process of doing Stephen's process above and am not having success. I am spraying the black spray paint on and it is running. I admit that I searched high and low for the sanding sealer recommended and instead, albeit against Stephen's advice, went with Gemini Masters Sanding Sealer. I called everywhere trying to find lacquer sanding sealer and this is all I could find.

Your process is definitely less toxic. Thanks so much!

Laurie MacLeod




- Castle Rock, Colorado



http://images.rockler.com/rockler/images/26713-01-80.jpg" border=0 alt="Cellulose Sanding Sealer">
Lacquer Sanding Sealer


---
June 22, 2011
Q. This sounds like an awesome procedure, my question is after using scotch pad, do you seal it one final time?
Mark Faul
- Eunice, Louisiana
---
July 30, 2011

HI!!
loved your site, and I love the questions and answers!!!
i am about to embark on a journey I have NEVER done before, re-finish a dresser, headboard and mirror! I want a distressed Black --so I will be following your orders to a T.
I will get back to you soon with the results!!!
thanks again,
jamie
jamie gibbs
- gilbert, Arizona
---
August 3, 2011
Q. I want to do this to a piece in yellow...should I follow the same process?
Cathy Brookshire
- Springfield, Illinois, USA
---
December 19, 2011
Q. Stephen I want to paint my wood furniture black as well. I'm following your instructions, I just had a question about the maroon scotch brite pad. So after I paint black it says to rub black paint off gently with maroon scotch brite pad? What exactly am I rubbing off? drips and runs? Just wanted to double check that before I begin. Thanks for your awesome feedback
-David
David A.Silva
- San Jose, California, U.S.A.
---
July 15, 2012
A. Painting oak black. Use water base paint. Light coats, 3 will do. You will see the oak very rich looking. Looks like you spent thousands of dollars. Remember thin coats and little paint on brush. A cloth does the same but soaks up too much paint. Grain is visible just cover it until dark. Hope this answers your questions.
brian boran
- Greenville South Carolina
---
August 28, 2012
Q. I am excited to try this! I have a set of oak bar stools with a lot of intricate carving on the backs. I wanted to be able to paint them darker without sanding since I probably couldn't get into all the nooks and crannies.
Jan Jones
- west blocton, Alabama, USA


This public forum has 60,000 threads. If you have a question in mind which seems off topic to this thread, you might prefer to Search the Site