topic 45327
Painting or restoration of commercial anodized aluminum window frames
(2003)
Q. Seeking advice on repainting anodized window/door frames. The current condo I own has brown anodized window and sliding door frames. I would like to paint or refinish only the interior portion of the frames to a white or cream color. The exterior must remain dark brown to maintain a common exterior appearance. I am afraid just "painting" the surfaces (sliding doors particularly) would subject them to chipping, cracking, and/or peeling.
Richard Katz
- Longboat Key, Florida, USA
---
(2003)
A. Hi, Richard.
You're right that paint will not adhere like anodizing, where the color is part of the metallic structure. But it will be impractical to anodize in situ, and impractical to remove the window frames, and there is no such thing as white anodizing anyway ... so paint it is. Clean the frames well, perhaps consider light sanding of the "wear" areas to give them some tooth. Then 2 or 3 thin coats should adhere fine if you start with a primer made for aluminum. Good luck.
Ted Mooney, P.E. RET
finishing.com
Pine Beach, New Jersey
---
---
Direct-to-metal latex paint on anodized aluminum surface
(2004)
Q. During the construction of our new facility the anodized aluminum window frames were scarred up due to many removals and re-installs. My general contractor has committed to re-finishing the frames by painting them with a "direct to metal" latex paint applied by brush. No preparation of the surface has been done except wipe down with a rag. My question is will this paint work?
Joe DePlacito
systems integrator - Savannah, Georgia, USA
---
(2005)
Q. I also need to know what type of paint or procedures are involved in repainting anodized aluminum. I live in a town-home with two balconies made of anodized aluminum. The color is black. The unit is almost 20 years old, and the black color is coming off the aluminum. What do I require in preparation and type of paint to repaint my balconies. The entire community has the same problem.

Thank you for your quick response.
Karen Lee Wentzel
- Deerfield Beach, Florida, USA
---
---
(2007)
Q. I'm the owner of a commercial building, roughly 20 years old, in Richardson, Texas. The bronze anodized aluminum storefront window frames of this building have been dulled by age, sun, paint and mineral deposits, and likely airborne pollutants and other impurities. The windows are West and North facing so they get a large exposure to the Texas sun.

I'm looking for a way or method to restore or paint the frames so they look presentable.

I've contacted several restoration type companies in our area, and each seems to have a different method and solution for restoring the frames. Several have indicated that there is a product on the market which will bring the frames back to 80-90% of the original finish. Others have simply told me that there is no way to restore the frames. And still others have said that painting the frames is the best option. In an effort to try and investigate the possibility and correct method of restoring the frames, I have tried several methods including: rubbing compounds and circular buffing, acetone, SafeRestore, and a couple of other off the shelf cleaning agents, with no favorable results. I'm now convinced that these aged frames can't be restored to anywhere near 80-90% of the original finish. If anyone knows of a product which really works, long term, I would like to test it and specify it to the restoration contractor.

I've discussed the painting option with two of the large paint manufacturers, BM and SW. Even they had different surface preparation recommendations for handling our situation. BM recommended abrading the surface prior to priming, SW didn't think this was necessary.

The process given by BW was:
BM
1. Clean frames with power washing.
2. Scrape any loose material and Abrade Surface.
3. Clean and Degrease with power washing.
4. Prime with BM 023 or M04.
5. Paint with DTMS M28 gloss or M29 Semi Gloss.

The process given by SW was similar, but didn't include abrading the surface.
1. Clean and degrease frames with power washing.
2. Scrape any loose material and reclean and degrease these areas.
3. Prime usin KenKromik universal primer (B50wzl)
4. Paint with DTM acrylic paint gloss or semigloss.

Common to both was the use of an Acrylic paint. Acrylic was recommended by both MFGs because of it's expansion and contraction properties, which are needed when dealing with a soft material like Aluminum.

Neither MFG would commit or had any test data as to the longevity of their applied paint in our geographic area. They both sited that surface prep was the key to the paint adhering. This leaves me with an uneasy feeling, not know how long paint will adhere before it starts peeling. I don't want to be painting these frames every 2-3 years.

So, my questions are:
1. Is there really a cleaning or restoration agent on the market which will restore the frames, long term, to 80-90% of original finish?
2. If paint is the only remaining option, how long can I expect paint to adhere in the North Texas sunny geographic area?
John Mulcahy
Building Owner, Consumer, Specifier - Richardson, Texas
---
(2007)
A. If you can get good adhesion from a paint, you probably won't get the resilience that you want, especially an acrylic. Have you looked at refacing the frames instead of restoring them? Restoring them will be a messy proposition with questionable results. Refacing the frames will probably give you a lot more options to choose. Good luck.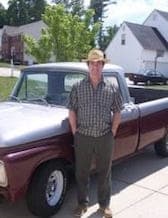 Sheldon Taylor
supply chain electronics
Wake Forest, North Carolina
---
July 16, 2008
A. Have you tried any test of products or mfgr's? Did any turn out O.K? I worked at a university facility office for 18 yrs. I seem to remember having some chemical cleaning and restoration type stuff done on anodized aluminum over the years. But I've been gone from there for 3 years now. I can't remember who did it, or what they used. But I remember it turned out O.K. (Not "Brand New" like the salesmen say, but noticeably improved). I have never liked or been pleased with painted anodized aluminum. Aluminum is soft, with lots of thermal expansion and contraction. Paint chips off easily and relatively quickly. Anything like doors down low takes too much abuse to stand up. I'd say see if you can get someone to do a small test area of a restoration type approach. If you don't like the way it turns out or lasts, you can always try painting next. The best thing about the restoration is if it doesn't turn out perfect, (which it won't - Sorry), at least it won't look like Cr@p in a year or two when it's all peeling. Once you paint. You're stuck repainting as often as it takes. - Good Luck!
Kevin Burke RA
- Pgh., Pennsylvania


This public forum has 60,000 threads. If you have a question in mind which seems off topic to this thread, you might prefer to Search the Site