topic 45277
Plating Plastic Honey Bee Comb
(2007)
Q. I found finishing.com and hoped that I might be able to ask a question or two about plating on plastics. I'm an artist and I have been trying desperately to cast honeybee comb in metal, and what initially seemed quite simple (most foundry work uses a lost-wax method for making molds, the original comb could be melted out of its mold and then filled molten bronze) is proving quite problematic (molten metal is too viscous to fill the tiny cracks and capillaries of the negative form in the mold). So I am trying a different approach. I am hoping to use a liquid urethane plastic to fill the mold, then electroplate the cast honeycomb. The plastic, which has a very low viscosity, does a fine job of filling the mold (see attached image) but I am not sure if it is a good material to plate metal onto or if the cast comb is too fine to hold up to the plastic plating process. If any have the time to take a look at this I would really appreciate any suggestions you have. The plastic is Smooth-On 305 Smooth Cast Polyurethane Elastomer.
Thanks for any help.
John Berseth
artist - Doylestown, Pennsylvania, USA
---
(2007)
A. Plating on plastics is perhaps one of the most difficult and expensive plating processes besides precious metal plating. It can be very difficult or close to impossible with certain resin formulations other than plating grade ABS and a few others. Also, the process is highly affected by the geometry. It doesn't like intricate, deep and narrow recesses or close entrant angles. Certainly a small and deep honeycomb couldn't be worse. In a word, stay with metals. I couldn't see your design (there was no attachment in your letter) but just an idea...have you considered joining hex tubes together like soldering?
Guillermo Marrufo
Monterrey, NL, Mexico
---
Ed. note: Here is the graphic, sorry for the delay: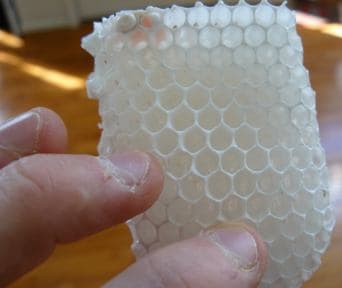 ---
(2007)
Q. Thank you for the response. There are plenty of materials that are both metallic and have a honeycomb shape, perhaps this is why plating a cast piece of honeycomb seems a dubious assignment. The caveat here is that the item I wish to plate here is just a sample of what ultimately is a bigger and more ambitious project that has bees building different forms out of their comb. The art here is the structure created by the bees, not my own imagination. Therefore its pretty important to try to use the comb or some cast made directly from the comb. Does ABS come in a liquid form that can be cast? Is there any other liquid casting plastic amenable to plating? What about using a conductive paint applied to the cast to use as a substrate to plate on? What about a conductor mixed into my casting urethane? I'm open to any suggestions, I won't object to a process that could be expensive. I am looking for something that will have the overall character of metal but does not need to be perfect or particularly sturdy. I don't know if this changes anything but I'd really appreciate any other suggestions.
John Berseth
[returning]
artist - Doylestown, Pennsylvania, USA
---
(2007)
A. I do art electroforming on many different substrates. I think you could (possibly) get the results you want by painting the honeycomb with conductive paint and then plating it with copper. if you want to plate with other metals just do it over the copper. As the previous response stated, the plating doesn't like to go very deep, so you might not be able to plate clear to the bottom of the cells. It's worth a shot though. You say you are going to scale up. This might help, since now the ions might be able to get clear into the larger cells without getting side tracked on their way in and just sticking to the sides if the cells are big enough.

If you are ambitious enough you could even form and anode grid of wires that stuck into the middle of the cells and plate that way. I have done this to a very limited extent to overcome this type of problem, but it would be a lot of work to form a whole grid of pointy wires and make sure they went into each cell without shorting.

Anyway... good luck
Robert Coyle
- SantaFe, New Mexico, USA
---
(2007)

A. There might be other alternatives Mr. Berseth, but we need to know a bit more about your finished product and what other restrictions you have. What about the stiffness, detail reproduction, brightness or reflectance, durability, surface hardness, weight, etc. Have you considered deep punching of a quite soft metal like copper or tin? How about electroforming (ideally suited for intricate, highly detailed, otherwise-almost-impossible-to-manufacture expensive items like radar and microwave guides, printing screens, retro-reflector mirrors, stamping matrixes for CD's and holograms). There's also high speed machining which is transforming the mold making industry due to its ability to produce intricate shapes and attain excellent surface finishes easily.

Guillermo Marrufo




Monterrey, NL, Mexico





---

(2007)

Q. What about using an electroless nickel process? Does anyone know how this process could work with the urethane plastic the cast is made of?

John Berseth

[returning]




Artist - Doylestown, Pennsylvania, USA





---

(2007)

Electroless nickel is exactly the precursor used for electroplating on plastics. So, you're talking essentially about the same thing. ABS has the specific attributes that are required to adhere properly. G. Marrufo

Guillermo Marrufo




Monterrey, NL, Mexico




---
(2007)

Thank you for these suggestions. Mr. Marrufo, to answer your questions, I am extremely flexible about most of the qualities you've mentioned: stiffness, brightness or reflectance, durability, surface hardness, weight. The finished product just needs to be looked at and so most of these criteria are of little importance. Detail reproduction is of more importance but I can't believe that in a plating process that deposits coatings less than a millimeter this will be of much concern. As per suggestions involving tooling an object to look like my sample, this is highly impractical. The sample (image above) is just a small piece of a much larger, more complicated form that would be extremely difficult and extraordinarily costly to replicate. I have even looked into a process that uses a 3-d printer to print metal. Believe me, I have explored most of the options in terms of fabricating a reproduction. I simply want to know if I can plate on a cast in a honeycomb shape, and what process I could use to get the best result: complete coverage of the form and a metallic appearance that will look as if the form was cast out of metal.

John Berseth




Artist - Doylestown, Pennsylvania, USA




---
(2007)
A. Maybe a chrome like paint over your resin cast will be the solution to your problem. Little adhesion and not as resistant to handling as real chrome but it looks pretty much like it.
Guillermo Marrufo
Monterrey, NL, Mexico
---
June 10, 2011
A. Hi, your problem is intriguing and similar to something I am working on. Have you tried 3D laser scanning the bee's honey comb - 3D printing in ABS (plating grade if this can be found) - electroplating in chrome?

I am trying to find a way of replicating chrome tail light parts using polyurethane resin cast in silicone molds. I have considered conductive paint and mixing metal powders in the resin but not tried them yet. The experts tell me this will not give optimum results but it may be the only compromise open to me. As it is a home hobby I don't have access to injection molding ABS. Incidentally I have tried "chrome paint" which is dull and nothing like chrome.
Cheers
Ross in Auckland, New Zealand
Ross Brannigan
- Auckland, New Zealand


If you have a question in mind which seems off topic, please Search the Site