Where the world has
gathered for finishing Q&As since 1989
Test to determine if part has been anodized
(
-----
)
Current postings:
July 23, 2021
Q. Is there such a thing as a portable light and/or flashlight that will show the presence of anodizing? Maybe coupled with some type of glasses/goggles?
timothy burns
quality assurance - orting, Washington USA
---
July 2021
A. Hi Timothy. I've never heard of a light & glasses, but Phil gives us an easy way to check for anodizing. Better for a QA department may be an eddy-current thickness tester though. 'Anodized/not anodized' may be useful for a hobbyist checking his stock, but really doesn't tell you an awful lot about a part's compliance with specifications.
Luck & Regards,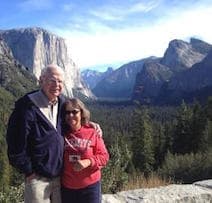 Ted Mooney
, P.E. RET
Striving to live Aloha
finishing.com - Pine Beach, New Jersey
---
---
---
Closely related historical postings, oldest first:
2000
Q. Hello:
I work in the receiving inspection dept. of my company and we have received some parts that should be anodized, but they become discolored when put in water. My question is how can we test these parts to see if they have been anodized? I know anodized parts become non-conductive but an electrical test would require disassembling the product. Is there some fast chemical type test we could use?
Jay Womack
electronics - Angleton,Texas, U.S.A
---
2000
A. Electrical testing is not that difficult. All you need is an ohmmeter or a multi-meter set on the ohms scale, or even an automotive electrical conductivity tester available at your local auto parts store. Just touch the parts in any two places with the two leads, just far enough apart that they won't touch each other. A non-anodized surface will read about 0 ohms or light the test light of the conductivity tester. An anodized surface will show essentially infinite ohms, or of course will not allow the test light to light. Don't put the leads on sharp edges, or you might get a light on an anodized part. If you think there is a slight amount of anodize on a part, hold one lead on a sharp edge, and try to scratch a flat surface with the other. You can sometimes scratch through a very thin coating.
If you are talking about high volumes of parts, there are non-destructive thickness testers on the market that will give you the actual coating thickness, but they will run several hundred dollars. Fischer Technology, UPA, or Kocour are possibilities. Kocour may have an inexpensive chemical drop test available, but the electrical tests won't hurt the anodize.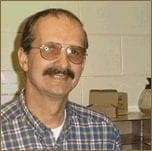 Phil Johnson
- Madison Heights, Michigan



---
July 15, 2014
Q. Hi,

We are trying to inspect anodized surface of particular component with Multimeter. But it gives random result and the method itself is not conclusive enough. Is there any suggestion on "how to use multimeter" for this particular application?

OR is there any better equipment available in market to check conductivity of anodized surface?

We are really interested in knowing overall surface value rather than zonal inspection, i.e., some kind of equipment or method which scans the whole surface instead of two points?

Thanks,
Mihir Rawal
- Sydney, Australia
---
July 2014
A. Hi Mihir. Phil's excellent suggestion is intended as a quick and dirty qualitative test:
- and yes, it is possible for a plain aluminum surface to self oxidize sufficiently that touching it lightly with a low voltage multimeter probe might give spotty results that may be falsely interpreted as if the surface were anodized.
- but no, there is no way a properly anodized surface will read as conductive even if you press hard with a scratching motion.
Eddy current anodize thickness testers are a commodity item, and spending several hundred dollars for an instrument designed for the purpose will be worth it and will give you quantitative results. Good luck.
Regards,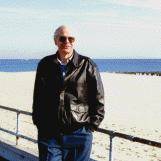 Ted Mooney
, P.E.
Striving to live Aloha
finishing.com - Pine Beach, New Jersey
---
---
Brake cleaner removed black dye from anodized parts
January 7, 2016
Q. I recently had some aluminum parts anodized and dyed black. When cleaned with brake cleaner the dye completely wiped off. My question is, does brake cleaner remove the anodizing or the dye? or was the work not done properly that is causing the dye to easily come off when cleaned with brake cleaner? In advance, thanks for your enlightenment to this problem.

Thanks,

John C.
John Clow
Metal Works - Los Angeles, California
---
January 2016
A. Hi John. I'm not going to accuse anyone of not having done the job properly when I have no facts, but it would surprise me to find out that a solvent-only type of brake cleaner (no caustic) can remove properly anodized and sealed dye. It can probably remove magic marker or a poorly sealed dye.
Double check that the brake cleaner doesn't contain caustic, though, because that quickly dissolves anodizing and its dye. I would suggest checking that the parts are anodized and, if so, that they are properly sealed. Good luck.
Regards,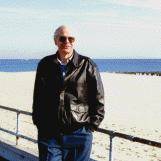 Ted Mooney
, P.E.
Striving to live Aloha
finishing.com - Pine Beach, New Jersey
---
January 8, 2016
A. Simply incomplete sealing, a very common problem with job shops who do not control their seal and/or are using a so-called "cold sealer".

Robert H Probert
Robert H Probert Technical Services

Garner, North Carolina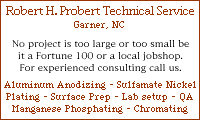 ---
January 8, 2016
A. Brake cleaner is a very very strong solvent. It does not amaze me that it would attack some organic dyed anodize. A poor dye or a poor seal or combination of both could be the cause.
James Watts
- Navarre, Florida