Where the world gathers for
plating, anodizing, & finishing Q&As since 1989
-----
Nickel solution grows
2000
We have a small, very efficiently run nickel solution doing jig plating on zinc-diecast bathroom fittings. Because of stricter environmental laws the drag-out and counterflow rinsing have been greatly improved with one draw back: the solution concentrates up in a very short time. We have tried reducing the anode area but find we lose efficiency. we have tried carbon anodes but they disintegrated in a few weeks. The only option we seem to be left with is to dilute once or twice a year and hope to find somebody interested to take it as a present or to pay for disposal.
I am sure there is a better way to solve this problem.
Any ideas? Thanks for your help
Best Regards
Trudy
Trudy Hattingh
- Durban, South Africa
---
2000
Trudy,
If I understand correctly, your nickel solution is growing due to drag-out recovery. Have you tried Atmospheric Evaporators ? This simple equipment allows for the required volume in your thank to be able to return all of your drag-out at the same rate of the evaporation rate achieved with this equipment. More so, if you are using counterflow rinsing, due to the fact that this technique reduces water use, so the amount of water that you have to return to the tank is much less.
Regards,
Enrique
Enrique Segovia
- Monterrey, Mexico
---
First of three simultaneous responses-- 2000

It is very unwise to decrease the anode area in a nickel bath. The increased current density can cause the anodes to passivate, cease to dissolve, and begin to electrolytically oxidize the brighteners. This can cause severe, difficult to fix problems.
If I were you, I would set up an electrowinning cell to plate the nickel out of the solution you periodically discard to keep the Ni concentration down. The recovered nickel has resale value. You can probably remove something like 95% of the nickel. Then, batch treat the residual liquid.

Dave Wichern
Consultant - The Bronx, New York
---
Second of three simultaneous responses-- 2000

Hey Trudy,
Inert anodes (like carbon if they hold-up) will delay the need to bail solution. There are ceramic anodes (from somewhere near Pittsburgh, PA ?) that will lower the chance/amount of forming chlorine gas from inert anodes. Ventilation if needed may be easier to maintain from the area you use to dummy plate than across the whole plating tank. By using the inert anode as the dummy plate anode you may be able to plate out enough nickel. If not you can place the inerts on the tank anode bars (one per bar or as needed) on the side closest to the tank ventilation.
Regards,
Fred Mueller, CEF
- Royersford, Pennsylvania
---
Third of three simultaneous responses-- 2000

There are special membrane anode that are used in nickel electroplating that balances out the differences in anode and cathode current efficiency. These anodes do not break down like graphite anodes and also do not destroy the organic additives like graphite or other insoluble anodes do. There are a number of suppliers of these anodes.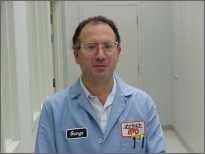 George Shahin
Atotech - Rock Hill, South Carolina