Where the world gathers for
plating, anodizing, & finishing Q&As since 1989
-----
Flash Rusting
2000
We are currently having rusting problems with a barrel plating job requiring 150-300µ" of Ni. The base metal is 1008 CRS and we use an SNB Nickel bath. Once we have rinsed and dried the parts we are finding rust or "flash rusting" at the LCD areas of the part. We have tried replacing the Alkaline, 40% HCl as well as the Woods Strike and the SNB bath in hopes to eliminate the problems, but have had no luck. We have also tried to raise our current density and increase our thickness by about 10% but the rust is still forming. All bath constituents are within ±10% of optimum concentration levels and pH is generally around 3.1. (pH is range 2.8-3.2) If anyone can help me with this problem I would appreciate it.
Wade
Wade Graham
- El Cajon, California, USA
---
2000
You have problem in your nickel plating bath. The bath contains high amount of brightener which reduces throwing power. Because of this poor throwing, flash rusting occurs. We observed similar experiences in the past. Contact with your brightener supplier to adjust the chemical. You can also check your plant process so that right current is available.
DR. D. SEN
- calcutta, INDIA
---
2000
I would have assumed that SNB was a sulfamate nickel, bromine bath. If it is, The pH is too low.
With nearly any plating bath, lowering the current density rather than raising it , is required to get plate into the LCD area in a better ratio. This requires a proportionally longer plate.
What has your bath vendor had to say. His rep should have been in your facility very early on. If they will not come, consider a different vendor.
James Watts
- Navarre, Florida
---
2000
Dear Mr Wade,
Although I am not familiar with the term SNB Nickel, I would still recommend raising the Ph to 4 -4.2 as at 2.8 - 3 you will see a lot of iron depositing in the LCD areas along with other metallic impurities.
Also skip the HCl pickling and try H2So4 for a change. It is just possible that the parts are rusting prior to transfer or on account of the low PH you are maintaining, the parts may be getting pickled / or rusting in the plating tank itself as the Nickel will inherently not deposit immediately in the LCD area first.
If you are using a brightening agent, the trick is to add double or three times the wetter/additive for nickel barrel plating. This is the next best thing to supplement Mr Watts advice on current density.
All the best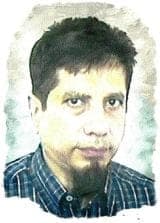 Khozem Vahaanwala
Saify Ind

Bengaluru, Karnataka, India