World's #1 on-line resource since 1989
-----
Make-up of a Nickel Chloride Flash Plating Bath
A discussion started in 2007 but continuing through 2020
2007
Q. I am looking for a chemical make-up of a Nickel Chloride Flash. I need to plate Acid Copper on top of Cold rolled steel (CRS) continuously, followed by Tin plating. I know that using a Cyanide copper would be better, but our company does not want to introduce cyanide into the shop due to the potential hazards. Also, we do not want to the Alkaline Non-Cyanide Copper, as it is nearly as expensive as the Nickel, and we already have Acid Copper all throughout our shop. So, basically what I am looking for is a generic makeup of a Nickel Chloride Flash bath for coating CRS, followed by Sulfuric Acid Copper, and finished with Tin. Thanks in advance for all of your help.
Michael Berrier
Plating Engineer - Addison, Illinois, USA
---
TUTORIAL FOR NEWBIES:

Copper cannot be directly plated onto steel from a conventional acid copper plating bath, because copper is significantly more noble than steel, which means the copper will spontaneously "immersion deposit" onto the steel, resulting in low and unsatisfactory adhesion.

The most common resolution to this problem is to start with cyanide copper plating instead. The cyanide chemically complexes the copper so effectively as to change the deposition potential and prevent immersion deposits. But cyanide is a very dangerous and environmentally unfriendly chemical which many plating shops do not want to use. One alternative is a proprietary alkaline non-cyanide bath, but they are not trouble-free, and Michael finds them expensive.

Another alternative, which is discussed on this page, is to first do nickel plating (or 'flashing' or 'striking') onto the steel, and then do acid copper plating on the nickel plating. There are several different formulations for nickel plating/striking/flashing baths, including a Wood's or 'chloride' strike, a conventional Watts (nickel sulfate plus nickel chloride plus boric acid formulation) plating bath, and a nickel sulfamate plating bath.

This particular tutor (jack of all plating trades, master of none) sides with Guillermo on this one: Watts nickel is the easiest, most common, and most trouble-free approach --and should work fine.

ACRONYMS:

Flash/Strike = a thin or very thin layer of plating

Wood's = a highly acidic nickel strike invented by Donald Wood (dec.) for activating stainless steel

S Nickel Rounds = sulfur-depolarized nickel 'buttons' used in a titanium basket as the anode material for most nickel plating (Without the sulfur content, nickel anodes tend to polarize, i.e., stop dissolving. Keeping titanium baskets full of rounds is easier and more practical than dealing with bar or stick anodes that corrode like icicles and can break off. Most nickel plating baths, like Watts and Sufamate, use S-rounds -- but the Wood's or Chloride Strike baths need non-sulfurized anodes).

2007
A. I normally prefer a Wood's Nickel Strike which is nickel chloride, water and hydrochloric acid. In your case I would look into using a sulfamate nickel strike. It is far less acidic, the fumes do not corrode anywhere near as bad as the chloride bath and it plates faster. It also uses S nickel rounds for the anode which is many times easier to find than rolled depolarized or pure electrolytic nickel. Price will normally be similar.
The sulfamate strike is a less stressed deposit but not a near zero.
James Watts
- Navarre, Florida
---
2007
A. James Watts above is absolutely 100% correct, but I would like to hike on it a bit. For cold rolled steel you do not really need a "strike". A SN Strike operates at a low pH which rapidly breaks down the sulfamate radical into ammonia and sulfate. So I would recommend using a sulfamate "plate"; or since you only need to cover the steel to prevent copper immersion, why not just use a cheap cook book "Watts" sulfate-chloride formulation and save money and control grief?

Robert H Probert
Robert H Probert Technical Services

Garner, North Carolina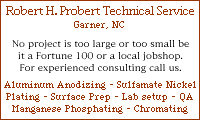 ---
2007
A. Why complicate your life. Far less people know how to operate a sulfamate strike (or any other strike). Also, chemicals are less available. Your substrate is plain low carbon steel. So, why not plate it with conventional Watts nickel w/o brighteners. Most platers and vendors of chemicals use it or know it. After a certain desired thickness you can proceed with the acid copper normally (no delay or nickel surface will passivate).
Guillermo Marrufo
Monterrey, NL, Mexico
---
affil. link
"Electroplating Engineering Handbook"
by Larry Durney
from Abe Books
or

2007
Q. Thank you for your input. I already have a couple of Woods Nickel Strike baths in my shop, and have received recommendations from several of my suppliers that the Nickel Chloride Strike is preferred for that. I am looking for a make-up of a Nickel Chloride strike.

Thank You
Michael Berrier
[returning]
plating - Addison, Illinois, USA
---
2007
A. A Woods Nickel Strike IS a Nickel Chloride Strike.
James Watts
- Navarre, Florida
---
2007
A. 2 pounds per gallon nickel chloride plus 1 quart per gallon Hydrochloric Acid. Take the anodes out when not in use. Use Rolled DE-polarized Anodes (you do not need the efficiency of S-rounds.) All of us still say, you do not need a nickel chloride strike to plate on mild steel.

Robert H Probert
Robert H Probert Technical Services

Garner, North Carolina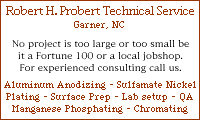 ---
2007
A. You already have two nickel chloride strike baths. Your Woods are exactly that. Believe us you don't need them. As a matter of fact, you may find more trouble using them over your plain mild steel. Their chemistry was developed to plate over SS, nickel and other passive metals. I'm talking about pitting, corrosion of crevices and weldments, drag-out, iron contamination of the bath from inadvertently fallen parts, etc.
Guillermo Marrufo
Monterrey, NL, Mexico
---
---
January 23, 2014
Q. Hi

I'm having an issue with one of our nickel strikes. The tank has started producing excessive amounts of gas/fumes. We have changed nothing in the tank chemistry or in how we process work in it. Any ideas why this would suddenly start and how to stop it?

The tank is approx. 360 L, double barrel station. Runs at ambient temp, approx. 100 Amps per bay for 15 min (I know that's a long time, but it works for the parts that get processed, mostly bolts). Last analysis was 135 ml/l HCl and 250 g/l Nickel Chloride.
Rob Dawe
- Poole, UK
---
January 24, 2014
A. Hello Rob,
Wow, that is a long time for a strike bath. You may want to check the accuracy of current from the rectifier. I like using a clamp meter set on DC amps on the cathode and anode rods to verify the current. With 45 g/L nickel concentration, and 10% HCl, I like to use 30 ASF (amps/sq.ft.) for rack plating. Barrel plating of course would be less. You also want to be sure your anodes have a good clean connection on the bar. This may be an elementary question, but do you have adequate ventilation, or the same you had in the past. I've had "push air" holes clog up at the front of the tank before (if you have them). Are you getting proper drainage and solution turnover within the barrel? If there is are not enough Ni metal ions present inside the barrel it will fume more. These are some things to check out... Good Luck.
Mark Baker
Process Engineer - Malone, New York USA
---
February 18, 2014
Q. Thanks for the response Mark. Sorry it's taken me so long to reply, just been busy with other things. The rectifiers have been checked and are OK.
Each Barrel will contain 200-400 bolts depending on the size (2-6" in length). So if my math is correct, the current density will be approx. 1-1.4 amps/dm2. (very rough based on bolts have a uniform diameter of 10 mm), which is about half what you use.
Before this issue occurred the tank had no extraction; we have since installed a single lip system. Also some of our suppliers suggested adding a wetting agent, which seemed to help. The solution does get quite warm and is normally approx. 30 °C. The bath functions well, but it still fumes when in use; it's just that the operators don't complain because we now have extraction.

We also have a bit of an issue with Ni build up. Each bay has 4 anode cages (6" x 2" x 18") filled with Ni pellets. (Macdermid call them Nickel 'S' Pellets 99% Ni, 0.03% S).
We are discarding up to 100 L of solution every 2-3 months; I've tried to reduce the number of anode cages but the operators complain they can't draw enough current and that it effects the work.
Can I use insoluble anodes? My understanding is that this will cause Cl to be produced as this become the most favourable reaction at the anode, or am I wrong?
Rob Dawe
- Poole, Dorset, Uk
---
February 19, 2014
A. Hello Rob,
I think the info you received regarding insoluble anode is correct. Stick with the Ni anodes. The Ni anodes should be sulfur free. Are you sure you are using "S Rounds"? You should confirm this with your supplier. I have a gut feeling that the excess Ni buildup over 2-3 months is due to the type of anodes you are using and / or and the duration of your plate cycle. It is not common for a Woods Ni strike bath to be cycled for 15 minutes. As you probably realize, the Ni metal source in the start up chemistry is Nickel Chloride. The function of Ni Chloride is also anode erosion. A Watts Ni formulation or sulfamate Ni formulation, the make up source for Ni metal in the bath is Ni sulfate or Ni sulfamate. You have to be sure you have the correct Ni Chloride to HCL ratio as well. If memory serves me correct I think it is a 1:1 ratio. Hope this helps!
Mark Baker
process engineer - Malone, New York
---
February 20, 2014
A. Dear Sir,

Woods Nickel bath Composition as follows:

Nickel Chloride : 250 - 300 g/l
HCl Acid : 80 - 100 ml/l
Temperature : 45 - 55 °C

Note:
Remove all the nickel anodes from the tank when bath is not in operation.

Hope this answer will be helpful to you.
Karthikeyan Ponnusamy
- Bangalore, Karnataka, India
---
---
Nickel Strike on Low Carbon Steel
February 25, 2020
-- this entry appended to this thread by editor in lieu of spawning a duplicative thread
Q. Hi, We are looking to nickel strike low carbon steel test panels before placing in a EN bath. We have an additive in the EN bath which has a negative effect on adhesion for low carbon steel, so we would like to try a nickel strike first. Has anyone had any success with Nickel strike on low carbon steel, if so what type? Thanks
Brad Krueckl
- Edmonton
---
February 2020
A. Hi Brad. Let's call it a nickel flash instead of a nickel strike to avoid a semantic issue :-)
As you will read on this page and others, a thin layer of nickel is often plated on steel as a starting point for copper plating. It should be a good starting point for electroless nickel as well. The consensus seems to be that a Watt's Nickel bath without brighteners will be the easiest, cheapest, most reliable process for the purpose.
Regards,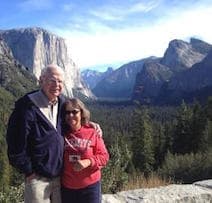 Ted Mooney
, P.E. RET
Aloha -- an idea worth spreading
finishing.com - Pine Beach, New Jersey
---
February 26, 2020

Thanks for the advice Ted. When we first started plating with this EN/Additive bath we were sandblasting all of our low carbon steel panels and we did not have an adhesion issue. However not everything can be sandblasted so we were looking for alternatives. We use Woods Nickel flash for our stainless steel panels, but this didn't seem to work for our low carbon steel samples. It would have been nice for a one-stop shop but that does not seem feasible.

Thanks again.
Brad Krueckl
[returning]
- Edmonton, Alberta, Canada
---
March 7, 2020
A. A "pretreatment" with Wood's nickel, followed by either EN or a conventional nickel plating solution (Watts, sulphamate, etc.) should do the trick. Make sure the carbon steel is adequately prepared prior to the Wood's nickel.

Trevor Crichton
R&D practical scientist
Chesham, Bucks, UK