Where the world gathers for
plating, anodizing, & finishing Q&As since 1989
-----
How to know 304 vs. 316 Stainless; tests & suggestions
adv.

Q. Someone asked me how they can easily tell 304 from 316 Stainless.
Here's my thought, what do you think...

Try the magnet test. If the magnet sticks it cannot be 316 and might be 304.
If the magnet doesn't stick it could be either 316 or cold worked 304, so heat the piece to about 800 °C, let air-cool and try again with magnet. If it sticks now its 304 SST.

Any comment?

Geoff Crowley
Crithwood Ltd.
Westfield, Scotland, UK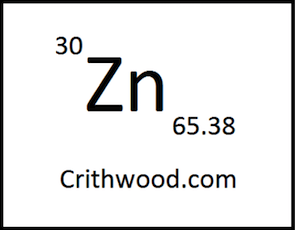 2007
A. I don't think so, Geoff, neither 304 nor 316 are magnetic, and although 304 is reportedly likely to turn more magnetic from cold working that 316, this test seems very vague.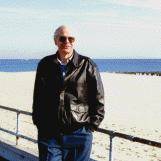 Ted Mooney
, P.E.
Striving to live Aloha
finishing.com - Pine Beach, New Jersey
2007
A. Heavy cold working results in a small attraction of 304 to a magnet, while cold worked 316 is only faintly attracted.

Annealing removes the magnetism, so if annealed SS sticks to a magnet, it's a ferritic, martensitic or duplex SS.
See topic 11270.
Ken Vlach [deceased]
- Goleta, California

Finishing.com honored Ken for his countless carefully researched responses. He passed away May 14, 2015.
Rest in peace, Ken. Thank you for your hard work which the finishing world, and we at finishing.com, continue to benefit from.
2007
"Stainless Steel for Design Engineers"

from Abe Books or


(Affil. Link - as an Amazon Associate, finishing.com earns from qualifying purchases)

A. The 2% of Molybdenum which is added to the basic 304 composition to turn it into 316, can only be reliably differentiated by chemical analysis or some similar technique. This addition is done to improve pitting resistance, important for stainlesses in wet corrosive environments (like the Clyde). (That's not the Orangutan in the Clint films for our American Cousins) which tends to result in crevice corrosion. This 316 grade is commonly called Marine grade, our side of the pond anyway.
Regards
Martin Rich
ship repair - Plymouth, UK
2007
A. Dear Mr. Crowley,

Here is a spot test to sort 304 SS from 316 SS. Make sure the area you test is clean and flat, if possible.

1. Add 1 drop concentrated hydrochloric acid and allow it to react for 1 minute.
2. Add 1 drop 6% sulfurous acid, wait 30 seconds.
3. A black stain indicates 316 SS. No stain indicates 304 SS.

Hope this is of help.
Thomas Kemp
- Erie, Pennsylvania
A. Hi Ted,

Um, sorry to say but them thar stainlesses are MAGNETIC.

Back in ye Olden Days there was ...maybe still is ... a Company called Barringer Research near Toronto.

They used to make gizzmos called BIRDS which were attached to a long cord behind an aeroplane. These were to test magnetic impulses from the earth for mining exploration ... but they were nbg as these birds were made from stainless.

They went to Alcore Fabricating, an advanced plastics fabricator in Richmond Hill, Ontario and we made 'em out of plastics.

The plastic birds worked perfectly. However, the first ones veered dangerously all over the place and nearly attacked the aircraft ... then the BIRDS were made more aerodynamic and everyone was happy.

End of a true story.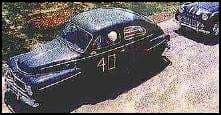 Freeman Newton
[deceased]
R.I.P. old friend (It is our sad duty to
advise that Freeman passed away 4/21/12)
A. Here is one more small tidbit on the magnetic response of stainless steels:

Cast type 316 SS will almost always be slightly ferromagnetic. The magnetic response will not be removed by heat treating like it will for cold-worked wrought material. The reason for this is that cast 316 has a composition that is balanced to have some ferrite in the austenite matrix, which helps prevent cracking during solidification of the casting. Almost all stainless steel welds will be magnetic for the same reason.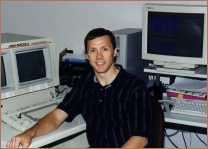 Larry Hanke
Minneapolis, Minnesota
---
---
"Stainless Steels: An Introduction and Their Recent Developments"

from Abe Books
or Amazon
[affil links]
Q. Mr. Kemp, could you confirm the spot test method, using Sulphurous Acid. How do you source/prepare the 6% acid. I thought it was unstable and not able to be isolated for reagent use.
Would any sulphite salt solution do the same?
This technique would be extremely useful to me, so any enlightenment you can offer would be highly beneficial.
Regards
Martin Rich
Ship Repair - Plymouth, UK
---
---
Q. I run a little scrap yard in Mexico and tried the spark test to sort 304 from 316 but the sparks looks the same in every sample. Please advice

Thanks Robert.
Robert Garza
- Monterrey, Mexico
2007
A. Contrary to common belief, both 304 and 316 can be magnetic if cold worked. Recently we worked on a project where we were deep drawing 316 stainless steel which (be design) was selected as the material of preference because of it's resistance to magnetism. When the first pieces came out of the draw dies... it was sticking to a magnet not much different then steel.

Of course the solution was to anneal it which resolved the issue, however, 316 can still be magnetic (and substantially) after intensive cold working.

Also, 304 stainless will be magnetic in wire form if the supplier is annealing then drawing it. If the anneal is done in line, then the wire will be annealed at finished form and any magnetism picked up in the process will be slight because it will not have exponentially increased through the various stages of cold working in the supply chain.
Steven Sherman
- Northvale, New Jersey
March 31, 2008
adv.
Koslow Scientific has a test kit for sorting 316 from 304.
William Wolf
- Tenafly New Jersey
October 22, 2009
A. The easiest way to tell 316 from 304 is to look for markings , it may be marked 18-8 (18 % cr - 8% Ni ) as 304 or 18-10-2 ( 18% Cr - 10% Ni - 2% Mo ) as 316 in sparking you can use a fine grade grinding stone in a dark area and you will see the 316 has a darker redder shorter spark, as for being Magnetic, 316 is not normally nor is 304, very common is 301 stainless this is magnetic, it is tested with a swinging magnet on a small chain, 301 is most common in hub caps
Don Owen
- Montreal, Quebec, Canada
February 3, 2010

I believe Larry from MPLS provided the best answer. Normally a hand-held X-ray machine can tell the difference between 304 & 316 SS (2% Mo). The ASTM now spec's 316 SS as 16% min Chrome but most 304 SS can have up to 18% chrome. PREN for corrosion comparison therefore may be equivalent pending on the chrome level.

For magnetic issues, cast 316 SS does turn into magnetic, not only because of ferrite content but due to moving rotational parts and since magnetism changes. There is definitely more than 6 to 8% ferrite in there since we felt some areas were fully magnetic. We are working with pumps.
Kam Dianatkhah
- Palm Desert, California
October 13, 2011
---
---
Q. I have to buy Hinges 5 x 3 x 3 grade 316. Many companies offer with different prices. How can I simply know which one is really 316 grade?
Umar Siddique
Al Saraya Trading - Dubai UAE
June 3, 2018
A. Hi Umar. The first step is certifications. The supplier should issue a certification re. material and other compliances. That way they should expect responsibility and consequences.
The most fool-proof way to know what you are looking at is to use a hand-held scrap sorter [affil links to item on Ebay & on Amazon] XRF instrument, but these are very expensive say $50,000 US. Next in simplicity and reliability is probably a chemical test as William Wolf suggested. Then there are simple but not necessarily reliable magnetism tests as described in pretty good detail on this page.
Spark tests are briefly mentioned on this thread and also topic 6060, but they are destructive ... emphasizing why certification is important -- while you should be checking occasional parts, that achieves little unless there is a level of surety that the parts you are testing are representative of all of the hinges, rather than being random elements pulled out of a tossed salad. Best of luck.
Regards,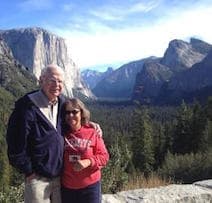 Ted Mooney
, P.E. RET
Striving to live Aloha
finishing.com - Pine Beach, New Jersey
A. I've had a need to identify 304/316 at times & an easy test if you have hydrochloric acid available is to sit a known sample of 316 with the unknown one & compare the surface after at least 5 min. 304 will be a tarnished looking surface whereas the 316 will retain the natural shine.
Colin Wheeler
Engineer - New Zealand
March 1, 2023
adv.