Where the world gathers for
plating, anodizing, & finishing Q&As since 1989
"Exposed HDPE Pipe - UV Protection"
-----
Q. I have some HDPE pipe that will be exposed to the suns UV radiation on a Raw Water Supply line. I am looking for a glossy clear coat to apply to the HDPE Pipe that will protect from UV radiation. I would like to get a minimum of 25 years of life out of my product. Is there any kind of film, powder coat, or liquid coating that I can apply or have applied that will solve my problem? I am looking at a fairly large quantity of square footage for the total project (20,000-500,000 sq ft per year).
Pol Jo
- Saraburi, Thailand
2007
A. Hi Pol !

I've never, ever heard of any type of (effective) coating on an exposed hd Pe pipe.

One assumes, one HOPES that your pipe is pigmented black otherwise you'd get short term failure. All the hd Pe pipe in Canada is pigmented black using, I think, 6% carbon black. Ditto for ABS. I'm talking about industrial pipe useage, of course.

EXPOSED, eh? I sure hope that you've allowed for the very high expansion rate by having wide angle bends to allow for and accommodate any thermal movement. What is it?
9.5 to l0-5 per degree F. That's HIGH.

In any case, even if there were such a coating, the ambient heat would cause the pipe to deflect, wouldn't it.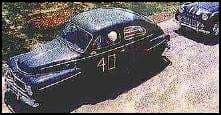 Freeman Newton
[deceased]
(It is our sad duty to advise that Freeman passed away
April 21, 2012. R.I.P. old friend).
A. Hi

You are not going to win this one! A few things to remember about HDPE, it has a very low surface tension, meaning that you will not be able to coat it with anything permanently, as whatever you paint onto the pipe will crack and peel off. You could have the pipes oxy-fluorinated, which would give them adhesion properties allowing you to paint them, BUT remember that the thermal expansion of the HDPE pipes is more than likely going to be more than that of your coating, which will probably make the coating crack and will then make it useless. This process is also very costly.

25 years is not a realistic ask from a pipe exposed to the elements. Your best best is to speak to the manufacturer, ensure that they have a sufficient HALS additive package in the polymer, Clariant offer a brilliant UV stabilisation package, added to this I would suggest a high dosage of Carbon Black pigment, this will further assist in protecting your pipe from UV degradation. You could also increase the wall thickness of the pipe, as this would give you a longer lifespan.

Good luck!
Clint Brown
- London, England
A. Hi Clint,

I like what you said about the wall thickness, yup, overdo the thickness is a must and add on more than 6% carbon black.

25 years EXPOSED! Wow!

I'm reminded of the story of a backhoe digging a trench in Alberta and simultaneously laying in some 6" dia. Pe pipe ... and then, at the end of the hot summer's day, allowing for 20 feet or so to be exposed for the next day's fusion and continuation ....BUT when they arrived at the site the next day, that 20' of pipe had disappeared !

The other story is about how to join some Pe pipe to some PVC ... this was on a bridge overlooking a small river below ... the contractor was worried. NO PROBLEM, we said, and heat belled a foot of so of the poly in the shop, sleeved in the PVC, heated up the Poly which shrank considerably ... and then our guys were swinging over the river on the Pe pipe to prove a point.

This happened near Toronto in the late 60's.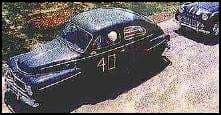 Freeman Newton
[deceased]
(It is our sad duty to advise that Freeman passed away
April 21, 2012. R.I.P. old friend).
2007
A. You don't need any UV protection on PDPE pipe if it has at least 2% of carbon additive.It will last for many, many years.
For HDPE & PVC joints use Robar DI transition couplings.
alex smith
- Vancouver, bc, canada
February 18, 2008
A. Hi Pol ,
Your enquiry regarding HDPE surface protection against UV can be treated for periods up to 7 years or more dependent on location. This application can simply be overcoated at any time required and is fully transparent. In addition, superb atmospheric protection against gasses, chemicals, etc. This product is not surface selective and can be applied to any pre treated surface.
Regards,
Chris Heyneman
- Randburg ,Gauteng,South Africa
November 22, 2014
---
---
Q. Is there some kind of slip-over cover that could provide additional protection from the elements?
John Miller
- Annapolis Maryland USA
July 20, 2008
---
---
Q. It's good to discuss the matter with experts. I would like to produce Pigments for PE pipes and would like comments on the required machinery and its ingredients to produce pigments.
Muhammad Amjad
student - Islamabad, Pakistan
October 13, 2011
---
---
Q. Polyethylene pipe is made up of PE 100 material and installed above ground. That is exposed in sunlight. We need to protect it with some liquid coating. Please suggest how to overcome this problem.
Abid Ali
- Lahore, Pakistan
April 17, 2013
A. Try Denso Paste, a product used to wrap pipe to reduce corrosion; it will block the UV and is flexible.
Richard Beckner
former chemical industry - West Virginia, USA
April 17, 2015
A. Sunlight is not a concern if black pipes are used.
Carbon black, utilized in most HDPE pipes is the most effective ultraviolet stabilizer and therefore, black is the recommended pipe color for exposed long term service or storage. Pipe of this color will provide decades of outdoor use similar to that of black power-line cable jacketing. HDPE pipes produced in non-black colors may also be supplied for outdoor exposure (storage and use) but their life expectancy is much less and is usually specified for a particular time period. Questions on this topic should be referred to the pipe manufacturer.
Hans Judek
- Yokohama, Kanagawa, Japan
August 7, 2015
---
---
Q. Hi everyone; I have a question about UV protection method in Blue HDPE pipes for a major project. We are buying HDPE blue colour pipes; please tell me whether carbon black content can be added to blue colour pipes? If not, then tell me any method we can adopt for UV protection -- and testing method?
Aqeel Ahmath
National Water Supply and Drainage Board- Sri Lanka - colombo westearn province sri lanka
October 21, 2015
A. HDPE Black Pipe used for water, Gas, water oil mixture is already protected from the UV exposure by means of an addition of Carbon Black added to the resin prior to extrusion of the pipe. it can last exposed to ultra-violet rays of the sun for an extremely long period of time.

With regard to painting HDPE Pipe surfaces, we are currently experimenting with a painting process that has proven to work on HDPE pipe exposed to the UV rays of the sun. The sample has been exposed for 3 years and shows no effects of cracking, peeling or color deformation. This process is very promising.
Dave Ziola
- Omaha, Nebraska
November 17, 2015
---
---
Q. With what should I coat my HDPE nets so that I will get better UV resistance and greater life?
Life of 10 years at least.
Vedika Maloo
- Rajasthan, India
December 11, 2015
---
---
Q. Is there any limitation of carbon black use in HDPE pipe? Or does the excessive amount of carbon black affect the food grade property of PE pipe?
Abid Abbas
Dadex Eternit - Karachi, Pakistan.
February 1, 2018
A. Carbon black (assuming it is not contaminated) should not cause any problems with food safety when added to the pipe (it is inert and non-toxic). It might cause problems with other properties that are needed for food safety in extreme quantities. From most sources I've seen, typical levels of carbon black in the pipes (~2%) are allowed universally, while some regions (EU) set a maximum of 2.5% for food grade status.
Peter Williams
- Idaho US
May 11, 2023
---
---
Q. HDPE gas pipe cracked while testing at the site; brittle crack about 7m from both sides. The pipes produced 2 years ago, stored in sun for 1.5 year then installed 6 months ago and test started one month ago -- but had the brittle crack I mentioned; it is made of Orange PE10 bassel material. What is the expected reason?
Ahmed Omar
EGIC - Giza, Egypt
August 24, 2019
---