Where the world gathers for
plating, anodizing, & finishing Q&As since 1989
-----
Iridite, Gold or Yellow?
2000
Q. I'm a Manufacturing Engineer who needs to find a standard for Iridite and what is considered yellow and what is considered gold... if there really is a difference. I have vendors that send in very different colored pieces and we want to be able to quote a standard when ordering parts.
Phil Nutting
- Beverly, Massachusetts
---
First of two simultaneous responses-- 2000

A. Hi Phil,
This is straight from ASTM B449 [affil. link] "Standard Specification for Chromates on Aluminum"
Section 4.2 - Finishers can seldom guarantee to supply exact shades of color with chromate conversion coatings. If it is necessary to have exact shades of color, it is possible to dye chromate coatings having a coating mass greater than 0.4g/m2 to obtain a wide range of colors.
Basically the only way to spec a chromate is to just give a spec and select a color range of 2 parts, maybe a light yellow - medium yellow OR medium yellow - dark yellow/gold color.
I can back this with my own personal experience. Most of the time we achieve yellow iridescent coatings to a light gold tone. Either of these is acceptable to the standards spec and actually the lighter tone is more acceptable if the part is to be coated or painted with rubber as it has been adhesion properties because of the thinner coating weight.
Good Luck to you Phil, if you have any questions feel free to ask away
Matthew Stiltner
plating company - Toledo, Ohio
---
Second of two simultaneous responses-- 2000

A. I have never heard of a standard for color with chem film. It has to be an agreement between the vendor and the customer.
Concentrations, pH, time, temperature, age of the bath and etch will affect color. Alodine used to go to an old gold color on the high end, while Iridite tends to be slightly more of a reddish brown.It is possible to get the same color out of either, but it takes some work. Most people running a chem film tank are happy to be able to get a nearly reproduceable color on the same alloy and same heat treat status.
James Watts
- Navarre, Florida
---
---
March 30, 2012
Q. I am using a new vendor to Alodine parts. The parts we received back were extremely light in color and have a rainbow tint to them. Currently we Alodine to MIL-DTL-5541F, class 3,color: gold. Can anyone tell me why the parts are like this?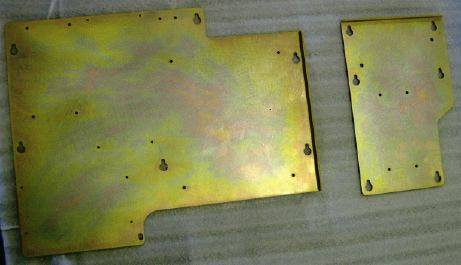 Jeff Cole
- Butler, Pennsylvania
---
April 4, 2012
A. Hi Jeff,

The colours you are seeing are typical for MIL-DTL-5541 coatings, although for a Class 3 they actually look a bit on the heavy side. The iridescence you are seeing is also typical of Alodine coatings, it has to do with the way the coating reflects light. I don't think you have anything to worry about.
Brian Terry
Aerospace - Yeovil, Somerset, UK