Where the world gathers for
plating, anodizing, & finishing Q&As since 1989
-----
Black Anodize Residue ?
2000
Q. We have alum. parts that are Black Anodize which are being used in a clean room. Prior to assembly of parts, we wipe them down lightly with non-abrasive wipes. We are seeing evidence of a black residue on the wipes. Our plater has told me that this normal. Can someone tell if this is fact a normal condition or should I be suspecting plating process to be the culprit ?
Bill Velazquez
- Hauppauge, New York
---
2000
A. I would tell the anodizer that this smut is unacceptable and that if he considers it normal he should wipe down the parts before he ships them to you so that when you test them there is no residue. In the worst case he will wipe them down; in the best case he will fix his operation so that he doesn't need to. Regards.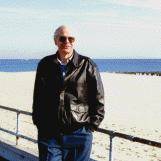 Ted Mooney
, P.E.
Striving to live Aloha
finishing.com - Pine Beach, New Jersey
---
2000
A. It is probably smut, but if the cloth has any solvent on it, some dye will come out on it.
James Watts
- Navarre, Florida
---
2000
A. If it's wrought material there should be no solution bleeding, if its a casting material, no matter how hard you might try, there is going to be some (you can minimize as much as possible) but there will still be some entrapment of the dyes and or the sulphuric. Basically if its not a colored film that is coming off its more than likely a seal bloom that also can and should be wiped off before shipment.
Matthew Stiltner
plating company - Toledo, Ohio
---
2000
A. It is not normal with well processed parts, other than potentially castings as Mr. Stiltner pointed out. There are potentially a couple things at work; an amorphous coating caused by anodize solution temperatures being too warm, too fast of a ramp, etc., this would occur prior to the dyeing step, dyeing/seal solutions not being rinsed properly, or the dye not being completely sealed in. Perhaps a cold seal that requires some curing time such as NiF is being used for example which is a popular commercial seal, versus hot NiOAc which I personally think is best for dyed articles. I have seen fishing reels and parts at one shop I worked, which exhibited what you are describing and it turned out to be the anodize parameters, both temperature,ramp rate and voltage/amperage cycles. Until we figured it out, we were paying racker/packers to wipe every part. Expensive! One note, sealing bloom does not wipe off. I would start with insuring that the parts are completely sealed first using a dye stain test or some such.
Ward Barcafer, CEF
aerospace - Wichita, Kansas
---
---
May 13, 2009
Q. We are having a similar problem. A black residue must be wiped off the inside of our black, anodized aluminum cases with Q-Tips in order that we get a better adhesion of backfill material. The backfill has been found pushed out i.e. raised above the original level at the case-end after thermal shock testing.

The plater says the parts have been sealed and it is normal to have this residue. Some parties believe the ID is too smooth a surface, causing the adhesion failure. Other parties believe it is the residue.

How can we perform a test to determine if sealing was done effectively?
Oli Olivar
- Palatine, Illinois, U.S.A.
---
May 20, 2009
A. The seal test is ASTM B136 [affil. link] . We need to know the alloy, free acid, dissolved aluminum, temp, current density etc Meanwhile, try a 5% nitric acid dip between anodizing and the dye like anodize, rinse, 5% Nitric, rinse, dye. Try it in a bucket first, let us know.

Robert H Probert
Robert H Probert Technical Services

Garner, North Carolina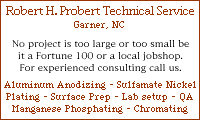 ---
May 13, 2016
Q. In this case of smut appearing after sealing (but possibly caused by one of the previous steps), how should a 5% Nitric solution prevent the smut? I.e., why could that solve the problem?
Ditte Pedersen
- Copenhagen, Denmark
---
May 13, 2016
A. Following anodizing, the pores are filled with sulfuric acid and "white" aluminum sulfate. The mere rinse only dilutes off the surface, not the pores. 5% Nitric Acid helps flush the aluminum sulfate out of the deep pores, otherwise, when you hit the HOT seal the aluminum sulfate pops out as a smut (it may be dyed black).

Robert H Probert
Robert H Probert Technical Services

Garner, North Carolina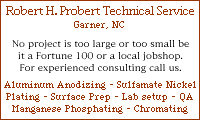 adv.


Aluminum finishing company built on integrity & accountability