Where the world gathers for
plating, anodizing, & finishing Q&As since 1989
-----
Insulating properties of chromic anodised aluminium
2000
I recently read some thing that suggested that a chromic anodised aluminium surface may not be a good electrical insulator. Does anyone have any data on this?
Darren wass
- australia
---
2000
Anodizing is an insulator. Chromic acid anodizing is very thin compared to sulfuric, so is proportionally less. Water of hydration in the anodize lowers the dielectric constant to a small value compared to published data for aluminum oxide.
Murphy's Law prevails, If you want it to insulate, it will fail. If you do not want it to insulate, it will.
James Watts
- Navarre, Florida
---
2000
I can add a little to illustrate the fragility of a chromic acid coating. One shop where I worked had a test light consisting of a 1.5 volt battery, a light bulb and two wire leads with probes. If we touched the two probes to an uncoated aluminum surface, we completed the circuit and the light went on. An anodized surface would not conduct, so the light wouldn't go on when the probes touched an anodized surface.
If we touched the sharp tips of the probes to a chromic-anodized surface, the light would go on. If we touched the sides of the probes to a chromic-anodized surface, the light stayed out. (If this isn't clear picture touching the surface with the points of two needles in the first case and the sides of the needles in the second case.) What was happening, of course, was that the tips of the probes were scratching right through the very thin anodize.
P.S. Most anodizers already know this test. You can also use a multi-meter set on the ohms scale or an inexpensive automotive conductivity tester available at your friendly auto parts store near you.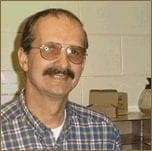 Phil Johnson
- Madison Heights, Michigan