Where the world gathers for
plating, anodizing, & finishing Q&As since 1989
-----
Mist Control
2000
Hi,
I work in an industry which might not be in the strict sense a metal finisher but one which is a serious user of analytic process.
My employer produces electrolytic manganese dioxide from an acidic manganese sulfate electrolyte at 90 °C. As the electrolysis produces moderate amounts of acid mist we are interested in a physical mist suppression system.
When the process was in the developmental stage we tried floating plastic balls with an equatorial rim on the surface of the electrowinning cell, with moderate success. We now wish to try this at an industrial scale but I am unable to remember the supplier of the mist control balls.Can anyone help? I am particularly interested as to whether the supplier is represented in Australia.
Wayne Costello
- Newcastle,NSW, Australia
---
2000
Hi Wayne,
There are hollow PP balls in sizes, if I recall correctly, of 1" to 1-1/2" ... often used to retard emissions with a modicum of success. There's an Indian one shaped like a flying saucer and it's solid, too. Won't sink. Also around 1-1/2" in size.
You mention 90 degr. C ... I assume this maybe the tank temperature in which case a 'ventilation' system's (duct) temperature would probably be v. much less due to air dilution. Say 40 degr maybe 50 °C.
That being the case, you must consider something much more useful such as a horizontal blade type mist eliminator. This will kick out/collect l2 microns (assuming the right blades are used @ the right spacing and the casing design is perfect. Not too expensive, either. PVC Blade modules.
Using the same design WITH a coalescer stage and a final blade bank should give you 3 micron capture. BUT if you constantly sprayed this will a cooler solution, your capture will improve.
Cheers !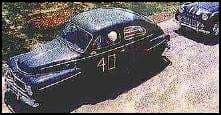 Freeman Newton
[dec]
(It is our sad duty to advise that Freeman passed away
April 21, 2012. R.I.P. old friend).
---
2004
I suggest you review ALTA 2002 papers for a new technology developed by SAME (Chile) to control acid mist in tankhouses. This in addition to the use of balls.
Regards,
Alejandro Lillo
Electrowining and electrorefining - Santiago, Chile