Where the world gathers for
plating, anodizing, & finishing Q&As since 1989
-----
Removing tar from copper flashing
Q. Hello,
I am an artist working in clay and copper and bought some copper flashing from our local hardware store to use in a project. Didn't realize it had tar on the back and the store won't take it back. Any way to remove the tar without spending hours to scrape it? I appreciate any advise you all might have.

Thank you.
Candace Young
Pottery - Bayboro, North Carolina
2007

Find a contractor to sell it to at a loss. The tar removal will cost as much as new plain copper will.
James Watts
- Navarre, Florida
A. You can use Xylol/Xylene [affil link] (found in paint department) to dissolve the tar ... good luck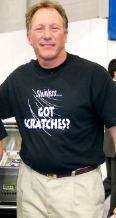 Barry Feinman
BarrysRestoreItAll

Carlsbad, California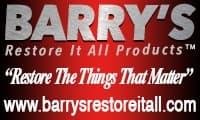 2007
A. Forget the xylene... it will create a hazardous waste. The mineral spirits will work but if you can get some 100% biodiesel it will be significantly better. Biodiesel (straight, not mixed with diesel) has the same cutting power as the orange smelling solvents (D-Limonene) but a 300 degree flashpoint. Its naturally renewable and biodegradable.
Todd Turner
- El Dorado, Ark.
A. Candace,
I have found linseed oil [affil link] or 100% mineral spirits [affil link] will remove tar safely without scratching. Use a clean soft cloth and gently rub off. Good Luck!
Mark Baker
Process Engineer - Syracuse, New York
2007

I'm a cybersurfer who was looking for this answer, and I have to say, the linseed oil suggestion is working like a charm!
I've soaked it in the oil, and let it sit. Now it's coming up easily with a putty knife. :)
Colleen Williams
- Portland, Oregon, USA
December 21, 2008

Many thanks for the linseed oil recommendation!
Astrid Brown
- Palmerston North, New Zealand
May 3, 2023
A. Orange Hand Cleaner [affil link] works very well, spread on thin layer and let it sit a couple hours, soft cloth to wipe up.
Meghan Fischer
- Houston, Texas, USA
January 5, 2013
---
---
Q. I am working on a geothermal project with buried refrigerant lines. One of the ways I was exploring to coat the copper tubing in the buried soil was tar. How did the metal look under the tar? Any oxidation?
Kevin Dasgupta
- Colorado
October 10, 2011
A. To Kevin Gasgupta:

The copper is really nice under the tar, I see no signs of decay at all. No off-coloring. And very little on the exposed side. The wood it was attached to was rotten, so some green on the copper but still strong.
Katy Jones
- Rockport, Texas, U.S.A.
March 26, 2019
---