topic 43950
WHITE RUST ON ELECTROLESS NICKEL PLATED PARTS
(2007)
We are a Metal Fabricator located in California.
I am having problems finding out if Electroless Nickel plated parts can form white rust. I just received a call from a customer of mine that is located in Oregon and just showed me images of a part that we shipped in 3 weeks ago. The part appeared to develop rusting around a hardware hole. The length of the rust extended 5 inches and appears to be equal length on both sides.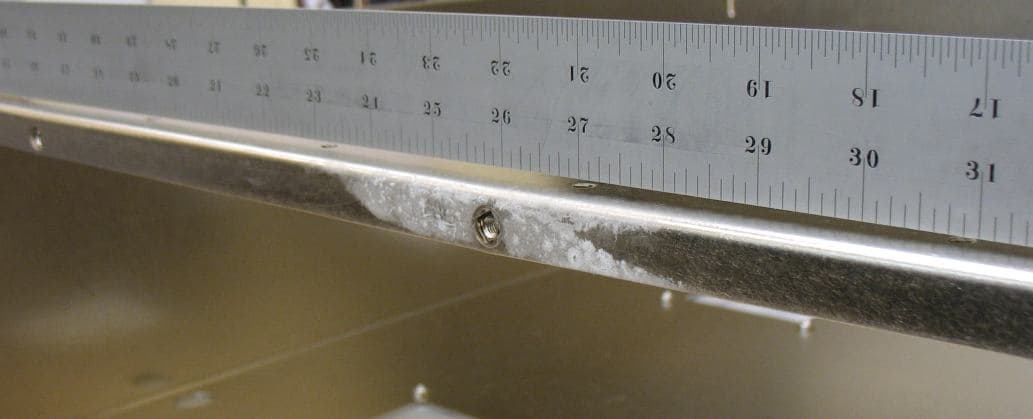 My question: Is this white rust or carelessness on the part of my plater? Did the plater leave an acid residue on the part that was not noticeable? The parts were wiped down with Isopropal Alcohol prior to shipment.
Was there an insufficient rinse? Curing problem. Also please note that there were no subsequent operations to plating.
Bill Cinnamond
Logistics Manager - Fremont, California
---
(2007)
My guess: The white rust is the result of careless pretreatment prior to EN plating causing poor adhesion and defects in the EN. Once water or alcohol or any other polar fluid penetrates defects in the plating, the aluminum substrate preferentially corrodes along the interface, lifting off the plating. Ask your plater to pull the paperwork, in particular the shop traveler, and generate a Corrective Action Report for you.

To the left of the threaded hole, directly beneath the 25 on the ruler, is that the remnants of lettering, perhaps '20X'?
Ken Vlach
- Goleta, California
Finishing.com honored Ken for his countless carefully
researched responses. He passed away May 14, 2015.
Rest in peace, Ken. Thank you for your hard work
which the finishing world continues to benefit from.
---
(2007)
Is the part developing this defect or was it there after unpacking?

If it was there after unpacking I would suggest leaking from one of the holes (not necessarily the one on the picture)In that case it could be EN bath dried up.

If it's developing you really would expect to see the nickel layer breaking up. (if there is a white Al corrosion product underneath) I myself have never seen EN corroding white.
Erik van der Staaij
- Netherlands
---
---
June 15, 2017
Q. There is white residue all over the brass EN plated parts and the plating is rough. Parts have a nice machined surface prior to plate. What is could it be?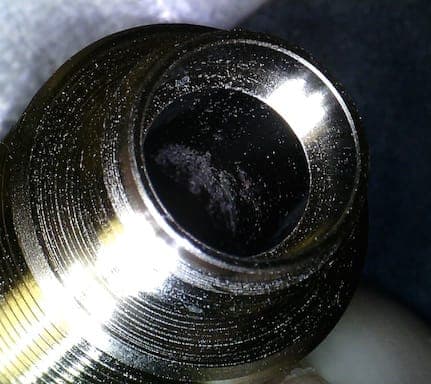 Pat Levesque
manufacturer of coaxial connectors - Beverly Massachusetts
---
June 21, 2017

A. Come back and tell us whether the brass was "leaded" and also tell the prep cycle.




Robert H Probert




Robert H Probert Technical Services





Garner, North Carolina






---

June 20, 2017

A. Hi Pat,

I don't have much experience plating over brass specifically but rough deposits most likely come from poor filtration in the bath. If there is particulate in the bath, adhesion could be compromised as well and that white corrosion product could likely be the zinc sacrificing itself.

General rule of thumb is to have ten turnovers per hour and a five micron bag maximum. Some work will require a 1 micron filter bag. Check it regularly and don't try to squeak extra shifts out a spent bag. New filter will always be cheaper than reworks.

Check your pretreatment for water breaks, check the tank for plate out, and make sure your racks are stripped and not flaking to minimize particulate buildup in the bath.

Jameson Grout




- Agawam, Massachusetts, USA






This public forum has 60,000 threads. If you have a question in mind which seems off topic to this thread, you might prefer to Search the Site