topic 43912
Restoring metal antique toy cars
A discussion started in 2007 & continuing through 2017
(2007)
Q. Hello,

I collect vintage, metal toy autos. I recently acquired a car made in Italy in the late 1940's that has a chrome like finish. The body of the car is plated (chrome? nickel? I'm not sure.) There is some light pitting, here and there but there are also areas where the plating looks "milky" as opposed to reflective. It seems like these irregularly shaped areas are below the surface. Because of the shape and pattern of these areas, I almost think they may be the result of someone, at some point, unsuccessfully trying to clean or polish the car. But, I'm really not sure.I used a high grade auto polish on the car and it brightened up the reflective areas somewhat, but had no effect on the "milky" areas. I wondered if you had any recommendations on how I might improve the car's appearance short of re-plating. Thank you very much for any information you can offer.
Rich Tomasulo
Collector - Chappaqua, New York, U.S.A.
---
(2007)
!! I posted this a few months back and haven't received any responses. I can't seem to find an answer to my question elsewhere on the site. Can anyone help? Thanks.
Rich Tomasulo
Hobbyist - Chappaqua, New York, USA
---
(2007)
A. Thousands of people view this site, Rich. When nobody answers, it's usually because they don't feel they have enough information to be able to offer a useful reply.
Please try Emailing a photo of the toy, and tell us whether the body of the car or the plating or neither is magnetic. Give us a feel for the weight of it. Can you put ohmmeter leads across the bright areas and across the milky areas and ascertain what is conductive and what isn't? Thanks, and good luck!
Ted Mooney, P.E.
finishing.com
Pine Beach, New Jersey
---
+++++++
Q. Unfortunately, this is the best I can do with a photo.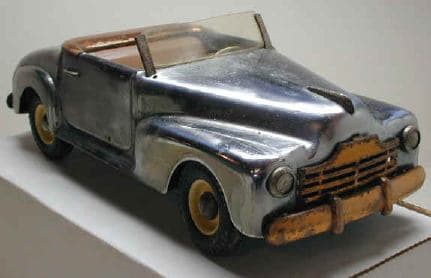 I don't know if you can see the milky areas, but they're on the fender, door and hood. The car is definitely plated metal, probably pressed steel. It's pretty heavy and there is some rust on un-plated interior surfaces. I'd like to remove the milky areas, but I have a feeling that won't be possible. I've heard of "chrome paint." Is this an option? What amount of preparation would be needed? What kind of result could I expect? (I'm an amateur!) Is there a particular brand you'd recommend? Thanks again...Rich
Rich Tomasulo
Collector - Chappaqua, New York, U.S.A.
---
October 2013
A. Hi again Rich. The "milky area", e.g., the front/nose of the car exclusive of the grill, is definitely not chrome plating; I've never seen chrome look like that no matter what you do to it.
Although it's hard to judge from a photo, it looks to me like the main body of the car is a zinc diecasting, while the grill, headlights, windshield frame, and boot are pressed steel. I think it's paint rather than chrome plating on the body of the car, probably a two-layer paint with the top layer worn off at the front. The windshield frame and boot look like they might have been chrome plated.
Regards,
Ted Mooney, P.E.
finishing.com
Pine Beach, New Jersey
---
---
Dip painting for restoring pre-war tin plate toys
January 8, 2008
Q. Hoping someone can help me.

Trying to restore pre war (WWII) pressed steel and tinplate toys.

My research has shown that the manufacturers had used the dipping method of painting the toys the choice of paint was enamel then a drying or curing oven

Can I just dip the parts to be restored into a gallon of paint and hang them to dry re dipping as needed for smooth The steel was beed glass beaded and any rust pitting filled with auto body filler and sanded smooth

should I first dip into primer and then finish coat

please help thanks John
John C Counts
start up business - Abingdon, Maryland, USA
---
January 16, 2008
A. John
Be very careful. Unless the market works differently in US, most collectors want antiques untouched with any remaining original finish. Repainted, they are worth a small fraction of their untouched value.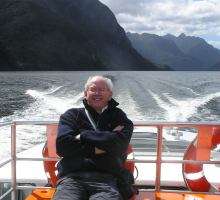 Geoff Smith
Hampshire,
England
---
---
How to test what metal toys are plated with?
September 14, 2010
Q. How do I test to see what a metal is plated with? Zinc, Nickel, Chrome, etc.
Mark Cecil
Toy restorer - Louisville, Kentucky
---
September 16, 2010
A. Try to buy next book (or find it in local library): Material Characterization Tests in Art and Archaeology (Archetype Publications) -- that is a systematized collection of spot and other simple tests, very good and valuable book. Hope it helps and good luck!
Very good webpage, with some spot tests for metals is
http://archive.amol.org.au/recollections/2/5/29.htm
Ed. note Dec. 2013: Sorry, but that link is now broken
Another very good webpage: www.mindat.org/article.php/545/Microchemical+Tests

Hope it helps and good luck!
Goran Budija
- Zagreb,Croatia
---
---
Clearcoat finish for overhauled vintage metal toys
September 14, 2010
Q. I currently refinish vintage metal toys, but I am having a hard time finding a clearcoat that will withstand five your old boys hauling rocks with their newly painted dump truck. I need something to top painted metal and withstand some hard play form kids. Any suggestions?
Shannon Haddaway
Hobbyist - Annapolis, Maryland
---
September 14, 2010
A. Hi, Shannon

The REALLY hard clearcoats (like on auto headlights) require infrared radiation or ultraviolet curing and (as far as I know) are not practical for individuals to apply. Epoxy is quite hard, but doesn't hold up well outdoors in sunlight. You can use 2-part automotive clearcoats, which should be fine =>

But don't fool yourself into thinking that paint that chips off can be helped a great deal with a clearcoat. A chain is only as strong as its weakest link: the paint you apply to the metal must adhere well. Are you using a good metal primer before your decorative paint?

Regards,
Ted Mooney, P.E.
finishing.com
Pine Beach, New Jersey
---
September 15, 2010
Q. Right now I am using a Rustoleum professional primer ... love to have some suggestions to make this product more durable.
Shannon Haddaway
- Annapolis, Maryland
---
December 2013
A. Hi again. Make sure the toy is really clean before priming. Wear plastic gloves, and scrub it with powdered pumice and a scrub brush or toothbrush.
Regards,
Ted Mooney, P.E.
finishing.com
Pine Beach, New Jersey
---
---
Refinishing nickel or chrome or flash paint die cast metal toys
December 17, 2013
-- this entry appended to this thread by editor in lieu of spawning a duplicative thread
RFQ: I have several die cast metal toy guns that are in need of refinishing (replating). I am interested in what advice I can find out. Collectors used to have this process done by replating businesses, but I am not aware of any that still do this.
Any advice on redoing the finish on these great vintage toys?
Steve Arlin
Collector - San Diego, California, USA
---
---
June 23, 2017
Q. My metal trucks have what looks like a peach color residue on the wheels. It doesn't come off with a non-toxic soap I used. Is it mold or just a natural process with aging? Someone said it might be because there is manganese in the alloy.
Janice Anderson
- Kerrville,Texas


This public forum has 60,000 threads. If you have a question in mind which seems off topic to this thread, you might prefer to Search the Site