60,000 Q&A topics -- Education, Aloha, & Fun
topic 43647
How do you measure rust?
A discussion started in 2007 but continuing through 2019
2007
Q. Hi, I am in 7th grade and I am planning my science project. It will be about metal corrosion in various liquids. My problem is, I am unsure how to measure the corrosion once it happens. Can you tell me an accurate way to measure various degrees of corrosion. I understand that some metals do not generously oxidize like aluminum and steel ... some may just turn a color or develop a stained appearance. How would I document that?
Alisha S.
student - Philadelphia, Pennsylvania
---
2007
A. To measure corrosion requires equipment that most middle schools do not have.
Corrosion frequently is measured in weeks, not days, so that is another problem.
You are probably stuck with visual rather than measured which is poor for a science project.
Typically, you will have your worst corrosion at the water-air interface, so you need your test panels either completely submerged or completely out of the liquid.
James Watts
- Navarre, Florida
---
2007
A. Alisha,
Make up your own scale, make a series of samples that have different amounts of rust from minor to major and then record the process it went through to get to that point. Then all you have to do is assign a numerical or alphabetical value to it.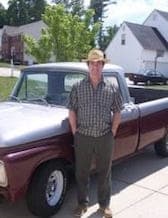 Sheldon Taylor
supply chain electronics
Wake Forest, North Carolina
---
2007
A. The simplest but most precise and scientific way of measuring corrosion is to accurately determine the depth of the attack. This can be done on a well designed sample that is exposed to corrosion. After a specified time, the corroded surface is removed (machined or ground) until the deepest pits or craters have been cleaned and all the metal surface is sound. With the aid of precision instruments, the initial and final dimensions are measured. The difference gives the attack depth. Other approaches are more subjective and focus on visual aspects.
Guillermo Marrufo
Monterrey, NL, Mexico
---
2007

Well, I don't know if a 7th-grader could understand that answer, Guillermo, but I did and I learned something from it. Thanks.
Ted Mooney, P.E.
finishing.com - Pine Beach, New Jersey
Striving to live Aloha
---
2007
A. At least she may have an answer that will make her teacher think about and try to explain further.
Best regards, Ted.
Guillermo Marrufo
Monterrey, NL, Mexico
---
2007
A. Maybe if she could weigh and measure her samples before she starts the test and after removing all the rust with some easy mechanical method, she can get a certain idea of the corrosion rate, maybe she has to use some simple geometry of the samples (like a rod)of severals alloys in the same corrosion environment or the same alloy on several corrosion environments, just an idea, to have something to compare to.
Jessica Giacchi
- Tandil, Buenos Aires, Argentina
---
August 22, 2015
A. To measure rust you need to take a ruler and measure it in inches.
Dustin Scott
- orlando, florida, USA
---
October 2015

Why inches instead of parsecs, Dustin?
Regards,
Ted Mooney, P.E. RET
finishing.com - Pine Beach, New Jersey
Striving to live Aloha
---
November 12, 2019
A. You need a stopwatch, a LARGE measuring cylinder, a rusty object and hydrochloric acid.

You first put some hydrochloric acid into the large measuring cylinder. You then put the rusty object in the acid. The rust will dissolve:

Fe2O3 + 6HCl -> 2FeCl3 + 3H2O

And so will the iron:

2Fe + 6HCl -> 2FeCl3 + 3H2

The reaction with the rust will produce H2O, so the volume measured in the cylinder will either increase or stay the same, and the solution will go yellow because of the FeCl3. The reaction with the "unrusted" iron will produce H2, and the measured volume will decrease. Once you get the reaction going, you use your stopwatch to measure how much time it takes for the volume to decrease a fixed amount (e.g. 100 ml). The longer it takes, the rustier the object is.
Luis Vallejo
- Auckland, New Zealand
---
November 2019

Interesting idea to watch the volume drop as the acid attacks the steel and releases H2 gas. But it seems to assume that none of the other reactions cause volume changes, which may be true, but I would not necessarily assume so. Have you actually done this experiment to verify that it works? Thanks.
Regards,
Ted Mooney, P.E. RET
finishing.com - Pine Beach, New Jersey
Striving to live Aloha
---
November 13, 2019
A. The simplest way to measure corrosion is weight. Weigh the sample beforehand and note the increase.

Rust may fall off iron, so have some way to account for that. You could weigh any rust that has fallen off or thoroughly dry the vessel (to remove any changes in weight from evaporation)and weigh that with the sample. Remember to put all your samples through identical procedures.

You will need very accurate scales to get meaningful data.
Ben OShea
- Katikati, New Zealand
adv.