Where the world gathers for
plating, anodizing, & finishing Q&As since 1989
-----
Acrylic edge finisher problems
2000
I am a student currently working on a project in conjunction with a local company who manufacture lots of products using acrylic parts. In order to get a superior finish on the edge of the acrylic sheets a diamond polisher is used for some parts. This leaves a very sharp edge which poses a safety hazard, a way of removing this edge is required that will be efficient but still leave a good finish.
Any ideas/products would be extremely welcome.
Cheers!
Robert Beveridge
- Britain
---
2000
Robert,
That 'local Company' should know far better than you how to remove sharp edges! Heck, if they are in the plastics business, especially dealing with 'polymerized methylmethacrylate' then the ONLY way is to 'sand' off that edge or at least to scrape it off!
Any knowledgeable thermoplastic fabricator would use a scraper tool which has has a 'sharpened' triangle which affixes to the tool at 90 degrees. Very common indeed for PVC or Pe or PP etc.
There ain't no easy, el-cheapo fix! You've got to do it by hand!
Cheers!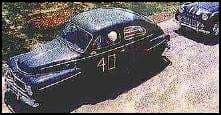 Freeman Newton
[dec]
(It is our sad duty to advise that Freeman passed away
April 21, 2012. R.I.P. old friend).
---
2003
At our company, we use a red devil paint scraper to remove the sharp edges from plastic parts. They used to make a wooden handled model. It is now made of plastic. The blade and handle is one inch wide. The blade angle must be re-shaped to suit the end user. The stock angle is not sharp enough. It's usually trial and error until you get the right angle. Once you figure it out, it is easy the next time. After rough sharpening the blade with a file, we use an oil stone to finish the edge. After the blade is inserted into the handle, drill a hole through the top of the handle and the blade for a 6-32 FH screw. Drill the bottom of the handle to thread for the 6-32 screw. Countersink the top hole and insert the screw. Tighten the screw. This will keep the blade from chattering when scraping. The scraper works great on all plastics.
Morris Coville
Plastics fabrication and design - Corvallis Oregon USA
---
2004
A simple scrape with a single edge razor will remove your sharp edge and add a nice effect on the acrylic.
Bob Gayler
plastics - Burbank, California
---
2005
How large are the pieces ? Is the protective masking on ? Are they square, rectangle ? If they are square or rectangle and not too large, and you have router capabilities. You can set up a fence and a 45 degree carbide router bit at a and zip them right out if it is a large qnty. Depends on how many you have. Otherwise the other guys are right..scrape it by hand with a razor blade (Stanley box cutter knife blades are the best). Good luck or just tell your manufacturer to just flame polish the edges. That'll soften them up.
Terry Bodeker
- Irving, Texas
---
2007
Your problem is quite simple to rectify. Rather than go the labor intensive methods suggested previously, the easiest and most cost effective would be to flame polish with a hydrogen flame (proper flame temperature). This will "dull" the edge for safer handling.
Nelson W. Lancione
acrylic fabrication - Ft. Lauderdale, Florida
---
June 11, 2010
how to adjust the depth of an edge finisher blade?
Roland V.
[last name deleted for privacy by Editor]
Fabricator - Virginia Beach,Virginia
---
March 17, 2011
we use flame torch oxygen and hydrogen will leave shiney edge . the displays guys
zac guerra
shop manager - dallas,texas, usa