Where the world gathers for
plating, anodizing, & finishing Q&As since 1989
-----
Effects of processes on anodized surface
2000
I am considering using hard anodize in the repair process on one of my aluminum parts. After the anodizing, the surface will have to go through several other processes. I am unsure how these additional processes will affect the anodized surface. The surface will be lightly machined, etched, penetrant inspected, and a chem film will be applied. Any information on what effects these processes will have on the hard anodized surface would be greatly appreciated. I am also interested in information on how anodizing might interfere with or affect these processes.
Thank you for your time & any help you can provide.
Cyndee Crim
- Cincinnati, Ohio
---
2000
The actual part and exactly what and how it is done determine the effect. Generally speaking:
Anodize will rapidly wear out most cutting tools and it will tend to chip. Careful grinding and honing are exceptions.
Chem film- the prep step will attack the anodize, big time. The anodize may be masked off and if done very well, there is no attack.
Penetrant inspection will have virtually no effect if the anodize was properly sealed and the surface not machined, or abraded or worn. If not, then it will absorb the first chemical in a rather random pattern.
Etch- anything that will etch aluminum will degrade the anodize.
James Watts
- Navarre, Florida
---
2000
It is hard to see what you are trying to accomplish here. I hope you understand that a good hard anodize is what old hardcoaters call "file hard", because it is really as hard as a file and very difficult to "lightly machine".
Normally anodize is the last coating applied to a part. Besides the effect that the other processes have on the anodize, the anodize film affects the other processes. An anodized surface will not take a conversion coating, and the heavy anodize film can cover over small cracks and thereby interfere with penetrant inspection. If there is a portion of the part which is to have a conversion coating and no anodize, the proper sequence would normally be:
Machine to specifications.
Clean & penetrant inspect.
Clean, Conversion coat entire part, dry.
Mask areas where final conversion coating is desired.
Lightly etch to remove conversion coating from rest of part, desmut, Hardcoat.
Remove masking.
Done.
The part can be lightly etched and desmutted before penetrant inspection or conversion coating. Masking over conversion coating assures that the masking will stick, and when properly done the masking protects the conversion coating during anodizing. I have selectively hardcoated thousands of parts with this procedure. You don't really want to machine hard anodize unless you absolutely have to.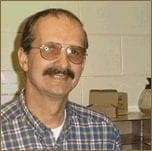 Phil Johnson
- Madison Heights, Michigan