topic 42900
Restore antique gun metal finish that was mistakenly "cleaned" off
(2006)
Hello, I am not even a hobbyist, I'm afraid, and I am really stumped! Any help that someone could offer would be much appreciated!
I purchased a beautiful antique gun metal pocket watch for my husband and took it to a watch-maker for a basic cleaning and servicing (I thought he would just handle the works). The case of the watch I bought was irregularly blackened, whether by age/tarnish or on purpose, I don't know. Inset in the rear cover is the likeness of a stag in yellow and rose gold--very striking against the dark gunmetal.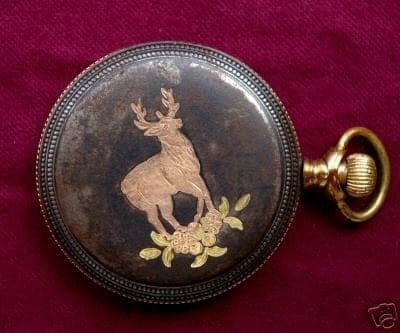 When I picked it up from the watchmaker, he had painstakingly cleaned all of the patina from the gunmetal so that it now has a pewter look.
I was too stunned to discuss it with him.
I have looked into cold bluing and professional hot bluing, but I do not know if either is possible to do without damaging the intricate gold design. Also, I do not want a perfect, shiny finish. I would like to restore it to an uneven, aged-looking finish.
Is this possible?
Thanks!
Lynn M
[last name deleted for privacy by Editor]
consumer - St. Louis, Missouri
---
(2006)
Lynn, I'm no jeweler and have no experience in this, and I'm only looking at a picture, not the actual article. But cold bluing and hot bluing are for steel; I doubt that the watch is steel.
This looks to me like an article that was silver plated in some areas and gold plated in others. It looks like there were two colors of gold -- the buck is a pink gold whereas what he is standing on looks like yellow gold leaves.
I suspect it was originally done by painting a precision masking material onto the different areas for selective electroplating. I don't think there's anything wrong with the jeweler having restored a pewter look to it, if it was silver, as long as the gold remains, since that looks like what the original probably was (that's assuming you want your husband to use it rather than preserving it with the patina in a showcase). If it is silver, it will re-blacken itself reasonably quickly.
A jeweler is in a far better position in terms of experience, facilities, and knowledge of metal behavior than we are. I'd suggest taking it to the same or a different jeweler and telling them what you want.
Again, I'm guessing what it is, not offering advice on preserving the value of antiques.
Ted Mooney, P.E. RET
finishing.com
Pine Beach, New Jersey
---
(2006)
Thank you for your recommendation--I will take it to a professional. I really appreciate you taking the time to respond!
Lynn M
[last name deleted for privacy by Editor]
- St. Louis, Missouri
---
January 29, 2010
I have a pocket watch exactly like this one. It's a Hampden vintage 1893 with the identical inlay on the back as the one you are displaying. What did you discover regarding finishing or restoring as I'm about to go through that process now.
Mike Wilson
- Bloomington, Illinois
---
February 1, 2010
I'm afraid I have not done anything to follow up. The watch (which the jeweler said was gunmetal) still has the soft cleaned-up finish--no patina. I wish you luck with yours. This one has run beautifully since its cleaning.
Lynn McNeil
- St. Louis, Missouri


This public forum has 60,000 threads. If you have a question in mind which seems off topic to this thread, you might prefer to Search the Site