Where the world gathers for
plating, anodizing, & finishing Q&As since 1989
-----
Stainless or zinc plated a better galvanic couple with aluminum?
Q. What screw material for aluminum caravan?
Hi. I have a 1977 painted aluminium clad caravan that was my late father's. We use it a lot and it's in great condition. It's always been barn stored when not in use. I've noticed that there are getting more signs of oxidising on the aluminium skin and I'm wondering if its the screws causing this?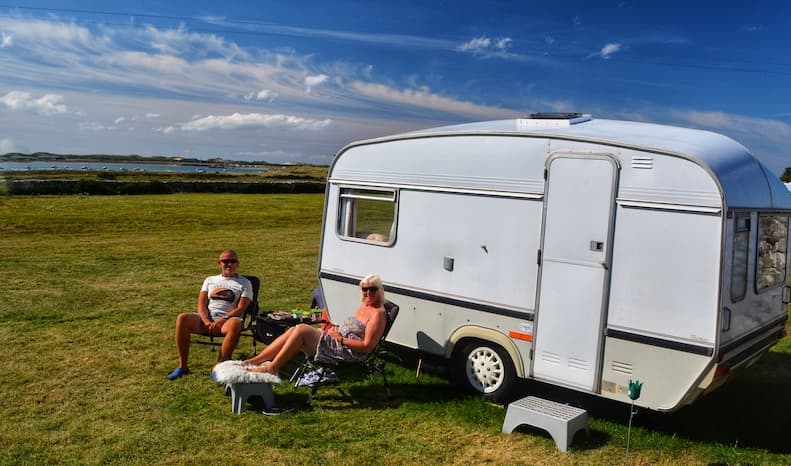 Over the years my father replaced a good percentage of rusting steel screws with stainless steel ones and whilst the screws are still okay the aluminium isn't. The oxidising isn't particularly around the screw areas but spread out over the panels. There are no water leaks I can find and all the timber framework is dry as seen when windows and vents have been replaced. I am keen to rub the caravan down and repaint it but want to address the oxidising issues first as best as I can. There are still quite a few rusty steel screws in place which would need to drill out and many stainless steel screws which seem ok.

Do I need to remove all the screws and replace them? If so what with?

We love the caravan and its family history so are keen to keep it going as long as possible.

Many thanks
Glyn Jones
- Macclesfield cheshire uk
November 13, 2022
A. Hi Glyn. The rusting screws will continue to rust, so it would be best to replace them. The stainless screws are fine, and are used all the time in similar situations, and not the cause of the oxidation. Further, zinc plated screws won't last and will soon rust as they have in the past.

After you are done with whatever screw replacement you are going to do, the bare aluminum can be buffed to remove the oxidation and restore the shine, and a clearcoat like Everbrite [a finishing.com supporting advertiser] can be sprayed or brushed over both the bare and painted areas.

(Note to purists: this is not to say that there are no galvanic issues between stainless steel and aluminum ... there are. You can't use stainless screws in critical aerospace applications for example. But those little screws are not the cause of broad swaths of oxidation; that's just a normal thing that happens to aluminum over time).
Luck & Regards,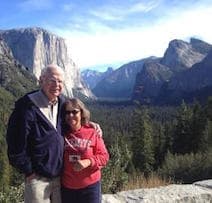 Ted Mooney
, P.E. RET
Striving to live Aloha
finishing.com - Pine Beach, New Jersey

Hi Ted. Thank you for your reply and advice, it's much appreciated. Best wishes from the UK. Glyn
Glyn Jones
[returning]
- Macclesfield cheshire UK
November 13, 2022
A. Hi
Stainless steel bolts together with aluminium is a highly corrosive situation, especially in contact with salty water.
Arvid Klubben
- Undheim, Norway
June 30, 2023
---
---
↓ Closely related postings, oldest first ↓
---
---
Q. I have a question regarding the appropriate choice between zinc plated steel and stainless steel part when in contact with aluminum.

We are designing an electronic enclosure which has Aluminum Extruded Side walls. The aluminum sidewall has grooves running the length of the part. The lid is currently a stainless steel plate which runs through the groove and in contact with the sidewall. The aluminum side wall is anodized on the outside surfaces but the grooves are left natural. The reason for this is to ensure there is an electrical connection between the side wall and the lid (this is essential for EMC Shielding). We are now considering changing the plate from stainless steel to zinc plated steel to reduce galvanic corrosion. Both these materials will serve our mechanical requirements, we are only concerned about the galvanic corrosion issue.

Is zinc plated steel a better choice than our current stainless steel part?
Sarva Thurairatnam
- Kensington, Victoria, Australia
2006
A. Due to their relative closeness in the nobility of metals chart, zinc plating would be the better choice to mate with aluminum. Stainless steel will actually cause the aluminum panel to corrode in an attempt to protect the stainless steel fastener (because it is more noble). If you wanted to take it a step further, I recommend using a zinc lamella dispersion coating instead of standard zinc plating. Zinc dispersions usually offer superior corrosion protection (around 500-1000 hours ASTM B117 [affil link] ), and many times offer an aluminum rich topcoat to further diffuse bi-metallic corrosion.
King Drummond
- Cleveland, Tennessee, USA
---
---
Q. Using zinc plated coach screws to fix aluminium frames, is there a problem? I am fixing an aluminium framed building to a concrete base.I intend using zinc plated coach screws.Question:- Will there be any chemical reaction or corrosion possible.
John keenan
- Belfast Northern, Ireland
2006
A. There can only be galvanic corrosion if there is moisture (or some electrically-conducting aqueous solution) present.

In the absence of an electrolyte, it doesn't really matter what two metals are in contact, they won't react.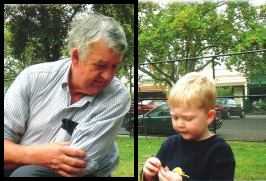 Bill Reynolds [deceased]
We sadly relate the news that Bill passed away on Jan. 29, 2010.
---
---
Q. Hello folks,

I am converting a motorcycle from gas to electric. I am building (welding) 6061 aluminum angle (1" x 1" x 1/8") into trays that the batteries will sit in. There are nine batteries that weigh about 18 lbs each, and they are enclosed in aluminum housings.

In order to ensure that the batteries don't jump out of the frames while I'm driving, I was going to tap the frame and housings and use M6 machine screws to hold the battery/housings in place.

I'm trying to decide on screw material and it pretty much comes down to stainless or zinc plated machine screws due to general availability. I've been (through links posted on this site) about galvanic corrosion between aluminum and stainless or zinc.

In my situation, there will be far more aluminum angle/housing than screws, and I've read that it's good to pick the more voluminous material to be the sacrificial piece. What I'm concerned about here is that the aluminum is structural (the aluminum frame holds many batteries), and the screws are not structural (they hold the batteries in frame). There will be four or eight screws holding a battery single battery pack in place, so if I choose zinc plated screws, they should be the sacrificial piece (I think) and if one or more screws starts to fail, the battery may start rattling or jumping around in the frame and I can replace the screw. however if I use stainless screws, the aluminum frame will corrode, which could be more catastrophic and also is much harder to replace.

As for actual conditions, I live in Northern California, so the humidity level is relatively low most of the year, however this is a motorcycle, so it will be ridden on the road and may see some water due to puddles or light rain (I don't plan on riding in the rain)

So, questions I have are:

* should I use stainless or zinc screws? Based on my (very limited) understanding, I probably want zinc, however I'm not really sure here.

* How fast will noticeable/problematic corrosion occur? Given the conditions are relatively light in terms of exposure to moisture how concerned should I be?

* Is there a coating I can use to help? I've heard that an anti-seize compound would be useful, though I need to use locktite to make sure the screws don't come loose, I don't know if locktite and anti-seize are compatible.

If there's anything else I'm missing, please let me know!

Thanks!

--Tango
Alex Tang
Hobbyist/Product Prototype Maker - Mountain View, California, USA
March 2, 2010
---
---
Q. I had a lot of problems finding suitable screws for aluminum screens doors in the area where bottom seals made of some type of aluminum and rubber are been added, the area around the screws goes to a fluffy white corrosion almost bonded to the frame and difficult to unscrew, and far worse close to sea areas. Any suggestion would be welcome. Many Thanks.
Lucio Rizzo
- Sydney NSW Australia
May 6, 2011
---
---
Did you ever have to make up your mind?
Pick up on one and leave the other behind?
It's not often easy, and not often kind.
Did you ever have to make up your mind?
-- The Lovin' Spoonful
Q. I am currently working on a project where a contractor has fixed a powdercoated aluminium louvre to an aluminium bracket using 2 different types of fixings, one being a stainless steel bolt connection and the other a galvanised tech screw. What is the likelihood of this corroding?
Simon Kelly
Commercial Builder - Melbourne, Victoria, Australia
October 2, 2012
A. It all depends on which is the larger surface area that will ultimately start the galvanic corrosive action. In all likelihood the Galvanized screw may be the first chap to go, assuming that the Aluminum in contact with it is larger in area, If it's powder coated from both sides with no exposure of the Aluminum to the weather of any kind, they may both live happily ever after till death do them part.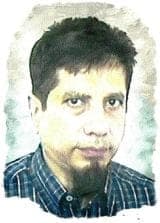 Khozem Vahaanwala
Saify Ind

Bengaluru, Karnataka, India

---
---
Rust observed on the zinc plated screws when in contact with the Anodised Aluminium parts
Q. We Manufacture & supply Anodized aluminium components (Sheet metal) to European customers but from past some days we are getting complaint from customer that they are facing corrosion on the zinc blue passivated screws assembled to the anodised aluminium component after some time.
Also note : Plated Screw passes 120 hours of salt spray.
Packaging will be Export quality.

My doubt is is due to contact between Anodized aluminium surface and plated screws is there any reaction occurring and thus rust forming on the plated screws. Please advise.
Naveen Kumar
Product Designer - Bangalore , Karnataka & India
October 20, 2016
A. Hi Naveen. Perhaps you should ship a couple of extra screws loose or in the identical packaging you ship your assemblies in, and see if that gives a clue. Although zinc plating and anodized aluminum are not quite galvanically compatible, it should not be a huge issue for non-critical parts. 120 hours is not a lot (5 days); what is the exposure condition, and the plating thickness?
Regards,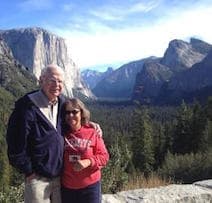 Ted Mooney
, P.E. RET
Striving to live Aloha
finishing.com - Pine Beach, New Jersey
---
---
Zinc bolt corrosion in Aluminum outdoor sign
Q. We made a sign for the corporate business center, we choose aluminum as the building material. All internal and external parts are aluminum (6061). The outer parts are clearcoat anodized, the inner pieces are bare. It was assembled with zinc plated steel fasteners, my online research pointed to this being the best option, even over SS fasteners. The sign is bolted to a brick base with a limestone slab top. And it is 100% exposed to the elements. Corrosion is taking place, orange coloration is evident. I need a recovery plan.

Since the Zn plate fasteners did not work, what is the correct choice?

Once this is known, I plan to pull the sign to the assembly area and remove all fasteners and replace them. The rust staining will have to be removed at this time. My hope is that the clearcoat anodize will provide a level of protection where this will be easy to clean.
JOHN STEFANICK
- Mason, Illinois
January 20, 2017
A. Hi John. We appended your inquiry to a thread with rather similar questions, but I don't quite agree with the previous answers. My own experience (just observation) shows that stainless works very well with anodized aluminum; further while some rusting on the surface of some grades of stainless is possible, it is unlikely to ever run down onto the aluminum. One final point that is often missed, and goes unmentioned in your inquiry, is that different thicknesses of zinc on the fasteners and anodizing on the sign are possible.
While hot dip galvanized zinc coated bolts might be fine, in my own experience most commercial 'zinc plated' bolts, having 0.0002" of zinc plating (or even less), are going to rust very soon outdoors on their own even if insulated from all other metals.
I'd suggest type 316 stainless fasteners. Type 303/304 would probably be okay if you can't find 316 easily.
Regards,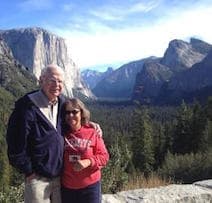 Ted Mooney
, P.E. RET
Striving to live Aloha
finishing.com - Pine Beach, New Jersey
---
---
Using zinc-plated screws to fasten aluminum to steel
Q. We have an application where we're hanging 1/8", 5052-H32 aluminum panels off of 20 gauge galvanized steel clips. This is indoors, in the northern mid-west of the US (so not near the ocean).

Two questions:

1. I am wondering if I can use zinc planted, 410 stainless, or 18-8 stainless screws for this, as opposed to screws with a coating to protect against "salt spray," since for my application, there seem to be more choices for zinc, 410, or 18-8.

2. Also, we are not planning to put any sort of electrical insulating tape between the aluminum and the steel clip. I assume this is okay, since the application is indoors and not near the ocean. Am I correct?

Thank you!
Carl Wedell
Designer - Minneapolis, Minnesota, USA
February 27, 2017
A. Hi. I'd go with stainless. You can't have galvanic corrosion without conductive moisture, so it doesn't sounds like a big problem to me, anyway though. We have dozens of threads and hundreds of postings on this subject if you want a second opinion. Good luck.
Regards,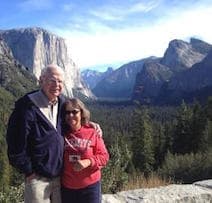 Ted Mooney
, P.E. RET
Striving to live Aloha
finishing.com - Pine Beach, New Jersey
---
---
Galvanic Corrosion And Where It Occurs
Q. Hello,

I am working on a research project in which I am creating a block of anodized aluminum with a stand cut inside the middle with thin glass to see through and ports for chilled liquid and vapor to come into the block.

Basically I am looking for information on galvanization between my fasteners (screws and washers to keep the glass eyehole in place and connectors for the ports) and the anodized aluminum block. This system will likely have water as an electrolyte as it will be difficult to prevent complete condensation on the chilled block.

To my understanding, if I used cadmium or zinc plated alloy steel fasteners, these are more anodic and will preferentially corrode. I am wondering once the finish has corroded, will the aluminum then corrode as it is more anodic than steel alloy of the fasteners?

Or if I use passive stainless steel, as this is more cathodic, will the aluminum block corrode?

And where will the corrosion occur? Does it occur where both the washer touches the aluminum block and where the screws are threaded inside of the block? This is my big question as I have not found any info on corrosion inside of a block/plate due to screws.

Thanks for your time and I appreciate any help that I can get.
Jared Hale
Research and Desire to learn more to be more competitive when entering the job market - California, Anaheim, United States
March 28, 2017
A. Hi Jared. Galvanic corrosion is dissolution of metal into a conductive electrolyte, so it's usually concentrated near the interface of the two materials. If a thread sealant is used, it should keep moisture out of the threaded area, preventing corrosion there.
Cadmium is highly compatible with aluminum, but is a biocumulative poison and is no longer used as a plating except in rare and ever diminishing critical cases. The ideal finish would be aluminum plating on the screws, but this is unusual and expensive; you won't find aluminum plated hardware except on aerospace components.
Thus I think your choices are zinc alloy plating or stainless steel screws. My preference is stainless steel and I suspect they'll be fine. Neither anodized aluminum nor stainless are very conductive due to oxides on their surface, so galvanic corrosion isn't often a major thing in non-critical applications
Can automotive antifreeze (with its corrosion inhibitors) be used in the application? Condensation water will not be very conductive if it occurs in a benign environment.
Regards,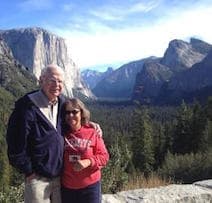 Ted Mooney
, P.E. RET
Striving to live Aloha
finishing.com - Pine Beach, New Jersey

Hello Ted,

I appreciate the quick response. And that is good information to know about the thread sealant.

You are right about the anti-freeze. We will be using an ethylene glycol and water solution, flowing through the block to keep it below freezing. With this, there will be condensation onto the block and fasteners from moisture in the air.

This is my main concern as this system will be running for days at a time, covered in the water due to the condensation. We have a system to prevent this over the glass eyepiece but will not be able to apply it to the entire apparatus.

That is why I was concerned about possible corrosion issues based on material and finish selection due to the time exposed to the electrolyte.

Thank you for your time and information.
Jared Hale
[returning]
Research - Anaheim, California, USA
---
---
Zinc lamellar coating
Q. Hi please help me about zinc lamellar ... what is zinc lamellar coating?
How is it made and what equipment is required?
What will be the cost per square feet to coat?
I am new to this so help me. I don't get any info in google.
chandu talluri
- vizag A.P India
October 25, 2017
A. Hi Chandu. This coating is probably better known as "zinc-rich dip spin" coating, so you'll probably make better Google progress with that term ... in fact you'll find many threads about it by searching this site with that term. Generally the coating is not a "home brew" but something where the coating shop sets up a licensing agreement with one of the half-dozen or so world-wide suppliers of the coating chemistry.
You are unlikely to find pricing on the Web, and will need to offer some particulars about your parts to coating shops to get quotations. Good luck.
Regards,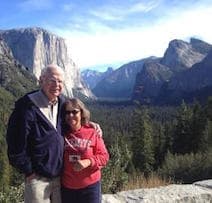 Ted Mooney
, P.E. RET
Striving to live Aloha
finishing.com - Pine Beach, New Jersey
---
---
Q. Hi, I'm building an aluminum-frame screen porch. I live in Florida just a few blocks from the ocean.

Would it be ok to connect the aluminum frame with aluminum L-brackets and stainless steel screws? From my understanding the aluminum frame has a larger area than the stainless screws, thus there will be a more limited interaction between the metals.

Or is it better to special order aluminum screws?

Thanks! Mike
Mike Lipsky
- SATELLITE BEACH, Florida, USA
November 1, 2017
A. Hi Mike. Stainless screws are the usual architectural choice; I think they'll be okay. A no-no for an airplane, but okay for a screen porch. Good luck.
Regards,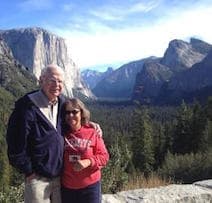 Ted Mooney
, P.E. RET
Striving to live Aloha
finishing.com - Pine Beach, New Jersey
---
---
Q. Can you please tell me I have a raw untreated aluminium equal angle being screwed to an exterior wall with Zinc/Nickel coated screws, and then covered with an ACM panel.
Can you please tell me, will these screws corrode the Aluminium or visa versa.
Andy Pummell
- Auckland,New Zealand
December 4, 2017
A. Hi Andy. I am not an architect or builder, but was under the impression that stainless steel hardware is normally used for this application. I mention this because such things are difficult to fully evaluate from limited book knowledge alone, and you should investigate whether there are any codes or white papers covering the application based on actual field experience. It could be, for example, that the particular way that water accumulates on the fasteners in the framing behind ACM panels has a bearing on the corrosion (anaerobic vs. aerobic corrosion for example).
It would appear, based on potentials, that the zinc-nickel plating should corrode before the aluminum, but some papers you can read on the subject seem to talk about how zinc-nickel plating corrodes in a cracked mud-flat pattern whereby the nobility of the plated finish increases with the passage of time and then tends to echo the potential of the underlying substrate material, which sounds like it could then corrode the aluminum around the fastener holes. It's a bit deep for me to make a prediction from; I think it would be okay, but I would not want to do a significant building with zinc-nickel fasteners unless there was field experience supporting it. A small ground-level building sounds worth trying; a skyscraper, not.
Sorry for the long non-answer :-)
Regards,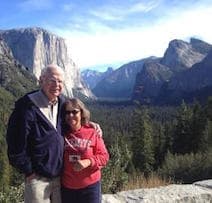 Ted Mooney
, P.E. RET
Striving to live Aloha
finishing.com - Pine Beach, New Jersey
---
---
Correct usage of 3 metals in electrical circuit
Q. Hello,

I make electrical kits for motorcycles. When I began 10 years ago, I inquired about the usage of stainless steel fasteners & washers bolting down copper eyelets to aluminum engine castings.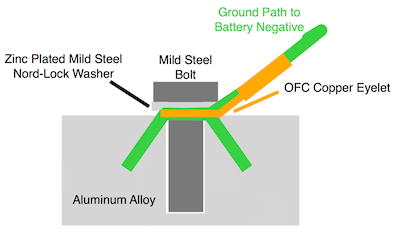 I was told that my 8 mm bolt holding my high purity copper eyelet into various aluminum castings would pose no problems due to the sizes and configuration (small bolt and eyelet vs. size of aluminum casting).

I have had no (known) issues and for the most part this is a permanent installation on the vehicle (there is no ongoing removing and reinstalling of that bolt and eyelet).

I now want to change the configuration to a plated mild steel bolt, a zinc plated Nord-Lock security washer and the same eyelet into the same types of castings.

When I first looked into this I was not aware of this site and asked the technical department of a very large commercial electrical terminal maker about any problems with the 3 metals. I was told I would not have any.

I now want to know if my new configuration will have any issues with galvanic corrosion etc.

Thank you for any info/tips/advice.

M./
Michael Heth
shop employee - San Anselmo, California USA
April 3, 2019
A. Hi Michael. Personally, I feel that your proposed change is not nearly as satisfactory as your current configuration, because copper is hell on zinc, generating a 1.1 volt differential, combined with the fact that most commercial zinc plating is poorly suited for outdoor exposure and road service in the first place even without any galvanic compatibility issues.
If it's cost prohibitive to retain stainless bolts and Nord-Lock washers, then further study may be needed of course.
Regards,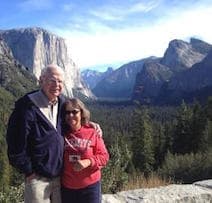 Ted Mooney
, P.E. RET
Striving to live Aloha
finishing.com - Pine Beach, New Jersey
Q. Thanks for the reply, that is exactly the type of solid info I was hoping to find.

Based on it I will stay with my 8mm SS bolt for the main negative ground point using a SS flat washer and a SS spring washer.

My concern is whether I would be getting into "iffy" territory with getting enough torque on the stainless fasteners for the Nord-Lock action (digging into the metals) to work properly. I can see end-users stripping the fasteners in the aluminum.

On some motorcycles the vibration range and the amplitude do cause critical fasteners to loosen and for those I will use the SS Nord-lock washers.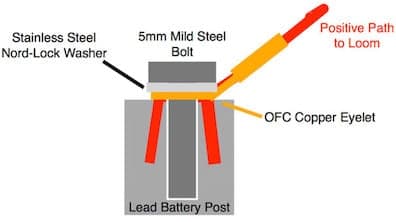 On the positive battery post I have a similar situation but for those 2 contact points I can affordably supply the washers in SS.

But my terminals are OFC and the bolts are plated (although I do not know if they are Zinc plated).

Any advice in the best way for me to supply a good long term solution with the 4 metals?

Thanks for any info.

M./
Michael Heth
[returning]
- San Anselmo, California USA
April 5, 2019
---
---
Connect aluminum mounting plate to concrete wall in wet environment
Q. I need to attach some aluminum framing to a concrete wall with an aluminum mounting plate in an inland fresh water environment. I am thinking stainless steel wedge anchors would be better than zinc plated. I intend to use di-electric grease on the aluminum to concrete surface. Your thoughts on the anchor bolts?
Barry Barsh
design engineer - Atlanta, Georgia USA
September 9, 2019
A. Hi Barry. I think you're right. It seems that every hotel I visit has aluminum railings on their concrete balconies, held in place with stainless steel anchor bolts and nuts.
Regards,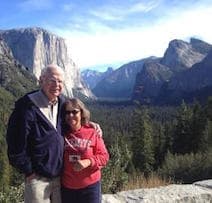 Ted Mooney
, P.E. RET
Striving to live Aloha
finishing.com - Pine Beach, New Jersey
---
---
Q. I have an anodized aluminum channel for mounting an awning which I need to screw onto the painted steel of a van. It will be exposed to rain in varying climates. From the answers in the thread below, I glean that SS screws (perhaps with threadlock applied?) would likely be a better choice than zinc plated screws. Do you agree?
Gordon Naylor
- Mercer Island, Washington USA
September 12, 2019
A. Hi Gordon. Yes, I think so.
Regards,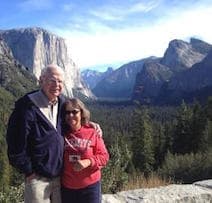 Ted Mooney
, P.E. RET
Striving to live Aloha
finishing.com - Pine Beach, New Jersey

Thank you so much for your prompt response and also for this very helpful website!
Gordon Naylor
[returning]
- MERCER ISLAND, Washington USA
September 13, 2019
A. Having worked in the Luxury Marine Sector we have had to connect Stainless Steel fittings (Doors, Handrails Etc.) to Aluminium Hulled Craft numerous times.
The worst possible situation for Galvanic corrosion to occur (Water, Salts, Aluminium, Stainless steel, none of these should mix!)
The best workaround we discovered and used for fixings if a plastic isolator was not available or possible was a product called USS Ultra Tef-Gel [affil link]. Although pricey, a tub goes a very long way.
All you need to do is give the fixing a wipe over with the gel (or where any different metallic surfaces come into contact) and it acts to isolate the metals, repel moisture and is also an anti-seize compound, aiding future dismantling.
Robert Watts
- King's Lynn, Norfolk, UK
January 20, 2021
---
---
Q. Stainless Steel or Galvanized fasteners for Aluminum Siding/Cladding?
We recently started manufacturing some heavy gauge aluminum (6063-T5 @ .071" thick) cladding/siding/decking/fencing that is first powder coated and then goes through a sublimation process to give it a wood grain finish. Our manufacturing partner is telling us to use a galvanized truss head lath screw with a self drilling point to attach the product in the conditions below. I'm seeing hardware manufacturers recommend 18-8 stainless steel screws as well with aluminum. I'm concerned about galvanic corrosion. Any thoughts?

1) Siding - 99.9% of the time fasteners will be dry but there is wetting potential.
2) Decking - 99.9% of the time fasteners will be dry but installation could be over chemically treated lumber which could also impact the aluminum.
3) Fencing - 99.9% of the time fasteners will be dry except when 1) Aluminum base plates are fastened to concrete (tapcon screw?) and 2) aluminum base plates are fastened to aluminum post under the plate but plate could then sit in moisture/snow up against concrete.

When I say 99.9% of the time the fasteners will be dry it is because the fastener will be located where two boards interlock creating a "dry" space.
Mike Holum
- Milwaukee, Wisconsin
February 16, 2021
A. You might rethink 99% dry. From your description. There may be entrapped moisture, so they will be wet longer.

If the zinc plated screws are electroplated (the bright, shiny ones), they will begin to rust fairly soon - possibly within a year. If they are hot-dipped (the grayish ones), the zinc will be thicker and they will last much longer.

The stainless steel screws will last a long time, but may promote some corrosion of the aluminum.

I'd use epoxy coated screws. They won't promote galvanic corrosion. I built an arbor over our deck twenty years ago, using CCA treated lumber (which can cause corrosion of metals) and epoxy coated screws. So far, so good.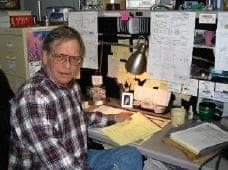 Jeffrey Holmes, CEF
Spartanburg, South Carolina
---
---
Q. Hi,
I work in the solar industry and I'm looking for the correct nut and bolt to secure tinned copper crimp lugs to anodized aluminium solar panel frames (anodizing will be removed at point of connection) to provide earth bonding to the solar modules.

I have Zinc plated bolts (the shiny ones) which I see you advise against in previous posts & stainless 304.

Do you think the 304 will be ok?
What would be the ideal combination for this application or what product (grease) could I use to improve the termination?

Many Thanks
Chris
Chris Booker
Electrician - Berkshire UK
October 24, 2021
A. Hi Chris. The issue with zinc electroplating is not just galvanic compatibility but the fact that, unless you're speaking of specially spec'd zinc plating, it won't last at all outdoors -- maybe a couple of years in ideal conditions and a couple of months in poor conditions. 304SS sounds fine to me.
There are other brands of similar products, but I used stainless screws and No-Ox-ID to connect copper to aluminum bus bar in the harsh environment of plating & anodizing shops and was happy with it.
Luck & Regards,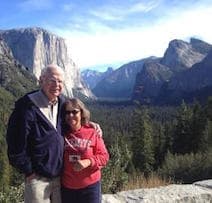 Ted Mooney
, P.E. RET
Striving to live Aloha
finishing.com - Pine Beach, New Jersey

Thanks for your response Ted, much appreciated. I'll stick with Stainless & give the Ox product a go.

Kind Regards,
Chris
Chris Booker
[returning]
Electrician - Berkshire UK
---