topic 42000
How to tell real chrome from stainless steel
(2006)
Q. HI GUYS I AM A TEENAGER WHO CURRENTLY ENJOYS ADDING DIFFERENT PARTS TO MY NEW TRUCK. I DON'T REALLY KNOW HOW TO TELL THE DIFFERENCE BETWEEN REAL CHROME MATERIAL AND STAINLESS STEEL. I HAD CHROME PANELS ADDED TO MY TRUCK BUT ALL MY FRIENDS SAY IT IS STAINLESS STEEL AND THAT I GOT RIPPED OFF. COULD You PLEASE TELL ME A DEFINITIVE WAY TO TELL IF THE PANELS ARE CHROME OR JUST SHINY STAINLESS STEEL MADE TO LOOK LIKE CHROME.
BEN
[last name deleted for privacy by Editor]
STUDENT - MEMPHIS, Tennessee, UNITED STATES
---
(2006)
A. In one sense there is no such thing as "real chrome", Ben, because nothing is ever made out of solid chrome metal. Rather, steel items are plated with chrome. Please see our Chrome Plating Tutorial. There are four possibilities here. First, you have steel panels with nickel-chrome plating; second, you have stainless steel panels with nickel-chrome plating; third, you have plain stainless steel; fourth, you have stainless steel with a chrome flash (in this case the chrome is to deter corrosion, not to impart a reflective look).
Park your new truck right next to a Harley. If it compares favorably, you have real nickel-chrome plating. If it doesn't, you don't. But that's not to say that nickel-chrome plating is "better" than stainless steel; stainless is probably more expensive and longer lasting -- it's just not as shiny and reflective.
Ted Mooney, P.E. RET
finishing.com
Pine Beach, New Jersey
---
(2006)
A. Stainless is a better product than chrome plated steel in your application. Your friends are not very educated in automobile restoration. Nickel chrome over steel is generally about .0015" thick (1/2 the diameter of a human hair.)
Stainless will not rust and is easily cleaned. Steel that is chrome plated can rust, pit and the plating can start to peel. Once it starts to peel you may as well throw it away because stripping the plating is not EPA friendly and there are not many shops that will do it anymore.
If you did purchase stainless you got the better product.
T.J. Luniewski
- MPLS, Minnesota, USA
---
(2006)

Thanks for the input, T.J., although I don't necessarily agree 100% with you. While it is possible to get low quality chrome plating, good quality chrome plating can last decades in the most adverse situations without any rusting or pitting, and certainly no peeling, as we see on OEM truck bumpers and auto trim. Conversely, when OEMs put stainless trim on an automobile, they plate it with a flash of chrome to deter rust and pitting.
And in my experience the finest stainless steel polishing will not favorably compare to "show" chrome or Harley chrome in appearance.
Ted Mooney, P.E. RET
finishing.com
Pine Beach, New Jersey
---
(2006)
A. Ted, you said: "good quality chrome plating lasts decades in the most adverse situations without any rusting or pitting, and certainly no peeling, as we see on OEM auto trim."

Not so fast. My '96 Caddy has four trim pieces, each about 1/2" X 4' which started blistering and peeling in less than a year from new.
I contacted GM's Cadillac division, and their response was, in effect, "Tough luck. We have no interest in replacing those parts."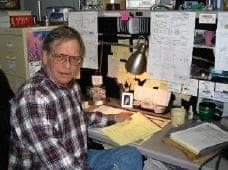 Jeffrey Holmes, CEF
Spartanburg,
South Carolina
---
(2006)

Don't get me started on GM not standing behind their products, Jeffrey. My personal experience with an electrical short in the steering column of a Malibu was that no matter how many thousands of dollars I spent to have the column disassembled to replace the same mis-designed component three times, they did nothing, and the sole purpose of their "investigation team" and "opening a file on your situation" was only to stall for years in hopes that I'd junk or sell the lemon :-)

I finally sold it and have just bought a Toyota. Even those of us who steadfastly refused to buy Japanese for decades have been forced to concede that it isn't possible to build great cars when you have the GM mindset of focusing on quarter by quarter profits :-)

Still, in many if not most cases, today's chrome plated parts do indeed last decades.




Ted Mooney, P.E. RET




finishing.com




Pine Beach, New Jersey




---
(2006)
A. In Ben's application I still believe SST would be better and hold up much better. I am assuming the panels Ben mentions are covers for the bottom of the doors, rockers and quarters, etc. These are areas that see above normal abuse with normal driving let alone if he takes it off road. Chips/scratches in chrome plating will allow the base metal to rust, chips in SST will never rust. My point is that with the same maintenance, stainless steel will hold up better to the elements than chrome plated products in Ben's application. It may not have the same deep shine chrome has but can be buffed to a very nice finish.

Anyways... Ben, the quickest way to tell is to place a magnet on the panel (before installation) If it doesn't stick it is SST (unless it is 400 series or 17-4 but that's a whole 'nother lesson)
T.J. Luniewski
- MPLS, Minnesota
---
(2006)

Well, that's 2 to 1 in favor of stainless, Ben.
Ted Mooney, P.E. RET
finishing.com
Pine Beach, New Jersey
---
(2006)
A. Nothing looks as bright and beautiful as a good chrome plated finish.
However stainless steel side panels and rocker moldings will tolerate attack from road debris much better than chrome.
Chrome needs to be cleaned and waxed just like a fine paint job. Don't get chrome if you don't plan on pampering it.
The auto manufacturers balance cost and quality. Unfortunately cost wins over quality sometimes. After ten years it would be hard to find a piece of chrome plated pot metal that has not shown signs of deterioration.
Frank DeGuire
- St. Louis, Missouri, USA
---
---
(2007)
Q. Yet none of you gave any photos to look at? How about you prove your knowledge.
D. Macleod
- Boston, Massachusetts
---
(2007)
A. If send us a picture of a mirror, (not the frame, just the reflective area), we'll post a picture of a chrome plated surface. But you won't know whether we actually posted a picture of chrome plating or just re-posted your picture of the mirror -- because they will look exactly the same. You don't see the chrome, only what is reflected in it :-)
It's notoriously difficult to photograph a bright reflective surface. What is usually done is you photograph a reflection of a screen or a test pattern to look for any distortion or dull spots. But it shouldn't be too hard for you to find a Harley, look at the chain guards, and see top quality chrome plating firsthand.
(Please try to be careful with your wording because, without the benefit of voice inflections, your posting can sound snotty and demanding instead of grateful). Good luck.
Ted Mooney, P.E. RET
finishing.com
Pine Beach, New Jersey
---
(2007)

Q. Was planning on making a back rest for a VTX1800 out of stainless. As heat will be used in fabrication was interested in your suggestion as to removing heat stains in stainless. Is a better option having it flash chromed instead of endless polishing?

Alan Heim


welder/fabricator
Greensboro, North Carolina



---

April 1, 2012

A. Hi, Alan.

We have a bunch of threads on this site that cover people's ideas on preventing/removing heat stains from exhaust piping. Please search the site for "heat stain stainless" and you'll read a number of good ideas.

Regards,

Ted Mooney, P.E. RET

finishing.com

Pine Beach, New Jersey


This public forum has 60,000 threads. If you have a question in mind which seems off topic to this thread, you might prefer to Search the Site