Where the world gathers for
plating, anodizing, & finishing Q&As since 1989
-----
Titanium coated piston rings
2000
I am involved with Speedway racing (motorcycles). I raced for 11 years in Europe and have always tuned my own engines. Now I have retired from racing I am tuning engines for other people. I recently did a Go-kart engine for someone. Something I don't normally do but money is money. I noticed the piston ring in it was titanium coated. It was running inside a cast iron cylinder. Do you know anyone in Australia that can do this process or can you do it to my piston rings . Can titanium coated rings run inside of a Nikasil cylinder which is a form of chrome.
Thanking You,
Shane bowes
phase4 - Adelaide, Australia
Ed. note: Actually, Nikasil is a trademark for a nickel - silicon carbide coating.
---
2000
Shane,
The coating on the piston rings is NOT Titanium (or is VERY unlikely to be Titanium). If it is yellow in appearance it will be Titanium Nitride (TiN).
It will be OK in a Nikasil liner / cylinder.
Wayne W
- England
---
2000
One of the hottest product coming in the market for pistons and rings today, and proven on the race-tracks, is hard diamond-like-carbon coating, especially for aluminum parts. The coating is provided by Anatech Ltd in Springfield, VA, if you are interested.
Mandar Sunthankar
- Fort Collins, Colorado
---
2000
Dear shane,
u coat a
1.molykote d10 (polyamide/graphite/and fluoropolymer ) based coating, from Dow Corning Corp.
2.nickel-PTFE plating.
3.diamond-nickel-graphite based.
these are hottest technology worldwide. this type of coatings giving heat res.up to 1000 °C, hardness up to 5000 Rockwell, salt spray resistance up to 10000 hours. excellent dry lubricant, non stick, abrasion resistance. this type of one coating doing in Chicago, from Orion ind. ltd. on jeep engine pistons.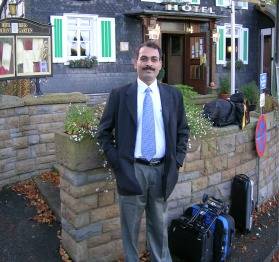 Kalyan Dhakane
Mumbai, India
---
2001
Dear Shane
I am afraid I cannot actually answer your original question, because the technicalities of engines is not my remit unfortunately. I am however, a speedway fan from Scotland, who whilst searching on the internet for various details, came across your request.
I was not actually aware you had definitely retired from racing - what a great shame - the talent you have is amazing.
Remember the days of the Glasgow Tigers at Shawfield with Kenny McKinna, Jason Lyons etc? That seems so long ago now.
I hope everything is going well for you in Adelaide now, and wish you every success in your future. (Which will hopefully never be far from Speedway).
Best Wishes - I hope you don't mind me leaving you a note like this, which is not relevant to your question, however I felt I could not find this web page and not reply. Recognition of this note would be very much appreciated.
Juliette Esmond
- Scotland
---
2001
Dear Shane,
Coating of piston rings will be the future!
Actually the best results are given by piston rings coated with CrN! Very good tribological properties and high wear resistance. CrN is a so called PVD coating. The hardness can reach about 2000 HV. This kind of coating is actually used only for racing purposes in SBK, GP and Formula 1! The only problem are the costs, if you want to coat about 1000 rings it will cost you about 1 $ per piece!
Luca Bucchioni
- Pisa, Italy
---
2002
I am doing a bit of research on this topic which is how I found this site. Diamond-Like Carbon coatings is the way to go. I reckon it will but used in the automotive industry in a few years so it will probably be in motorsport before that.
Simon Hodge
- Lisburn, Northern Ireland
---
2003
Currently CrN is the main coating used by the big piston ring manufacturers but the previous respondent is correct. Diamond-like carbon (dlc) coatings will take over. Some dlc coatings offer greater wear resistance, all offer much lower friction.
Significantly these dlc coatings can also be be run dry without seizure. CrN coatings tend also to wear the countersurface (in this case the cylinder lining) significantly whereas dlc coatings form a lubricious transfer layer that protects the countersurface resulting in less wear.
Mark Jarratt
- Worcester, UK