Where the world gathers for
plating, anodizing, & finishing Q&As since 1989
-----
Aluminum Foundry/Blacksmithing tricks of the trade
2000
Q. I am William A. Lee, a tool & die maker, Electrician, tool & jig designer (for whoever asks) a welder, and the list goes on and on. I am, soon to be, 47 years old and have a "burning desire" to try my hand at BLACKSMITHING. I have built the forge and have it set-up with propane gas and air blast, but need some occupational knowledge. ARE THERE ANY BLACKSMITHS OUT THERE THAT WILL TELL ME WHAT I NEED TO GET STARTED? I also need to buy an anvil and the right hammers and anvil tools and bits.
I have also built a blast furnace (for melting aluminum) and have saved drink cans to use as my metal for some "green sand casting". I've seen some of it done at the craft-alley at Dollywood, and have read a good bit about it in a Dave Gingery booklet, but I have yet to actually experience the actual "RUSH" OF RAMMING UP A MOLD AND TURNING OUT A FINISHED PART! Has anyone got any knowledge that they would send my way to get me off on the right foot.
As you can tell, I love to work with metals. I also like to get tricks of the trade from those who know!
Thank you all so much & may God bless!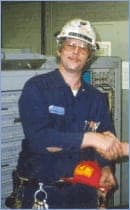 William Lee
saw sharpening & etc. - East Ridge, Tennessee
---
2000
A. Have you tried a local historical site, such as Colonial Williamsburg? Many have working blacksmith shops. The Macmaster-Carr catalog lists anvils and tools. They do sell to individuals. Their catalog is loaded with all sorts of useful items. They have eleven locations I believe.
I am not connected with Macmaster-Carr in any way except as a customer.
Hope this is helpful.

Gerald D. Smith (Jerry)
- Bloomingdale, New Jersey
---
2000
A. I have recently rammed my first molds and cast my first casts with a Dave Gingery foundry. My first suggestion to you is to not use pop/beer cans. there is too much dross generated by melting aluminium cans. Find yourself some scrap aluminium plate and cut it into pieces using a jigsaw. you will get much better aluminium without hardly any dross. I ruined my first crucible waiting for the dross to melt to liquid not realizing that it wasn't going.
Jamey Battermann
- Woodinville, Washington
----
Ed. note: A professional foundry worker who wishes to not be personally quoted has also advised against aluminum cans because of the danger of water getting into the molten metal (we all know that water flashes to steam at 212 °F, with the power to drive locomotives). At the very least, shred the cans first.
---
2000
A. Hi my name is kyle and I'm a blacksmith. I've worked with aluminum,and I'll tell you the stuff you need. 1st an Anvil, a 20-oz hammer, a 4-lb hammer, a 10-25 lb Sledgehammer,a bucket filled with water to dip your metal in, 5 pairs of tongs, about 3 different sized chisels, and about 6 different hardy's.
Kyle Spears
- Cullman,Alabama
---
2001
A. New to this too... Dave Gingery's books seem to lack a little precision and base a lot on gaining experience from trial and error. I found this web site
www.metalwebnews.com/howto/optpyro.html
that tells a little about building a pyrometer. It is easier to gain experience when you can measure what you are doing. I wonder if the moisture meters used in gardening can be used to make a more repeatable green sand? For $20 bucks must be worth a try!
Wade Brooks
- Arlington, Texas