Live! From beautiful Pine Beach New Jersey: Welcome to the world's most popular metal finishing website
topic 41795
Copper sealant to retain bright colours of torched finish
Some clearcoating solutions (adv.)
2006
Q. Hello

I am an artist working with copper wire and copper shim. A popular finish I like to use is creating bright pinks, blues and oranges on copper with a blow torch. My problem is how to keep these bright colours when I apply a sealer as everything I have tried immediately dulls the colours. I have tried spray on acrylic sealers and beeswax polish so far. My customers like to know the bright coloured finish will be long lasting but I cannot guarantee this without using some sort of sealer.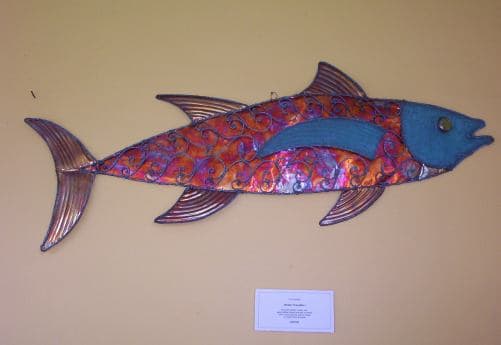 Liz Turnbull
Artist - Denmark, Western Australia
---
2006
A. My suggestion would be to try "Renaissance Micro-Crystalline Wax" [linked by editor to product info at Amazon]. Not sure on torch blown effects but give it a try.
Laurie Fuller
- Santa Ana, California, USA
---
2007
Q. Hi Liz,

I have been struggling with the same issue. Have you found a solution yet? I hope so. If you have, I would sure like to know what it is!

Sincerely,

Dave Boyle
David H. Boyle
- Chehalis, Washington, USA
---
March 31, 2008
A. Hi, Liz, Dave. Sadly there may not be a really good solution. Like the rainbow sheen of a drop of oil on water or the colors in carnival glass, the iridescent colors are not pigmentation, but diffraction patterns that result from the thinness of the oxides formed by the heat coloration. The clear coating you put on it isn't "filtering" out those colors, it is increasing the film thickness to beyond the wave length of the light. I suspect that Laurie's advice of using wax will allow the thinnest possible protective coating and cause the least loss of the diffraction colors.
If it works, you can include a small jar of the wax and explain to the customer why they should wax it every few months. Let us know how you make out!
Regards,
Ted Mooney, P.E.
finishing.com
Pine Beach, New Jersey
Striving to live "Aloha"
---
June 17, 2008
Q. Hi, I am also a copper artist and looked for a long time for a product to keep my torch colors. I have been using a product called "ProtectaClear" It is a great product and they have examples on their site of what a piece of torch colored copper looks like after it has been sprayed. If you would like, then please go to my website www.carolinacoppercreations.com and click on my favorite links and follow the only link that I have on that page to take you to the site for this product. I hope this works for you.
J.Owens
- Clemmons, North Carolina USA
----
Ed. note: Those readers who are interested in clearcoating may be interested in our podcast interview with Teresa Sedmak, president of Everbrite, the manufacturer of ProtectaClear.
---
September 10, 2008
Q. I produce mixed media canvases and have just started incorporating copper shim. I cut shapes out of the shim and adhere them to my work. However, my problem is I am having trouble accessing it. Can you tell me where you buy your copper shim. Also, do you know of a cheaper alternative with similar results?
Donna Munro
artist - Sunshine Coast, Queensland, Australia
---
---
October 7, 2014
Q. I have an antique copper tray and I want to clean it and use a sealer. We live near the ocean so I need something durable. Can someone recommend a type to me? Thank you very much.
Jeanne bernauer
Jean's Gems - Kaneohe, Hawaii, USA
---
October 2014
A. Hello Jeanne. Since you are not trying to preserve rainbow diffraction colors, you are free to pick from many things.
Lacquer is thick and relatively short-lived, but easily removed with acetone or lacquer thinner. Other clear coats are generally not removable except with strong and noxious chemicals, but are usually longer lived. Coatings which "cure" in some fashion are generally harder and more durable than coatings which just "air dry" . Two-component automotive clearcoats are the best example of coatings that are cured (the two components react with each other). Good luck.
Regards,
Ted Mooney, P.E.
finishing.com
Pine Beach, New Jersey
Striving to live "Aloha"


If you have a question in mind which seems off topic, please Search the Site