Live! From beautiful Pine Beach New Jersey: Welcome to the world's most popular metal finishing website
topic 41483
Sealant for hot rolled steel floor
A discussion started in 2006 but continuing through 2018
2006
Q. I've just installed hot rolled steel in my home as flooring. I was wondering if there exists a product that will seal the steel without causing it to lose its natural color. Keep in mind that the steel is already installed in a home so a product that is not very noxious would be great.
Mark Sawczuk
designer - Fort Lee, New Jersey
---
2006
! Please send a picture, Mark, I've never personally heard of such a thing. I wouldn't have guessed that it would be successful, but apparently people know yet another thing I haven't learned yet :-)
Thanks.
Ted Mooney, P.E.
finishing.com
Pine Beach, New Jersey
---
2006
A. I believe that if you had it thick enough it would work out rather well (provided you don't mind those cold feet mornings).
I am sorry to say that you are probably out of luck for keeping the "natural" look of the steel without it rusting. Hot rolled black steel generally has surface oxidation from the rolling process. The cheapest and best solution to your problem I can think of that will protect one side of your flooring would be wax, lots of wax. Somewhere between 3-5 coats would probably work. This will probably be a high maintenance floor.
As Ted said before, could we see the floor?
Marc Banks
blacksmith - Shawboro, North Carolina
---
---
2006
Q. I saw a show on HGTV where Debbie Travis installed hot rolled steel floors in her own home. I have been trying to locate a company where I can buy them for my own home as well and came across your posting. I believe she sealed the floors with bees wax. She just polished it on with a clean cloth. I have been trying to find the show details online and have been unsuccessful. If you have any info on the installation of these floors it would be much appreciated. Good luck!
Melissa Gremich
- San Jose, California, USA
---
2006
A. About the hot rolled steel floors...I saw the Debbie Travis show repeated today, Sept. 13th, and she sealed her floors with a combination of Murphy's Oil Soap [linked by editor to product info at Amazon] and Beeswax [linked by editor to product info at Amazon]. I, too, would love to know who manufactures and installs these floors if anyone knows!
Maureen Laird
- Salt Lake City, Utah, USA
---
2006
A. Here is a link to Debbie Travis's episode with the steel floors.

www.painted-house.com/episodes/12/160/?view=all

Floor

This unconventional floor is new to this country but is rapidly gaining popularity in Europe.

We bought 4'x4' sheets of hot rolled steel. This is the type of steel used in general construction. It is dark grey in colour and has beautiful tones of blue running through it. We purchased the metal from a metal 'supermarket'. These are companies that sell industrial metal in any quantities. They are all over the country.

The existing floor must be completely flat (preferably new plywood). Because the steel is glued in place you cannot have a heated floor. Once down the floor is secured with small weights that are removed after a couple of days when the glue has dried. The metal floor must be sealed or it will rust. We washed it down with soap and water and then with Turtlewax Car Wax [linked by editor to product info at Amazon]. It was then sealed with a mineral wax. The floor is warm on the feet as the metal takes on the temperature of the room.

I too would like to know how to seal where each sheet butts up against the next one. I don't want water getting through to the floor. Any suggestions would be greatly appreciated!
T lavery
- Sacramento, California, USA
---
2007
A. I saw this episode also while I was looking for a non-conventional flooring alternative. After contacting a local steel company and discussing it with them, I am going with a 16 gage cold-rolled sheet. 16 gauge is about 1/16 inch thick and weighs 2.5 lbs per square foot. They come in 4' X 8' (4' X 4' was used in the episode) but can be cut at the mill. The difference is that cold-rolled has an improved surface finish (mill scale is removed-but you may want the mill scale) and is usually more squared and has better thickness tolerances.

I would recommend going to a local steel-mill and getting a sheet of both. That way you can clean and test different wax solutions to get an idea of the finished product.

They also have colored wax that would look great in the seems. But try different ideas to get what you want.

I am going to try the beeswax and this wax from sculpt nouveau: www.sculptnouveau.com/sealers.html
Jimbo s
[last name deleted for privacy by Editor]
- Boston, Massachusetts USA
---
2006
Hot Rolled Steel can be purchased from just about any local metal shop, someone that sells structural steel, iron bars, general metal for construction, etc... I found that if I typed 'hot rolled steel' and my local area (Toronto or Ontario) I came up with numerous suppliers.

Q. What I would like to know is: if you use this as flooring how do you keep water from going between the cracks between the sheets, and then rotting or forming mold?

Also, what would be the best way to affix it to a concrete floor, other than using screws?
Kevin Hedley
- Toronto, Ontario, Canada
---
2006
What about J-B Weld [linked by editor to product info at Amazon]? They have a marine application that looks like it would be perfect!
T lavery
- Sacramento, California, USA
---
March 1, 2008
I installed steel floors in my home over 2 years ago. I used cold rolled steel, it is about 1/8" thick and they are in 5'x8' sheets...yeah, super heavy! I used a adhesive that bounds metal to concrete on the underside. Eventually I ended up welding all of the joints. To top it off, I have a sunken living room, so the steel for the stairs is bent and seamless. I also have steel stairs from my first to second story of my home.

When you first get the steel down on the floor, you will need to use Murphy's Oil Soap [linked by editor to product info at Amazon] and a light amount of water. This process is very nasty, but it will get all of the black gunk off the surface of the steel and it will end up very clean to the touch. Then, simply apply a thin layer of automotive wax and buff off. I ended up buying an Oreck buffer =>
to apply and remove the wax. Makes it very easy. I do this about every 2-4 weeks. I am pretty happy with final product. You do have to be careful with certain substances staining the steel though.
S. fisher
- Tulsa, Oklahoma
---
March 26, 2012
Q. I am curious as to how you welded/soldered the metal. What kind of torch and solder? I wonder how hot it got and did it affect the sub floor?
Thanks, Lise
lise anderson
- Santa Rosa, California
---
---
April 30, 2018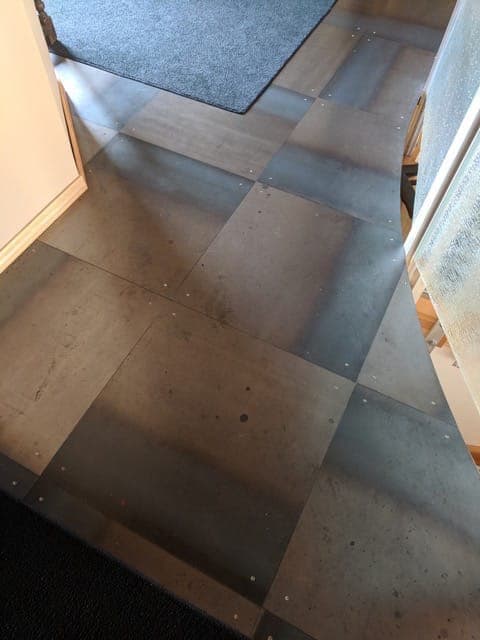 Q. I bought a house from an architect who installed rolled steel tiles in the front entry. They continue into the powder room. Tiles in the powder room were powder coated prior to installation. They look great. He planned on the front entry to show a bit of wear prior to taking them up for powder coating, which is quite an endeavor. All tiles are screwed down in each corner, so they can be removed. However, I'm more interested in cleaning and coating them. Hence this forum.

Q1: How did the car wax work?
Q2: How did the beeswax work?

BTW - the link to Debbie Travis shows on HGTV no longer works, and her site is not helpful. Thank you for those that answer.
David Berkey
- Langley,Washington USA


If you have a question in mind which seems off topic, please Search the Site