topic 41383
BUFFING THE SIDES OF ALUMINUM BOATS
(2006)
Q. I WORK AT AN ALUMINUM BOAT FACTORY, WE HAVE ABOUT 2 BOATS THAT COME THROUGH THAT NEED A HALF SIDE BUFF. I WAS TOLD TO USE 500 GRIT FIRST AND THEN 800 GRIT sandpaper. THEN WE USE A DEWALT ELECTRIC BUFFER WITH COMPOUND AND THEN WE USE MOTHERS. AFTER I DO THAT THERE IS STILL A CLOUDY EFFECT. WHAT CAN I DO TO GET RID OF THE CLOUDINESS?

THANK YOU
JOSHUA W. GEHRIG
BOATS - CLARKSTON, Washington, USA
---
(2006)
A. First off the cloudy effect, most likely is the corrosion that is still on the aluminum. I assume that this boat was in the water for quite some time. Take one square foot of your sheet. Take a 120 grit sandpaper with a little bit of vegetable oil on it, and bring the aluminum to a shiny finish (all the same color). Then do a cross 120 and the 180 grit to remove all 120 grit. Do this until you work your way up to 500 paper (use oil on every step). Then buff with red (tripoli [link to product info at Amazon by ed.]) compound you can buy at your local hardware store (don't give up....it is a lot of work).

Happy Polishing,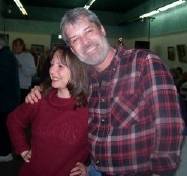 Trent Kaufman
electroplater
Galva, Illinois
---
(2006)
A. If it is oxidation, an aluminum brightener (acid, available where they sell pressure washers) will strip it off and out of the pores of the metal. However, that's not your problem. Mother's Mag & Aluminum Polish [linked by editor to product info at Amazon] is like 80 grit to a fine finish, and the hazing you are seeing is what is left from the bonnet motion and the hand rubbing motion literally laying scratches in the finish.

This is basically how the dump truck boxes and fuel tankers are done. Also, I have been doing this process on boats, etc., for 14 years now and it works well once you get a system figured out. Good luck.
Dave Barr
- Centralia, Washington, USA
---
(2006)
A. Here is something that I found out when taking a painted aluminum boat down to glass finished aluminum. First of all don't try to do this as you will go nuts. Second, the hazing you have will continue to show up as long as you have any residue on your polishing towel or bonnet. I have taken aluminum down to a 2000 grit wet sanded finish only to find the haze still present. A gentleman in my town whose business is polishing aluminum down to mirror finishes (he wouldn't even think of doing my boat when I asked) told me to use corn starch on a clean, dry towel after you are done polishing and it would take off the haze without having to change towels or bonnets every 30 seconds. It does work.
Douglas Yeggy
- Chico, California
---
September 2, 2010
Q. I have been restoring a 14' Klamath boat and I am happy with my paint job on the inside however it is the exterior of the hull that I want to clean up. I would like to restore it to it's original brite non painted aluminum look.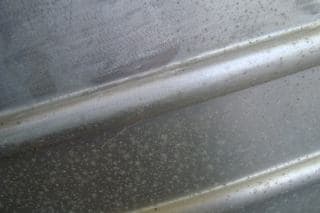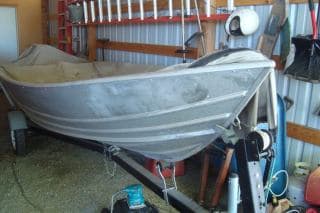 There are little dark spots I would like to remove in addition to to making it brite and new looking. I have tried using a blue pad with an air tool, good old fashion sandpaper as well as a foam polishing cone with metal polishing compound that you use with a cordless drill, all disappointing in one way or another. Can anyone help me with my "de-lemon"? Thank you in advance.
Stefan Savides
hobbyist -
Klamath Falls Oregon USA
---
November 21, 2010
A. An easy solution to polish your aluminum boat is GoJo pumice hand cleaner. I use it on motorcycles and currently on a Gruman Canoe. It really shines things up nice and quickly and I have pictures of the canoe I am currently working on.
The best thing to do is first wash the canoe down with some auto wash soap or dawn dish liquid. Then use some blue toss-away shop towels for applying the GoJo. Put a quarter size dab on the folded (to make a polish pad) blue towels and apply in a circular motion. Work in sections about 12X12. Medium hand pressure is all it takes and you will see the cleaner turning black as you work. Wipe off the black residue with either another blue shop towel or old t-shirt. There will be a nice brite shine to the area worked. When you are done use WD-40 to spray on aluminum as it helps slow oxidation and soaks into metal to prolong the shine.
Paul Resh
-
Burlington, North Carolina USA
---
February 25, 2015
A. I have been finishing aluminum for the past 25 years. I have done a number of pontoon boats over the years. I do have a number of videos posted on YouTube for polishing aluminum to make this process easier.
When working with new aluminum mill stock, it would be a benefit to remove the mill finish with sanding. Depending on the stock mill finish you are starting with, I would recommend a starting point around 400 grit 600 grit and finishing with 800 grit.
Then begin your polishing process with Rouge lube and a Tripoli cut color bar and a yellow airway buff. After all sanding marks are removed, finish with color with a medium yellow airway buff. Then follow up with a white airway and a color bar.
Wayne Stoegbauer
- Montello, Wisconsin. USA


This public forum has 60,000 threads. If you have a question in mind which seems off topic to this thread, you might prefer to Search the Site