topic 41344
What American steel grade German steel St52 ?
(2006)
Q. I am obtaining quotations for steel mill parts that originally were made in Germany. The blueprint for the part is in German and the part is to be made out of St52 steel. Please give the American equivalent for this material.
Paul Oravetz
- Canton, Ohio
---
(2006)
A. The "St" means a general structural carbon steel (that is, plain carbon rather than low alloy) which is not intended to be heat treated (that is, other than the heat treatment which naturally occurs during cool-down from the hot-rolling operation).

The "52" means a minimum tensile strength of 52 kg per sq. mm. In SI units, this is 510 MPa. In Imperial units, it's 73,961 (that is, in practice, 74,000 or 75,000) psi.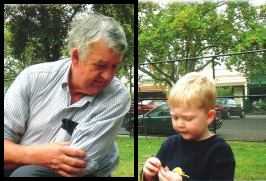 Bill Reynolds
consultant metallurgist
Ballarat, Victoria, Australia
We sadly relate the news that Bill passed away on Jan. 29, 2010.
---
August 11, 2009
Q. Hello, my name is Tim and I have recently developed a relationship with a German company and am currently supplying them with machined parts. We build them parts and they assemble transmissions in Germany.
All of their prints are in German which I have to translate, but converting their material call outs is a problem. I need to know what kind of steel I can use in place of 8.8, please help.

Tim
Tim Cosby
machine shop - Azle, Texas
---
October 26, 2009
A. 8.8 seems quality class of fasteners. Even American standards are there. Refer to fastener grades/qualities in Kent's machinery handbook
Sumit Basu
- Maharashtra, India
---
April 19, 2010

Q. Sirs, I believe the response should be better elaborated, so non-metallurgists could understand it right away.

Daniel Ferreira




- Santo André, São Paulo, Brazil





---

April 19, 2010

Hi, Daniel. Thanks for taking the time to comment, and we are trying to include tutorials where necessary so readers don't get lost. But the problem is usually more that the questions lack elaboration rather than the answers :-)

For example, we don't know whether your interest lies in "St52" or in "8.8", or what your question is. Please ask your question with some additional elaboration. Thanks!

Regards,




Ted Mooney, P.E. RET




finishing.com




Pine Beach, New Jersey




---
September 14, 2011
A. HI , F8.8 IS A TENSILE PARAMETER FOR GERMAN BOLTS.
The first 8 means the rupture limit is 8000 kg per sq cm and the second 8 means the yield strength is 0.8 x 8000
IT IS EQUAL TO AMERICAN A325 CLASS FOR BOLTS
F10.9=A490
F4.6IS NEARLY A307
KIAN
[last name deleted for privacy by Editor]
- IRAN/TEHRAN
---
October 12, 2011
Q. In most of drawing I got confused for steel EN specification and steel St-35/37 specification
Sharad Asthana
Manufacturing and Development - Kanpur U.P, India
---
October 12, 2011
Hi, Sharad. Bill Reynolds' explanation of the St numbering system was clear to me. Is it clear to you or are you still confused about that part?
The EN numbering system is explained in detail at
www.tatasteeleurope.com/file_source/StaticFiles/Business%20Units/CC&I/Products/Sections/Steel%20standard%20EN10025-04.pdf
Please let us know if that is clear to you, or what your remaining confusion might be. Thanks.
Regards,
Ted Mooney, P.E. RET
finishing.com
Pine Beach, New Jersey
----
Ed. note: Sorry, that link is now broken.
---
---
March 1, 2012
Q. My name is Allen Schmitt. I am a partner in a Tool & Die company. I am receiving requests for tools from companies that are moving manufacturing from Germany to the United States. I need to find a comprehensive list of equivalent US Tool Steel grades that compare to the German Tool Steel grades. I have had some success finding a few comparable US grades by looking in the data section of some US Steel Suppliers. Is there a list of all US Steel grades by all the Steel Producers that compare to the German Steel grades?
Allen Schmitt
Partner in Tool & Die Company - Westland, Michigan
---
March 21, 2012
Q. If someone has the answer to Mr. Schmidt's question, would you also please post the list of U.S. tool steel equivalents to German Tool Steel Grades.

Thank you.
Stu Wright
- Chicago, Illinois
---
January 20, 2014

-- this entry appended to this thread by editor in lieu of spawning a duplicative thread
Q. Looking for a North American equivalent to German Spec ST-52. Think it is a carbon steel. Can anyone please confirm?
MIKE SIKICH
- OAKVILLE
---
November 25, 2015
A. I too had the same question, see the attached link for an answer however it is only for plate which translates to A572 Gr50. When making round parts, we generally ask what the application is for and substitute 1045 or 4140. We too have a German customer and these grades generally work.

www.steel-plate-sheet.com/pdf/ST52-3.pdf

Hope this helps!

Sandra
Sandra Wallace
Machine Shop - Prince George, Virginia USA
---
August 19, 2016
A. DEAR MIKE
ST-52 IS USED FOR STRUCTURAL STEEL HAVING CARBON BETWEEN .18 TO .22 Mn 1.5 MAX. FULLY KILLED NORMALIZED STEEL.HAVING YS 355 MPA MINIMUM AND TS 490 TO 630 MPA

REGARDS,
AJEET GUPTA
- ANGUL, ODISHA, INDIA


This public forum has 60,000 threads. If you have a question in mind which seems off topic to this thread, you might prefer to Search the Site