Free personalized metal finishing help!
Cyanide detoxification by chlorination
(
-----
)
2006
I'm an environmental officer in mining company in Armenia. We are using cyanide for Gold Recovery, and making detoxification by NaOCL, 9-11% activity. As I know, when the concentration of active chlorine in Tailings(pulp) is 4-5 ppm, no cyanide is available. but recently we had a test. Concentration of active chlorine was 35ppm, and concentration of WAD cyanide 0.37ppm. The ph was 11. what do you think what is the reason, why all cyanide wasn't detoxified?
Anush Gevorgyan
Environmental officer - Yerevan, Armenia
^
---
2007
Dear Sir,
This might be due to evolving of chlorine gas due to low Ph, and high Temperature. Maintain the Ph at 11.5 or 12.5 and temperature not more than 24 °C. If you are treating the solution with reference to ORP, maintain the prescribed ORP and Ph.
Good luck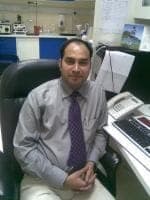 Shafiuddin A. Mohammed
metal coating shop - Dubai, United Arab Emirates
^