Where the world gathers for
plating, anodizing, & finishing Q&As since 1989
-----
Stainless steel flex hose, rusting after silver soldering
2006
My question is this. I work for a company that deals in the transport of Cryogenic Liquids (LOX, LNI, LCD, LAR), we do all of our own piping to our tanks. All of the piping on these vessels is stainless of the 308 grade. But the unloading of our vessels is via a stainless flex pipe (braided s.s. outer with a liquid tight accordion s.s. inner), the ends are male n.p.t. couplings that are welded onto the flex pipe. These connections are of a schedule 5 or 10, very thin. The reason I mention the welding process here is because heat has been applied to these portions, but after we braze a brass connection on the end of the male n.p.t. nipple the s.s. begins to rust. Why is this? All parts are allowed to cool before use. We use a 56% silver solder with harris black flux. Temperature of parts when brazed is approx. 1850F ± 200F. Any help with this would be greatly appreciated. We only use wire brushes that have been used on stainless in the cleaning process. Thank You.
Matthew Medearis
cryogenics - Washington, USA
---
2006
What you describe is most likely intergranular corrosion in the heat affected zone around the welds. Welding on stainless affects the metallurgy of the steel. In the heat affected zone some flow occurs of various alloys within the structure of the steel itself. After cooling, carbon and other bad things settles in the grain boundaries and when the metal re-crystallizes you have a relatively brittle part with a tendency to corrode along the grain boundaries.

To fix it go to "L" or low carbon series stainless, weld cooler (faster), and quench the hot zone with a wet rag after passing. These things will greatly reduce the affect of the welding on the part.

Jeff Watson
- Pearland, Texas
---
2006
Jeff is correct.
One question I have is what type of brush are you using. I assume that it is stainless steel. If possible use a 316ss brush, and NEVER a carbon steel wire brush. Even 302ss wire can cause a problem.
After brushing the weld needs to be passivated.


Lee Kremer
Stellar Solutions, Inc.

McHenry, Illinois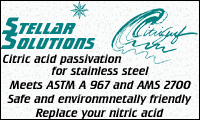 ---
2006
Is the flux not an acid? The solder fluid (flux) that come with the silver solder kit that I use is an acid base liquid and requires neutralizing and thorough flushing after soldering, even on stainless (automotive body mouldings), otherwise I am left with a rusty surface to deal with.
Dave Barr
- Centraila, Washington, USA