Where the world gathers for
plating, anodizing, & finishing Q&As since 1989
-----
Very fine finishing of product (Ra < 1)
2006
Does anyone know of a mass finishing media that is finer that cob meal that can be used to achieve ultrafine finishes with Ra down in the 1 or below range. So far the best we've done is a finish of Ra=6. Any suggestions? CAn I use a straight .3 micron Alumina powder?
Tino Volpe
-Cumberland, RI
---
First of two simultaneous responses -- 2006

Going down that far requires time and a lot of patience. It is very expensive. Each couple of numbers down the scale probably mean twice the time and cost. So, from 6 to 1 your talking four or five times more expensive. What's the substrate, the shape and the volume involved?
Guillermo Marrufo
Monterrey, NL, Mexico
---
Second of two simultaneous responses -- 2006

Hmmmm. It might be possible; however, it is not a common practice. In addition to that, I'm not sure any if anyone who knows how will tell you. There are a lot of information that is not available. For one thing your idea might be of some help. The larger the particle size the greater or rougher the final surface finish if the media is harder than the material being worked. If you media is softer than the material being worked you stand a better chance of achieving a finer surface finish. Another possibility is to use a media with long cellular fibers. Your percentage of parts may exceed 90% media to 10% of less of parts and your time cycle maybe very very long.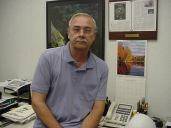 AF Kenton
retired business owner - Hatboro, Pennsylvania