topic 41155
Boric-Sulfuric acid anodizing BAC5632 Issues and Answers
A discussion started in 2005 & continuing through 2016
(2005)
Q. We are having problems with our Boric-Sulfuric Anodize tank. We are getting some bad pitting and what looks like corrosion on our parts. This is the 2nd time this has happened in 3 weeks. The first time we suspected contamination of the bath, but now we have a brand new bath and it has my mind boggled. Please help me with any advice as to what our problem could be.
Tony Schmaltz
Plating Shop - Seattle, Washington USA
---
(2006)
Q. Please send your answer for the problems of pitting in boric-sulfuric anodize process.
Kario Michael
- Lod, Israel
---
(2006)
Q. We are having problems with our Boric-Sulfuric Anodize tank. We are getting some bad pitting and what looks like corrosion on our parts. I see same question but there was no answer.

Please, please, let me know why those pitting(or burning?) are generated and how to resolve this problem.
I.S. Hwang
Aluminum treatment - South Korea
---
(2006)
Hello, I.S. There are several other letters on-line here about boric-sulfuric anodize, and several of them mention that the process is Boeing BAC5632. Are you following BAC5632?
Ted Mooney, P.E.
finishing.com
Pine Beach, New Jersey
---
(2006)
Q. Yes, we perform Boric-Sulfuric Anodize in accordance with BAC5632 for Boeing parts.
I.S. Hwang
Aluminum treatment - South Korea
---
(2006)
A. I.S.

It is a long shot but I would check for chloride contamination, particularly if the pitting coincides with a bath make-up or new solution(container) addition.
Willie Alexander
- Colorado Springs, Colorado
---
---
July 9, 2013

-- this entry appended to this thread by editor in lieu of spawning a duplicative thread
Q. Dear sir, we do Boric & Sulphuric acid anodizing.
After the process we get pits/ black pore-like things.
Please can you throw light on this?
Thanking you,
Regards,
Chandramanipg
- Bangalore, Karnataka, India
---
July 11, 2013
A. We really need more information on your process parameters in order to come up with an insightful response but I have found that when I have had pitting problems they usually come from either too weak of a deox/desmut solution or too much time in the deox/desmut solution.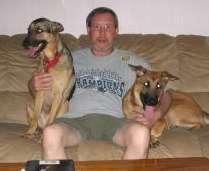 Tim Hamlett, CEF
aerospace metals distributor
Tamarac, Florida, USA
---
July 25, 2013
A. I think your problem is not related to anodizing. I had had same problem 4-5 month ago. I noticed source of problem was extrusion and storage conditions. Long time storage profiles's surface getting corroded. After caustic bath, these pits reveal and after anodizing you can see it. Solution: profiles not to wait too long time; avoid humidity storage; and also I wonder do you see these pits for bright profiles after anodizing? I don't see so far... because these profiles not treated with caustic.
Alaattin Tuna
- Sakarya, Turkey
---
---
Boric Sulfuric Acid Anodize tank analyses
May 10, 2016
Q. I am looking for a titration procedure with factor for boric acid and sulfuric acid. I am having difficulty getting the correct concentration for each and I've tried three different methods

Christy S
lab tech - Savannah, Georgia
---
May 10, 2016

A. Christy, it would be helpful to know what 3 methods you have tried, so that your follow up reply is not I tried that and it does not work.
If this is to a Boeing spec (since they patented it) then they will have a specific way to test for it.
I will speculate that it would require a very good pH meter and possibly an autotitrator using a weaker titrant than what you are using. Boric has 3 inflection points that might be hard to find. Impossible with a rapid titration or normal 1.0N sodium hydroxide.

James Watts




- Navarre, FL





---

May 10, 2016

You can easily determine total acidity via a titration with 0.1 N NaOH to a phenolpthalein endpoint. I imagine that you could isolate the boric by titration to a method orange endpoint with the same solution. Plenty of stirring and slow the titrant.




Dave Wichern




Consultant - The Bronx, New York




---
May 11, 2016

Thank you for all your help. Yes, I am using a Boeing spec for the titration procedure. The Procedure No. I used is B-281A of which uses 1.0 N NaOH as the titrant. I have started over and redone the procedure and finally got my end results in reason from what they were. I appreciate all the advice on this and will utilize it to my advantage. Thank you!
Christy Sanchez
[returning]
- Savannah, Georgia


This public forum has 60,000 threads. If you have a question in mind which seems off topic to this thread, you might prefer to Search the Site