topic 41059
Alternate for Phosphating
A discussion started in 2006 & continuing through 2017
(2006)
Q. Sir,
We are dealing with INJECTION MOULDING MACHINE manufacturing & we have our own paint shops in which we carry out painting -mainly Poly Urethane based.We would like to know about the alternate methods of degreasing process/phosphoric coating prior before primering on our product.
Rejith.G.R
Quality Assurance engineer - Chennai, Tamilnadu, INDIA
---
(2006)
A. Has an eight hundred-pound gorilla entered the room with no one acknowledging it? This is at least the fourth request from India this month asking how parts can be painted without a phosphate pretreatment--but no one is saying why everyone suddenly wants to do that. Is there a new restriction on phosphates in wastewater? Is someone making the rounds claiming that phosphating isn't necessary?
Please tell us why you would want to get away from the pretreatment that has proven itself around the world for decades as the most cost-effective and robust treatment in thousands of applications, Rejith. Thanks!
Ted Mooney, P.E. RET
finishing.com
Pine Beach, New Jersey
---
(2006)

Dear sir,
Thanks a lot for your reply. As you asked I wish to say some problems we encounter with phosphating is ...
1) It takes away the shining on the components which doesn't require paint coating over that,i.e., the fresh (originality) look of certain parts (like SS sheets, chrome plated elements) in our machine is lost.
2) And once after stipulated time expires, phosphating lead to rust formation & in certain cases it penetrates and causes for pre-mature pitting on that.
3) And the continuous exposure with this chemical will lead to some health related problems like suffocation & moreover this is not environmental/user friendly as you know.
Please suggest...anticipating your fav. replies.
Regards,

Rejith.G.R




- Chennai, Tamilnadu, India





---

(2006)

A. There are lots of alternative treatments, many of which are used by my employer. Most are OK but none are as good as Zinc Phosphate. If you use no treatment count on having adhesion problems.

Ronald Zeeman




Coil Coating - Brampton, ON, Canada





---

(2006)

A. Dear Mr. Rejith,

Many common metals are unsuitable for a variety of applications in the form in which they are initially produced, being quite susceptible to corrosion as they come from the mill; they should have their surfaces altered in order to make them more useful. The performance of all painted and ;powder coated finishes depends on the correct preparation of the metal substrate. Failure of coatings in service with problems such as corrosion and blistering are nearly always caused by inadequate pretreatment.

Such pretreatment depends upon :-

1. What is it that we want to protect?
2. From what do we want to protect it?
3. What is the quality standard we look for ?
4. What is the productivity we need?

You want 'an alternative method of degreasing process/phosphate coating prior to painting.

EVERY ASPECT OF METAL FINISHING THAT IS WORTHY OF CONCERN AFTER THE PARTS HAVE BEEN FINISHED IS WORTHY OF CONSIDERATION BEFORE THE PARTS ARE FINISHED.

S. MEENAKSHISUNDARAM




- CHENNAI, TAMIL NADU, INDIA




---
(2006)
A. Rejith,
1). If you are painting and plating,you might consider doing the painting first. The painting will act as a mask, and the chrome plating will be shiny because it will follow phosphating rather than preceding it.
2). Phosphating is a pre-paint treatment, not usually meant to be a final finish; I don't really understand the corrosion problems you are mentioning.
3). Please describe this 'suffocating'. I am not aware of any health related problems for phosphating when the usual common sense safety measures are in effect. Similarly, I know of no environmental problems associated with phosphating except perhaps the release of phosphate-rich rinse water; and even in that case, dry-in-place phosphate coating systems exist. Good luck.
Ted Mooney, P.E. RET
finishing.com
Pine Beach, New Jersey
---
(2006)
A. Nanoceramic

One of the best surface technologies that can replace phosphating.

Best Regards,
Boris Smoje
specialist - Serbia, Belgarde
---
(2006)
Dear Sir,
There are water borne polymers ranging from epoxies to polyurethanes with which you could eliminate phosphating process.However,you need to remove grease and rust(in case the component is rusted), rinse twice in DM water,dip in water borne polymer bath(from 3% to 5% concentration.Allow an interval of 20 minutes.Then,proceed for further top coat by powder coating or liquid top coat. If not you can leave the component at least for a week.
HOPE THIS WOULD RESOLVE YOU ISSUE.
Thanks,
Balaji Viswanath.b
- Bangalore, Karnataka, India
---
---
July 16, 2016
Q. We are currently processing cold forging slugs with Zinc Phosphate and due to its cumbersome process and hazards to environment, we wish to upgrade our system.
Can anyone suggest or be of a help in providing information of an alternative to the Zinc Phosphate process? Is Zirconisation the appropriate process? If so, please can you refer any supplier in India?
Please guide with any other suggestion.
Regards.
Vijay Patil
- Belgavi, Karnataka, India.
---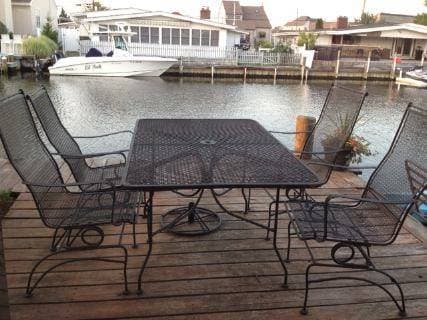 Picture taken July 2012: Outside on my saltwater lagoon, 365 days a year, after 13 years of zero maintenance. And it's still outside, still being used in September 2016.
September 2016
opinion! Hi Vijay. I remember reading Rachel Carson's "Silent Spring" decades ago and thinking "How could we all have been so blithely unaware?". But as I continue to see the penny wise/pound foolish "environmentalism" of trying to eliminate phosphating, with the lack of sustainability its elimination has brought, the feeling of deja vu is overwhelming :-)
I bought an expanded metal patio set 17+ years ago that stayed outdoors year 'round on our saltwater lagoon for 13+ years, then was submerged under Superstorm Sandy for a week, and has now been outdoors at my new home for 4+ more years. We're still using it because it was zinc phosphated, electrocoated, and powder coated. In the intervening years I have bought countless outdoor metal items, replacing them time and again, with the consequent need for re-mining ore, re-smelting steel, refabricating, re-finishing, re-packaging, re-shipping, re-retailing, and re-landfilling :-)
What on earth is wrong with society that we focus on the ounce of phosphate not the tons of unsustainable waste which eliminating the phosphating is producing? By all means look into recent advances in transition metals coating [TMC] processes, but consider them only if they offer proven 20-year performance, and if you know every material in the effluent and are completely convinced that these materials have absolutely no effect on the environment. We may be better off with the devil we know :-)
Luck and Regards,
Ted Mooney, P.E. RET
finishing.com
Pine Beach, New Jersey
Striving to live "Aloha"


This public forum has 60,000 threads. If you have a question in mind which seems off topic to this thread, you might prefer to Search the Site