Live! From beautiful Pine Beach New Jersey: Welcome to the world's most popular metal finishing website
topic 41023
Aluminum bright dipped surface is cloudy
A discussion started in 2006 but continuing through 2018
2006
Q. I am working on aluminum finishing but I have a problem that after bright dipping there is a cloudy surface appearing on the articles and that makes color differences in coloring.
M.Saqib
aluminum anodising - Pakistan
---
2006
A. Hello M.Saqib. I believe that you have correctly identified the problem of the color differences as being caused by the cloudy surface appearing in the bright dipping process. The next step is to determine what, if anything, is wrong with the bright dipping chemistry or operation. We probably need details of that.
Meanwhile, have you found any correlation between the dull areas and their position in the bright dip tank? Good luck.
Ted Mooney, P.E.
finishing.com
Pine Beach, New Jersey
---
---
Cloudy finish on Chemical bright anodized profiles
March 11, 2018
-- this entry appended to this thread by editor in lieu of spawning a duplicative thread
Q. Dear Sir,
warm greetings. Last time with the help of this forum I was able to trouble shoot my brightening problems to a great extent. I am facing a severe problem of cloudy finish on silver anodized chemically bright aluminium profiles. My chemical polish bath consists of Sulphuric, Ortho phosphoric, and nitric. Actually I do not have analytical reports of the bath. We are just randomly adding and doing trial & error. Please help me how can I eliminate the problem of cloudy finish? Thanks a lot.
Regards,
Sumit Lodha
- Ahmednagar Maharashtra India
---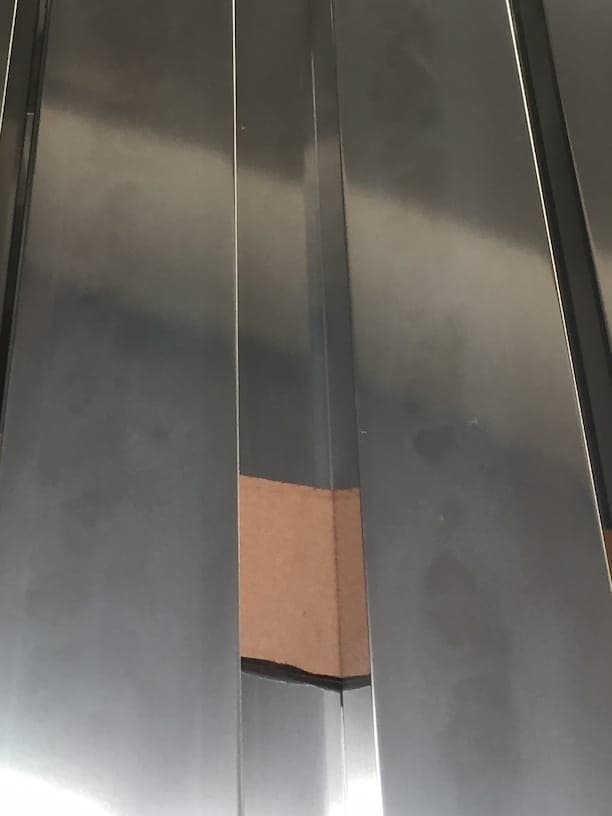 March 13, 2018
? Hello Mr. Lodha
I'm having the same problem right now with my bright finishing. I'm using the same polish bath (sulphuric, phosphoric and nitric acids), and have a low density (around 1700 mg/L) and concentration of nitric acid (4,7 g/L), probably due to having water in the bath.

Could you write your data so we can compare it?

I've uploaded a photo of my problem as well.

Best regards.
Victor Perez
- Logroño, España
---
March 17, 2018
A. Actually I don't have analytical process for this bath and we are adding randomly. I am following book of Mr. Arthur Grace: "The Technology of Anodizing Aluminum" [link is to info at Amazon about the book]. We are taking trails in small bath of 2 litres making addition till the required finish is achieved and then applying the same equation to my big bath of 3000 litres. We used to add water but we found results very dull and less shiny, so right now we have ceased adding water. I am always stressed out whenever I need to start my brightening bath, because the results are dicey. On a good day I get the best quality which is very rare. And many times we need to go for trial and error.

Getting back to your pic, I feel that problem of yours is not only of cloudy but also of uneven pickling in bright bath. It may be because of poor degreasing or bad rinse. Some times the carry over from the bright bath contaminate the rinse badly giving scope for another reaction. So check your rinse bath, then degreasing as the oil transferred in process of extrusion or polishing may not have been removed correctly. In many factories degreasing bath is been ignored or absent. I am trying to get a pic of my problem , but my camera fails in capturing the cloudy thing properly. It makes the section lil dull. Some small small white spots comes. It's not pitting but some thing else.
Q. If its possible please help me with analytical process to measure the percentage. I have sent the sample to outside lab but I can't rely on their reports. Please reply if you get any break through or get any solution to our problems. We are sailing in the same boat

Regards
Sumit Lodha
- Ahmednagar Maharashtra India
---
March 21, 2018
A. For density analysis, you just need to introduce 100 mL of your bright solution at 20 °C in a volumetric flask,then weigh it.

For nitric acid, it's a bit harder.
First you need to prepare the titrant solution. Add 50 mL of H2SO4 96-98% to 700 mL of distilled water (approx.). Then add 250 g of FeSO4.7H2O. Make sure all of it is dissolved.
Then, we are going to standardize this solution. We need to prepare a phosphoric-nitric standard. Add 25 mL of nitric acid 60% in a 500 mL volumetric flask, make up to volume with phosphoric acid 85%. Take 100 mL of phosphoric acid and 5 mL of our standard solution and put them in a beaker. Heat it to 45-50 °C, and titrate the solution with FeSO4. It will turn Golden-Brown. After adding the first 1-2 mL wait some seconds. It will turn Brown and then transparent again. When the titration is coming to an end, you will see bubbles and fumes. The volume used will be "A".
Now you have to analyze your bright sample, in the same way as above. That volume will be "B".

%HNO3= (B/A)*5

If you want to control your sulfuric and phosphoric acid, you will need a pH meter.
Put 5 mL of your sample in a volumetric flask, and make up to volume with distilled water.
Then take 20 mL of that solution, add 5 mL of EtOH and titrate it with NaOH 1N, to pH=4,9. M=mL of NaOH consumed
Don't fill the burette now, and keep titrating to pH=9,4. N=mL of NaOH consumed.

%w/w H3PO4= (98*(N-M)/1342)*100
%w/w H2SO4= (49*(2*M-N)/1756)*100

I hope that this help you. Sorry if something is not clear, English is not my native language. I'll clarify anything that you don't understand.

Regards.
Victor Perez
- Logroño, España
---
April 6, 2018
Q.
Dear Mr. Victor thanks a lot for the analytical process. I also apologise for replying late for the same. Actually was little occupied.
Just few queries :- EtOH means ethanol? and do you mean 4,9 is 4.9 or is it some thing different. I am reading 4,9 pH as 4.9. My chemistry is little weak ... for that reason just confirming. I will try this method and will convey you the result. In between did your problem got resolved or is still on?

Please keep updating so that it will be helpful to many like us.
You are a great person. Thanks a lot once again.

Regards,
Sumit Lodha
[returning]
- Ahmednagar Maharshtra India
---
April 2018

Ethanol
A. Hi Sumit. Yes, EtOH does mean ethyl alcohol. Also, from curating this site I have learned that some Europeans use a comma where you & I would use a decimal point: so yes, pH 4,9 means the same thing as pH 4.9. Good luck.
Regards,
Ted Mooney, P.E. RET
finishing.com
Pine Beach, New Jersey
Striving to live "Aloha"
---
April 7, 2018
Q. Thanks a lot Mr. Ted; have noted the thing and will work accordingly.

One more thing Mr. Victor: in procedure for titration of sulphuric and phosphoric acid you have mentioned following lines


Put 5 mL of your sample in a volumetric flask, and make up to volume with distilled water.

Can you please tell me what should be the volume of volumetric flask. I think you forgot to mention it. Can you please help me for the same.

Regards
Sumit Lodha
[returning]
- Ahmednagar Maharashtra India
---
April 9, 2018
A. Hi Sumit, the volumetric flask volume is 100 mL.
Victor Perez
- Logroño, España
---
April 14, 2018
Q. Thanks a lot Victor. I tried your procedure and I tell it's really great and results are satisfying.

Would like to know one more thing. Do you measure aluminium content in the bath? Can you please help me to measure aluminium content in the tank.

Once again, thanks a lot to you and also to finishing.com

Regards
Sumit Lodha
[returning]
- Ahmednagar Maharashtra India


If you have a question in mind which seems off topic, please Search the Site