Where the world gathers for
plating, anodizing, & finishing Q&As since 1989
-----
Salt Spray vs. Humidity Test for Passivated Stainless Steel?
adv.

January 16, 2021
Q. Does anyone know why the sample preparation requirements prior to high humidity test were removed from the active ASTM A967 [affil. link] - 17?
Carlos Lopez
- Caguas Puerto Rico
adv.

---
---
---
Closely related historical posts, oldest first ...
2000
Q. We have been puzzled what test should be performed to compare a non-passivated and a passivated 420 stainless steel component in order to tell the difference in corrosion resistance.
We are afraid that salt spray will be too severe whereas humidity will take a long long time.
Any comment is welcome. Thanks in advance.
Kwok-wai Chook
- Hong Kong, China
---
2000
A. Mr Chook
You can test with either test. Per ASTM A967 [affil. link] 99, 2-hour salt spray or 24-hour humidity. They should exhibit no sign of corrosion.
Kevin Almquist
- Danielson, Connecticut
---
2000
A. Mr Chook, we are currently using this process for 300 series and PH17 series stainless steel with no problems. We are using 5% salt solution and have collections of 1.3-1.7 mls per hour.
steve adams
- cedar city Utah usa
---
---
To minimize searching & thrashing, multiple threads were merged; please forgive repetition, chronology errors, or disrespect of other responses (they probably weren't there) :-)
---
---
Testing For Passivation
2004
Q. I have a question regarding passivation testing per ASTM A967 [affil. link] -01. The tests in this specification are intended to confirm the effectiveness of passivation. They are as follows:
Water Immersion High Humidity
Salt Spray
Copper Sulfate
Potassium Ferricyanide-Nitric Acid Test
Free Iron Test
How does the copper sulfate test compare to the other tests in terms of severity of the test, or in other words the most accurate test? We are sending 15-5 S.S. parts out for passivation under a type 2 treatment per QQ-P-35C [link is to free spec at Defense Logistics Agency, dla.mil]. They are swabbed with copper sulfate for testing the passivation.
Thank you,
Gary Petrillo
Aerospace - Wallingford, Connecticut, USA
---
2004
A. Properly passivated stainless steel should pass all of these tests. Of them, the ferroxyl test is perhaps the most sensitive, and the most likely to give false positive for free iron.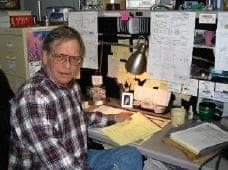 Jeffrey Holmes, CEF
Spartanburg, South Carolina
---
2004




A. You're mixing apples and oranges. ASTM A967 [affil. link] is a standard (tells you how to do, basically). However, if your purchase order or the engineering specified (AMSQQP35 [canceled, affil. link], you are locked into the specification testing, which depends on the alloy type. Usually you are required to do either the immersion or the high humidity test (your choice), and your customer may require "in addition to or in lieu of" the copper sulfate or a salt spray.

You also have to pay attention to the sampling plan to choose the correct number to test. The language is complicated. I suggest if you are "aerospace" you check the PRI (Nadcap) website, register and log-in, on left hand column of web page, scroll to Public Documents, click, and on the next page, scroll to the Chemical Processing page and open "Table 1", which is an Excel spreadsheet. Under Passivation is QQ-P-35 which will give you a (hopefully) more understandable break-down about which test is required.

Douglas A. Hahn




- Rocky Mount, North Carolina






---

2004




A. Each of the tests is normally used by different industries and for different grades of steel. They are all subjective tests showing either pass or fail, although you can get some gauge of the severity of failure by the amount of corrosion or discoloration present.

I agree that the ferroxyl test is the most sensitive, but also quite prone to give false failures.





Lee Kremer




Stellar Solutions, Inc.





McHenry, Illinois





---
---
To minimize searching & thrashing, multiple threads were merged; please forgive repetition, chronology errors, or disrespect of other responses (they probably weren't there) :-)
---
---
Citric Acid Passivation testing for Medical Instruments
2005
Q. My shop has been outsourcing citric passivation for the last two years. We are currently setting up our own citric acid passivation line. My question is about testing. We basically use only 17-4, 420, 455, 465 and sometimes 400 stainless in many cases these jobs are HOT and need to ship NOW. I'm looking for a fast and accurate testing method. I like the copper sulphate because it only takes 6 mins. But in reading ASTM A967 [affil. link] ASTM does not recommend this method for martensitic and ferritic 400 series stainless containing less than 16%Cr. Salt spray is an option, it only takes 2 hours. I have found a passivation tester by Koslow Scientific Testing Instruments [a finishing.com supporting advertiser]. Is this tester accurate, is anyone here using one? Also in reading the customer's requirements, they require that we certify that passivation is performed in accordance with a967. Nothing about testing is stated about testing. ASTM states 12.1 when required, the purchaser shall be permitted to perform such inspections as necessary to determine that the testing agency is capable of performing the specific test. Does this mean that unless required by the customer we do not have to test? I'm thinking that once the line is up and running we can periodically test parts to verify the process. Any help in this matter would be greatly appreciated.
Thank you,
Chris
Chris Kusnierek
- Elkhart, Indiana, USA
---
2006
A. Chris,
We like to use the boiling water test when copper sulfate cannot be used. It's not quite as rigorous as a salt spray test but can be done without special equipment. Heat a beaker of distilled water to boiling or near boiling, immerse the part for an hour, then remove from the heat and let cool for an hour, finally remove the part and let it air dry. Parts that have not been successfully passivated will often show signs of rust even before you get through all that.

The test comes from ASTM F1089 [affil. link] , though when I checked it seems that I've been using different time durations than what it specifies.

Regards,

Ray Kremer
Stellar Solutions, Inc.

McHenry, Illinois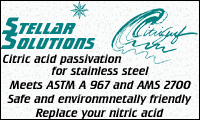 ---
September 26, 2014
A. Suggested method is the High Humidity Test per ASTM A967 [affil. link] practice B. It can be used on ALL metals and is non-toxic (versus the Copper Sulfate testing). An additional bonus is having an independent, (semi) local testing lab perform and certify the results. This method provides uniform exposure to entire surface area. Regarding the Koslow Scientific Testing Instruments [a finishing.com supporting advertiser] Tester although this is a very useful tool for in-process verification your process qualification or process validation should employ both the High Humidity Test (per ASTM A967 [affil. link] practice B) and Koslow method in parallel if you intend to use the Koslow for continual in-process verifications.
Mike Scalia
- Bergen County, New Jersey, USA
adv.