Where the world gathers for
plating, anodizing, & finishing Q&As since 1989
-----
Passivation of abrasive blasted stainless steel
2002
Q. Dear Sir,
I'm a first time visitor to your forum. I don't have a comment. However, I do have a question.
I have Stainless Steel 304 Diamond Tread Deck Plates that were inadvertently abrasive blasted with steel grit. Deck plates are flash rusting. Can deck plates be passivated?
I work in a marine environment aboard ship. SS 304 deck plates were temporarily removed from a machinery space and taken to a shop for cleaning. Once at the shop they were inadvertently abrasively blasted. Cleaning was interpreted as abrasive blasting (shop is heavy into painting and abrasive blasting). Deck plates are flash rusting. Painting the deck plates was considered, it was short lived though, due to potential slip hazard. I know only what I have learned in this forum about passivation.
Any spec of light on this issue is welcomed and greatly appreciated. I enjoyed the short visit to your forum and I have added it to my favorites for future visits.
Ramon Jauregui
- San Diego, California USA
---
2002
A. Yup, your guys screwed up but I guess you already know that.
Any standard passivation procedure will work for you.
Soak 'em in 10% nitric acid solution for half an hour at 70 degrees or higher and you should be alright.
You could also use citric acid if you have a disposal problem.
See ASTM A967 [affil. link] for full details or search this website for passivation. There is lots of information here.
For the heavy contamination that you have I would prefer to use nitric. It seems to work a little better than citric in this particular circumstance. If you find that you still get some rusting after the passivation procedure it is because of the amount of iron that has been driven into the surface of your diamond plate by the blasting procedure. How deep it has been driven depends on the air pressure used and the state of the blasting material. Have faith and re-passivate. It will clear it all given a little patience.
Good luck,
John Holroyd
- Elkhorn, Wisconsin
---
2002
A. Ramon:
Yes, you can easily get your deck plates passivated. A local jobshop should be able to handle the job.
Dan Weaver
- Toccoa, Georgia
---
2002
A. Ramon:
You will find that the correct citric acid based formulas will give you faster and better removal of the rust than the nitric solutions.


Lee Kremer
Stellar Solutions, Inc.

McHenry, Illinois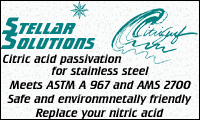 ---
---
Passivation vs. bead blast
2004
Q. My company designs and builds equipment, mainly for the food industry. We have the capabilities to glass-bead-blast our stainless parts for a great finish that our customers our very happy with. However, a customer has inquired into passivation, and if the glass-bead-blast technique achieves the same result. I can see the similarities, but do not have the background to know -- and explain -- for sure.
Any help on this would be appreciated!
Pete Najar
design engineer - Dallas, Texas
---
2004
A. If anything, I would think the blast would remove oxides and activate the surface. Anyway, we passivate stainless with a solution of 40-60% nitric acid. 30 min dip.
Mary Cera
- Oklahoma City, Oklahoma
---
---
To minimize searching & thrashing, multiple threads were merged; please forgive repetition, chronology errors, or disrespect of other responses (they probably weren't there) :-)
---
---
Passivation of sandblasted stainless steel handrails
1999
Q. I am reviewing a specification for ornamental handrails.
Can anyone clarify if sandblasted stainless steel requires re-passivation. Also after field welding, does it require local passivation?
What are the different methods of sandblasting? I understand that glass beads are used, as well as sand. Same substance; different form? It purity of the sand an issue?
Finally, is there any recommended polish/sealer/cleaning fluids?
Thanks in advance,
Ross
E Ross Asselstine
Lend Lease - San Francisco, California
---
1999
A. Dear Ross,
Yes, after you work stainless steel in any way , the "Passivation" must be renewed, as the New Olympic Swimming Stadium in Sydney will tell you. There are several supposed treatments but the only constantly reliable one (in my opinion) is ELECTROPOLISHING and this can be achieved by "Brush electropolishing" on site or by contracting the work out .
Regards

John Tenison - Woods
- Victoria Australia
---
1999
A. Dear Ross: After sandblasting or bead blasting it is necessary to re-passivate the metal. For a bright finish and superior corrosion resistance electropolishing is the answer. If the handrails are electropolished first, and then welded on-site, the weldments should also be passivated. It is generally more economical to passivate on-site than to electropolish.
Sincerely,
Mary Wilk
- Goleta, California
---
---
Is re-passivation necessary after blasting?
2007
Q. Hi Everyone,

My question is simple, well maybe not so simple. Can you bead blast after passivating? We have two pieces that are bead blasted then passivated. Then the two pieces are tact welded, but we then want to get a uniform finish. The problem is that by tact welding we are forming crevices that the passivating chemicals seem to be getting trapped causing problems, so if we bead blast after the tact welding we cannot passivate, at least not easily. Is this a big problem?
Micheline Forth
metal finishing company - Rincon, Georgia, USA
---
2007
A. If certifying the passivation, you must passivate after the bead blasting. Alternating hot and cold water rinses help draw out trapped passivation solution from behind tack welds. Pressurized spray rinsing also helps. The final rinse should be hot DI water. Test the adequacy of the rinsing by wicking out residue from the crevices with pH paper.
Ken Vlach [deceased]

- Goleta, California

Finishing.com honored Ken for his countless carefully researched responses. He passed away May 14, 2015.
Rest in peace, Ken. Thank you for your hard work which the finishing world, and we at finishing.com, continue to benefit from.
---
2007
A. Yes, you must passivate after blasting. If you are using nitric acid to passivate it certainly would be a problem to have that trapped in crevices. Citric acid based passivation would make this less of a concern.
adv.
Let us know if we can help.

Ray Kremer
Stellar Solutions, Inc.

McHenry, Illinois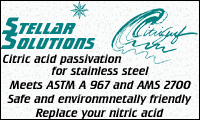 ---
---
Can we substitute blasting for passivation of stainless steel?
March 14, 2014
Q. I have a spec that calls for passivating per ASTM A967 [affil. link] and pickling per ASTM A380 [affil. link] . The 304 SST we receive will be pickled from the mill. Am I able to blast the completed product in and still meet the passivating part of the spec. I know there is much more detail needed, but my general questions is, can blasting 304 SST provide the same result as passivating per ASTM A967 [affil. link] ?
Sam S
[last name deleted for privacy by Editor]
Designer - Baltimore, Maryland
---
March 17, 2014
A. Hi Sam. As you see, we appended your inquiry to an earlier thread on similar subjects, and the answer is, no, blasting is not a substitute for passivation. Good luck.
Regards,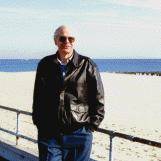 Ted Mooney
, P.E.
Striving to live Aloha
finishing.com - Pine Beach, New Jersey
---
January 28, 2015
A. Any time you modify stainless by blasting, grinding, welding, etc., it needs to be re-passivated to get proper corrosion protection. For large parts a big pickling bath works best. For small local areas electrochemical cleaning systems work awesome. If you're doing a small job with local cleaning you might be able to get a demo model from a local dealer.
Jason Eickhoff
- Lincoln Nebraska USA
---
---
Remedial action if ss material blasted with steel shot
December 20, 2016
Q. Please give us your recommendations about if ss material is blasted with steel shot. It needs pickling passivation OR just water washing then sweep blasting with garnet and then painting. Awaiting your kind response in this regards.
Muhammad Ashfaq
Painting Inspetor - Saudi Arabia
---
January 2, 2017
A. Muhammad,
In theory, a stainless surface that has been contaminated with iron needs to be passivated, probably for a longer time than the standards typically suggest.

However, contamination from blasting with steel shot is extra bad, due to the contamination being beat deep into the surface. As such, a heavy dose of pickling (or nitric acid passivation) may be the best remediation. Non-ferrous blasting followed by passivation may be viable also, though it is possible that the blasting may drive the contamination further into the surface rather than removing it.

Ray Kremer
Stellar Solutions, Inc.

McHenry, Illinois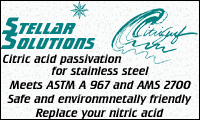 ---
October 18, 2018
A. I think the easiest way to fix the problem is to re-blast with a 70 grit crushed glass to remove all the iron contamination and then glass bead blast if you want it to be a smoother and shinier surface.
H Stroh
Heavy metal fabrication - Troutdale, Oregon, USA