Where the world gathers for
plating, anodizing, & finishing Q&As since 1989
Removing Scratches from Stainless Steel Appliances
-----
Always rub "with the grain". You can try any of several reader-recommended mild polishes, or proper grades of Scotch-brite, or specialty kits like Scratch-B-Gone. Be careful of "shining" the scratched area, making it worse. Read on for dozens of experiences ...
Newest question and answers:
Adding a Q. will restore this thread to our Current Topic page.

May 3, 2016

Q. I have scratches on my Kitchen Aid fridge door and rust stains at the bottom of the door. The Kitchen Aid people told me I could fix this with a product called Scratch B Gone. Where can I buy this product in Canada?
Laureen Andreacchi
- Markham, Ontario, Canada
---
August 4, 2017
! I will add my voice of frustration. The majority of the suggestions I've read come from well meaning amateurs. Are there any qualified professionals who are not promoting their product who can give specific recommendations that don't involve their product? Mr. Feinman obviously wants to help people by selling them his product. Besides the light abrasive pads and moving with the grain, is there a commonly sourced generic substance (oil, acid, other) that a pro finisher uses when repairing the finish of stainless steel?

I am not looking for a PRODUCT to buy. That would be like an Internet cooking forum where someone is asking how to make humus and the advice from a restauranteur is to come to his restaurant or go to the grocery store and buy the packaged product he sells. I'm looking for the recipe to share the off the shelf materials and technique to repair the finish on a stainless steel appliance.
steve ray
- Portland , Oregon, USA
---
August 2017
Hi Steve. Acids and oils are not used, just sanding pads of various grades & types. I see a lot of technical info and I don't dismiss it all as being from "well meaning amateurs". Surely some professionals use kits.
You'd like this to be a "Cooking forum", which is fine, and we're trying to serve you; but that doesn't mean that there no readers are interested in kits, and they all want to shop around for the individual pieces. Our supporting advertisers are also entitled to their opinions, and they make the site possible without ever once asking us to censor anything; rather, we've happily posted every response we've received. Good luck!
Regards,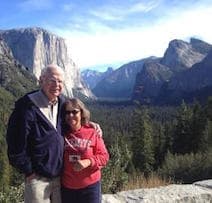 Ted Mooney
, P.E. RET
Striving to live Aloha
finishing.com - Pine Beach, New Jersey
---
March 2, 2018
A. I don't think I've seen this, but I use Old English Wood Oil on my fridge. I saturate a soft cloth and cover the entire surface, rub off the smudges or food, and then buff with another soft cloth. I keep a cloth with some oil on it to buff off smudges between cleanings. I've been doing this for 12 years and aside from the etch marks from the ice maker (which is why I'm here--ugh), it still looks like new.

However, if I had to do it over again, I wouldn't have any stainless steel. When this fridge goes, I'm going back to almond, if I can find it, and replace the other appliances with almond when they conk out. Cleaning is a pain and after a while, they started to looking like cafeteria appliances to me.
Lisa Jones
- New Orleans Louisiana USA
---
---
---
Closely related historical posts, oldest first ...
1999
Q. I just built a house and stocked the kitchen with stainless steel appliances. I have two problems:
(1) my stainless steel range hood (Best by Broan) had some aerosol insulation foam stuck to it, so I made the mistake of attempting to buff it clean with the rough green side of one of those kitchen sponges. Needless to say, it left a mark which sticks out because it is shinier and the grain is coarser then the factory finish.
(2) my stainless steel cooktop is accumulating some minor "against the grain" scratches from pots and pans and such.
What are my options for fixing these blemishes or making them less noticeable. Any suggestions appreciated.
Thanks,
Tony K
- Bolton, Connecticut
---
A. Brush stainless steel comes in various finishes. No. 3 and No. 4 are typical. These finishes are hard to repair when scratches appear. Another brush finish is the Hairline finish. The advantage of this finish is that the grain is continuous and runs the length of the sheet. The importance of continuous long grain Hairline finish is to allow for repair of minor scratches. One can easily repair scratches using the proper grit 80-120 abrasive pads or sandpaper and sand the length of the grain until the scratches are removed.
Hope this helps.
Mike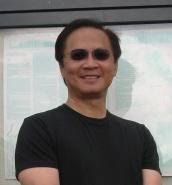 Michael Liu Taylor
specialty stainless steel distributor - Dallas, Texas
---
2000
A.
Tony,
A Company in our neck of the woods, New Tech Sheet Metal, are mainly fabricators of h.d. stainless kitchen equipment. They also happen to be Ballard Power's sole s.s. fabricator, too, which might mean something to you.
To remove scratches, they use 3-M's Scotch Brite [affil. link to info/product on Amazon] pads. The coarser grey one and the finer maroon or purple coloured lighter pad for finishing off.
Never, they said, go 'against' the grain but buff/pad in the same direction.
Happy scratching!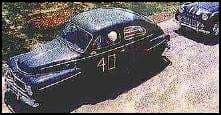 Freeman Newton
[dec]
(It is our sad duty to advise that Freeman passed away
April 21, 2012. R.I.P. old friend).
---

I would like to thank Mr. Freeman Newton from White Rock Canada for sharing his knowledge about getting scratches out of stainless steel with 3M Scotch brand grey and maroon pads. My husband and I tried this and our stainless steel sink looks brand new again! Our sink does have tiny grooves that all go one way which made this process possible as long as you move the pads in the same direction of the grain in the steel. Thank You! Thank You!
Loretta S
[last name deleted for privacy by Editor]
- Corralitos, California
---
2006
Q. What is the exact recommended Scotch-Brite product for removing scratches in stainless steel appliances (Jenn-Air refrig, stove, dishwasher)?
Literature on 3M's Scotch-Brite hand finishing system offers two "gray" pads, #7446 & #7448, equivalent to steel wool grades 3 & 00, respectively. I also see recommendations in this thread to use the "maroon" pad, which comes in two grits, #8477 & 7447, equivalent to steel wool grades 2 & 1, respectively. Please advise. Also, should I be using any type of cream, lubricant or abrasive powder in conjunction with the Scotch-Brite pads?
Adam Cole
- Chicago, Illinois
---
2006
A. I had reasonable success purchasing all the Scotch-Brite pads ranging from 60 to 320 and then using them one at a time and sanding with the grain. Then, I finished up with 400, 600, and 1000 grit paper that you can find at an automotive store. Water works fine as a lubricant. Clean the surface with water and a clean cloth in-between each step. It is an INCREDIBLE amount of work, and won't remove all the scratches in an old sink, but worked wonders on my 20 year old stainless steel sink.
P Zack
- Albuquerque, New Mexico
---
2003
Q. Hello,
I was reading some of the responses to the problem with a scratched appliance. I have an Amana Stainless Steel Fridge. I used a cloth on it that evidently it was not soft enough. I put the conditioner on it, and it does look a little better, but I can still see the scratches. It is a full sheet. You can see the grain that runs all the way down from top to bottom. Do you know of anything that can help me.
Mandy W
- Clinton, North Carolina
---
2004
A. Great! Some advice I took, was to use Rubbing Compound [adv. Perfect-It II [affil. link to info/product on Amazon]] that can be purchased at an automotive shop. My scratches in my SubZero, and Decor Hood came out with a little elbow grease. Just make sure that you rub in the same direction of the grain, and buff with a soft cloth. I ended up spraying vinegar on it to get the 'greasy' look off. It is brand new!
Sheree R
- Tucson, Arizona
---
A. I had the same problem but I found a local stainless steel company that sells kits that remove these scratches. It worked really well for me.
Good luck
Jamie C
- Ft. Lauderdale, Florida
---
A. I too have stainless steel appliances and did the same silly green Scotch-Brite pad clean up on my Kenmore Elite SS fridge. Needless to say presto it looked like the chrome bumper on my 1970 Datsun Conv.
The remedy: Use Car Perfect-It II [affil. link to info/product on Amazon] between 1000-1200 grit. Rub in same direction as the grain of the brushed steel and use LOTS of elbow grease. This will take a while but the hard work will pay off and the SS will look like new. Use Vinegar to remove the grease from the compound and see the final product.
Good Luck.
Jason R
- Clovis, New Mexico
---
A. I have found the answer to removing scratches from stainless steel appliances. I have Kitchenaid Superba, Fridge, Stove, Microwave, Dishwasher, and ovens. They are all stainless steel.
On a recent visit to our home, my mother-in-law thought she would help us out, by cleaning some of these appliances. Unfortunately she used the scouring side of our sponges to do this. Needless to say (and trust me, I didn't say anything to my mother-in-law. She's my wife's mother. I'm not an idiot) I just about flipped when I saw how scratched everything was. The worst was the fridge. I pretty much resigned myself to the fact that we would just have to live with our now scratched appliances. I came here and to other sites,seeking advise. Everyone sounded fairly discouraging, and the thought of taking sandpaper, any grade, to my fridge sounded nauseating. Call me a pessimist. I even called Kitchenaid. They basically said there really is nothing you can do. Not so. I am here to tell you that!
I am now living scratch free! Years ago, maybe three, while shopping at a Williams-Sonoma store, I purchased a copper and stainless steel cleaning solution. It is intended to be used on pots and pans. It is describe on the label as an "easy to use creamy paste." I knew it worked well on our pots and pans, and that it really is easy to use, so I thought, what the heck, lets try a small part of the fridge and see what happens. I found the most obscure section of our fridge, applied a little, with the grain and cleaned it off. Amazingly, the scratches were gone. So, I did and little more and again, good-bye scratches. So I did the whole fridge. Unbelievable. No more scratches. The fridge now looks like it did the day we bought it. Maybe even better. Hallelujah!. I cannot recommend this stuff higher. I am not kidding, the scratches are gone and the stainless steel looks perfect. The paste is made by REVERE. It is intended to be used on REVERE pots and pans, but I kid you not USE it on your appliances. You will thank me. So basically it is called Revere copper cleaner [affil. link to info/product on Amazon]. I have a 7 oz jar. It is made by Corning. Trust me on this. You will not be disappointed and, it is a lot more palatable then taking sandpaper to your appliances. The paste has a bit of a gritty texture to it. The directions say to apply it in a circular motion. Out of fear of making further circular scratches, I chose to apply with the grain of the steel. This worked perfect. Say good-bye to your scratched up appliances. You may call me Gandalf.
Regards,
Cary Auwaerter
- Toronto, Ontario, Canada
---
Q. I am writing in response to Cary's message regarding the Revere cleaner I just ordered some online (Revere copper cleaner [affil. link to info/product on Amazon]) and I was wondering if you could give me any tips on the best way to use it, I have some scratches that go against the grain on my new refrigerator and I am trying to remove them before I get the workers who caused them to replace them all together......I would appreciate your help on this!
Theresa D
- Temecula, California
---
2005
Q. I recently purchased a new stainless steel refrigerator and accidentally scratched the surface. I was able to buff-out the scratches with a rubbing compound, but now unfortunately I am left with another problem. There are dark blotches where the rubbing compound was applied and I'm not sure how to come up with a solution. I called the manufacturer to see about buying a new door panel, but they said I would have to purchase a new door, and that would cost-- well let's just say I could buy a new refrigerator for that price.
Thanks for any help or suggestions!
Roxanne H
[last name deleted for privacy by Editor]
homeowner - Grand Rapids, Michigan
---
Q. My four year old daughter just scratched my new Kenmore side by side refrigerator with a picture frame magnet. The scratch does go with the grain but appears to be very deep, appearing to be a white color. Of course, the scratch sticks out like sore thumb and would take a large "I'm Sorry" picture drawn by the culprit to hide it. I am reading all about the sponges and polishes and wonder if any of these would even work for such a deep scratch. Please help!
Jenny A
[last name deleted for privacy by Editor]
Home owner - Gibson City, Illinois
---
A. Scratch Away Sink Repair Kit [affil. link to info/product on Amazon] removes scratches and damage caused by utensils, pots and pans, non-woven cleaners and steel wool. Damage is removed, not filled in. Leaves sinks with an attractive, uniform finish that holds up much longer than anything on today's market.
Dan Lombardi
- Alden, New York
---
Q. My NEW side by side stainless steel refrigerator/freezer is scratched in two area's by granite installer (and of course..they will not do anything) we need help to repair..without the high cost replacing the door..

Model type: KITCHENAID STAINLESS STEEL SIDE BY SIDE SLIMLINE COUNTER WIDTH 0 MODEL..

STAINLESS STEEL MAGIC DOES NOTHING..

SHOULD WE TRY THE SCRATCH AWAY KIT ABOVE MENTIONED PART #3DS1RK01..if so ..where do we order or get it from..or should we try Brasso [affil. link to info/product on Amazon]... or other products mentioned on your site by people..

please help..we cannot afford to replace the door..
two types of scratches:..on long on the bottom of door..thin line width wise..

and the other (more importantly) is in the middle height and near the edge.."brush and line scratches) when the men rubbed the granite along the door..
please any suggestions..thank you Patricia
Patricia M
[last name deleted for privacy by Editor]
homeowner - Medford, New Jersey
---
2005
Sorry about your troubles, Patricia, but getting consistent opinions on a public forum is harder than herding cats :-)
All you can do is try some of the ideas that have been proposed, understanding that the deeper the scratch the more aggressive the required repair. You won't be able to remove a deep scratch with a mild polish in a practical amount of time (it would be like trying to dig a hole for a building foundation with a teaspoon). Good luck!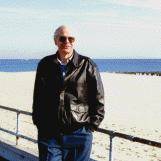 Ted Mooney
, P.E.
Striving to live Aloha
finishing.com - Pine Beach, New Jersey
---
Q. I haven't had a problem with scratches, but recently have noticed that all of my stainless appliances are spotting. Not water spots, but areas (that seem to be growing in number!) that are lighter than the rest of the finish. Some look like drips and others just blobs. I've always been super careful with the cleaning products I use and have had the appliances for 2+ years so can't figure out what happened to cause this problem. Help!
Kristin F
- St. Louis, Missouri
---
2005
A. This is to help Kristin F with the spots and blobs that she has found on her stainless steel appliance. I have a Beaumark SS Range. I am forever dripping down the front of my range. I usually wipe it immediately, but that doesn't always take away the mark. When we bought the stove, it came with a cleaner and protector for ss appliances, and I tell you...it works! It is an oily product that you just spray on and wipe away any water marks, and finger prints. I use it when I want my SS products to shine. It is by: Lloyds, it is called Gleemit, cleaner and protector for stainless steel. We bought our range at The Bay. I'm not sure where else you can buy it, but the salesman told me that as long as it was an oil and not a paste, I used to shine my appliances, that it should work.
Hope this works for you.
Fern
Fern Luce
- Stockholm, Sask., Canada
---
2005
Q. I have the same problem as Kristin F. I used Gleemit on a regular basis, it works really well. However, there are a few big water mark on my fridge that I cannot get rid of. I am not sure what they come from or how to get rid of them. Any ideas?
Mandy Hung
- Toronto, Ontario, Canada
---
Q. I tried a few cleaners, 3M rubbing compound and nothing worked on my GE profile side by side. I finally tried using 600 grit sandpaper, now the scratches are pretty much gone. I see a shine (refrigerator has a brushed finish) around the area I worked. Is there anyway to get the shine blend with brush finish?

Thanks,
Shilpa
[last name deleted for privacy by Editor]
- California
---
Q. I live in the UK and cannot get hold of the recommended products - HELP! I have recently had my kitchen refurbished and the heavy handed builders have scratched my beautiful chrome fridge. I am desperate to remove the scratches but cannot seem to get hold of any of the products recommended in the UK - particularly the Revere Copper and Stainless Steel Cleaner. Can anybody help me please?
Thanks,
Kathryn D
[last name deleted for privacy by Editor]
Home Owner - Newcastle, UK
---
A. I recently visited a Home Depot store and found a product that was specifically for taking SCRATCHES out of stainless steel. The name of this stuff is Scratch-B-Gone [a finishing.com supporting advertiser] and I used it and it really works.
Shari B
[last name deleted for privacy by Editor]
- Bermuda Dunes, California
---

Shari,
Thanks so much for the information about Scratch B Gone. I went to Home Depot . Although it is not yet in all the stores, they sent me to one that was carrying the product now. I had scratches on my refrigerator door and on my Viking range (from the grills) and I used the product. The scratches are gone and best of all the area I treated blended in with the rest of the surface. It was so easy to do! Amazing!
Pamela J
[last name deleted for privacy by Editor]
- Carlsbad, California
---
2005
adv.
This is problem is quickly remedied using Scratch-B-Gone. The product will remove surface stains, water spots, rust , NOT to mention scratches....This product really works!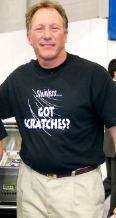 Barry Feinman
BarrysRestoreItAll

Carlsbad, California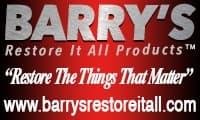 ---
2006




I find it interesting that "Shari" recommended Scratch B Gone - left a link - and the link is to a company in Carlsbad CA. Two posts after that recommending the same product are from Carlsbad. Co-incky-dink? I think not. Let's research this some more before we get "taken" by a very obvious advertising ploy!

Jean T

[last name deleted for privacy by Editor]




- Sewanee, Tennessee





Ed. note: Hello Jean. You're right that testimonials are a poor subject for the virtually anonymous internet! It's drowning in spammers, phishers, and shills posting with fictitious names. But my guess is that Shari, Pamela, and you are real people posting with real names.

Shari didn't "leave a link"; rather, Scratch-B-Gone is an identified supporting advertiser of this site so we linked her mention of the product to their ad.

On this page a competitor of Scratch-B-Gone claims their product "holds up longer than anything in the market" -- and who paid for their posting of this claim? Not his company, but our supporting advertisers including Scratch-B-Gone. So another way of looking at it is that Scratch-B-Gone is paying the cost of maintaining these postings describing all these alternative approaches to trying their product.

Please come back and tell us about your scratch removal problem that brought you here. It's okay to get distracted, but not so distracted that we lose the thread :-)
Thanks. --Ted
---
2006

My 30 year old very scratched stainless steel sink is now shining bright. I couldn't get the 3m pads here in Aus but instead used 800 grit(1st), 1000 grit(2nd) and finished off with 1200 grit sandpaper. Voila! like new. Thank you all for your advice. I must say I was very nervous using sandpaper so I did a small area first using the three grits and was amazed. Oh I also wiped down with vinegar. Thanks
Mollie Thomas
- Campbelltown, NSW, Australia
---
2006

I just wanted to thank all of you for your comments and suggestions. What a relief to know that there are solutions that work. I'm going to try Scratch-B-Gone [a finishing.com supporting advertiser] (and not because I'm from California and not too far from Carlsbad - great waves for boogie boarding!) on my 1 week old sink. I've read their material and like that BarrysRestoreItAll [a finishing.com supporting advertiser] mentions their product blends the repaired area with exiting areas. I'll let you know if it works.
Jill James
- Lake Forest, California
---
2006
Q. I recently used Bar Keepers Friend to clean my stainless cooktop. It had very brown spots on it due to water boiling over while canning tomatoes. The stains eventually were removed but now I notice fine scratch marks on some areas of the shiny part of the stainless. Does anyone have a recommendation on how to remove these scratches. Thank you.
Char MccQuillan
consumer - Rockford, Illinois
---
2006
Q. My husband and I are at the end of our (8) year, complete home remodeling project of our 6300 square foot home. You can imagine my excitement in bringing home our new JennAir stainless steel refrigerator. I was so ready to clean the tags and plastic and get it into my new kitchen.

Now, imagine my horror, when trying to remove the glue, from the tags stuck to the door. First, soaking them with hot soapy water, and using a green "scrubbie" to gently encourage them from the door, and "poof" my brand new, never been used fridge now has three patches of scratches! Arughhhhh! I was sick!

I have been searching for answers, for (5) days. Thank God for your web site. I guessing I should try the scratch-b-gone product. What is the success rate with the scratch-b-gone product? Is is easy to use?
Thank you in advance for any advice you are willing to offer.

Sincerely,
Patricia B DeArcangelis
home owner - Cumberland, Maryland
---
2006
A. In response to the inquiry from Patricia about removing sticky tags from new appliances: The gentlest and most effective way to remove glued-on stickers is to use baby oil. The oil removes the adhesive with a a bit of gentle rubbing with a cotton cloth or paper towel (cloth is the gentlest). Then to remove the oil, just wipe with a bit of rubbing alcohol to cut the grease. It works great and doesn't harm the item.
Linda Hashlamoun
- Stow, Ohio
---
2006
Don't use the product called Scratch B Gone on your stainless steel appliances! I bought some after reading recommendations, and am sorry I did. Even with the mildest of the four pads included, it did more damage to my refrigerator. Now the whole area treated is scratched with the grain, instead of a few scratches running down the grain. I wish I never used it! The liquid product is supposed to make the treated area blend in with the rest of the untreated stainless, but it doesn't work at all. You will end up with a shiny scratched up patch. It is WAY too abrasive.
Kim Gallier
- San Diego, California
---
2006
A. Kim Gallier,

In response to your comments regarding Scratch B Gone I could not disagree with you more. If you are having a problem with this product being too abrasive you then must not have "brushed grain stainless steel". I have used this product several times for my own refrigerator, stove, and dish washer and also some of my own clients appliances and it really does work. If you notice in the instructions its says for "brushed grain stainless steel" only. You just have to start with the lightest abrasive that will remove the scratch or blemish. Not the heavy grit ones. Again I have had no problems using this product. You just have to use it correctly.
Randy Rogers
- Mission Viejo, California
---
2006
I'm going to try "Scratch Be Gone" but I also wanted to say "Orange Glo Stainless Steel Cleaner and Polish" made the fine scratches, which I foolishly made on my stainless steal fridge using a dish washing grainy sponge, disappear. I used it to polish up the fridge a bit after I made the scratches and a few days later the scratches are gone.

Wow!
Demetra Pavlou
- Long Island City, New York
---
2006
adv.
I would like to thank both Kim Gallier and Randy Rogers for their trust in posting the above responses about our product, Scratch-B-Gone(SBG) for the refinishing of scratches from their Stainless steel (Ss) appliances. We always appreciate honest feedback from our customers in an effort to continually improve the quality of our product offerings. To date, our SBG is the only fully D-I-Y kit available for the remediation of 'real' stainless appliances, sinks and grills. Not for use on coated surfaces sold as a clean-free or fingerprint free surface. Additionally, it will remove stain, chemical burn, acid corrosion, and rust. Our SBG is currently used by major mfgrs in-plant for scratch removal and in- field service for quick surface correction. Most large manufacturers recommend our SBG to their customers. For this reason, we take customer feedback very seriously. We are very concerned about Kim Gallier's experience and believe that her surface was most likely of the coated variety therefore the use of our tool aggravated the scratch by removing the clearcoat and resulted in a polished surface. We are always available to discuss your particular needs or respond to your feedback.

Respectfully,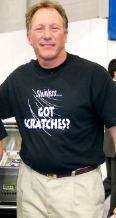 Barry Feinman
BarrysRestoreItAll

Carlsbad, California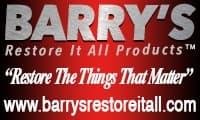 ---
2006
Q. Can Scratch-B-Gone be used on Jenn aire Products? I called their 1 800 number and got the same response -- "Nothing can be done about the scratches on your new Jenn air $2500 gas grill stove." So, I need to know, are their stoves made with the kind of stainless steel they make their products from?
DENISE TREECE
consumer - HOPEWELL, Pennsylvania
---
2006
Q. I own a Kitchen Aid fridge, stove, dishwasher, and microwave oven. I too have some small scratches on my fridge that I cannot remove. In regards to Claudia of Great Neck, N.Y. I thought I would try her solution of a paste of baking soda, unfortunately this did not work for me. I just wanted to mention to her I found a great product to remove water marks and fingerprints on stainless steel. My housecleaner has stainless steel and she told me she uses Enddust. Yes, Endust. Shake the can well and spray on a soft cloth or I use a paper towel. Spray on paper towel not directly on appliance. Go in the direction of the grain. You won't believe how your appliances shine plus removing water marks and finger prints. I do all my appliances with Endust every 2 weeks. If hesitant try on a small area first.

Now I have to find a product that will remove my scratch. I keep hearing a lot about Scratch B-Gone. Has anyone had positive results from this product.
Val Cooper
- Burlington, Ontario, Canada
---
August 22, 2011

MUCH THANKS TO VAL, BURLINGTON, ONTARIO, CANADA. YES, THE ENDUST DOES WORK ON MY NEW STAINLESS STEEL GE APPLIANCES. SPRAY ON A SOFT CLOTH, GO IN THE DIRECTION OF THE GRAIN. IT WORKS. I EVEN USE IT ON THE STAINLESS STEEL RANGE TOP (UNDER THE BURNER GRATES). THANKS AGAIN.
CAROL CONTE
HOMEOWNER - WESTLAKE VLG, California, USA
---
2006
adv.
Thank you Val and Denise for your inquiries about our Scratch-B-Gone kit for Stainless steel refinishing. First, our kit works beautifully well on all Jenn-Aire surfaces (not clearcoat protected) as I have personally restored several range tops for them. As a service provider company also, we have not found a grill unit or lid that we could not remedy with our kit. As for your small, light scratches Val, our kit is ideal for removing them. Just watch the video and read instructions fully. Use the gray pad and Ultra Shine solution as instructed and you will get great results. Happy scratch removal to you.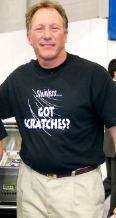 Barry Feinman
BarrysRestoreItAll

Carlsbad, California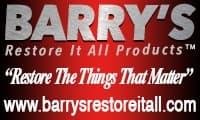 ---
2006
A. A cheaper (and less messy) alternative to stainless steel conditioners for regular polishing is WD-40 [affil. link to info/product on Amazon]. I spray this directly (but lightly-not much is needed) onto the surface and buff dry with a white paper towel or cloth. This suggestion was given to me (off the record) by the retailer who sold me my appliances and it works great! One can lasts forever and I find it much easier to use than pouring liquid conditioner onto a rag and then only being able to cover a small area before I have to reapply.
Sarina Miller
- Philadelphia, Pennsylvania
---
(you are on the 1st page of the thread) Next page >
---