Where the world gathers for
plating, anodizing, & finishing Q&As since 1989
-----
Dichloromethane (CH2Cl2) effects on black anodize
2006
We have a customer who has stated the black anodize on an aluminum part is "peeling off" after left in a cleaning solution of 70-90% dichloromethane (CH2Cl2) and 0 to 10% methanol [affil link] overnight.
The aluminum part is made from 2011-T3 Aluminum bar.
Anodize is per MIL-8625D Type 2 class 2.
I am somewhat familiar with the anodization process (just enough to be dangerous)and have heard of an anodized surface fading or becoming discolored but never "peeling off".

Anybody have any information regarding this chemicals effects?
Thomas J Luniewski
---
2006
There is a first for everything, but I will bet the first two rounds of beer that it is leaching the dye out, even in a well sealed coating. Another name for DCM is methylene chloride. It is an extremely strong organic solvent. Dyed anodizing was never intended for this abuse.

If they do not want the color to leach out, they need to go to hard anodizing, realizing that there is no dye and that the color is not totally uniform or nearly as dark and the exact color is dependent on the alloy.
James Watts
Navarre, Florida
---
2006
While I somewhat agree with the first response, I'd like to pipe in with my two cents worth. (1) all 2xxx alloys are terrible for corrosion resistance so the problem may be strictly alloy related ( and compounded by the fact that methylene chloride is extremely aggressive not to mention hazardous! ). (2) could the methylene chloride have a little moisture in it causing the solvent to break down and form hydrochloric acid which even in trace amounts would go after both the anodize layer and the basis aluminum. (3) while hardcoat is one suggestion, another would be 2-step anodize which is nearly identical to the conventional sulfuric anodize then dye except the coloration is developed using metal ions and AC power. The beauty of 2-step is that it is resistant to organic attack and is more heat, light and chemical fast than those colored anodic coatings done using organic dyes. While there are other 2-step black anodic coatings, AnoBlack EC has performed well where ordinary anodic coatings have failed.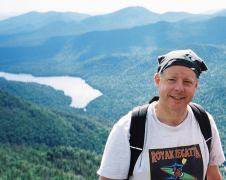 Milt Stevenson, Jr.
Syracuse, New York