Where the world gathers for
plating, anodizing, & finishing Q&As since 1989
-----
Ni3B question Tapping the keg of knowledge here at finishing.com
2006
Curious as to if someone knows how to achieve a 5-6% boron concentration in a electroless NI boron plating bath for plating on Aluminium surfaces. (2024/6061/5XXX series alloys)

The ASTM standard for "type one" NI2B states a spec of .1 to 3.5 mass percent boron with the balance Being NI.

The ASTM standard for "type 2" Ni3B is a content of 3.5 - 6 % Boron in the plating. with a minimum mass% of 90% NI as well..

I am curious if it is the sodium borohydride that is used when plating titanium/steel, that allows the higher percentages of boron in the plating, and if I would achieve the same adhesive properties on a zincated piece of aluminium.

Any help on this subject would be greatly appreciated.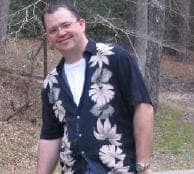 Ryan Cook
Toccoa, Georgia
---
2006
Type 2 is reduced with sodium borohydride, while Type 1 is reduced with DMAB. DMAB reduced baths can only consistently produce about 1% B, while the German Nibodur borohydride reduced coating consistently produced 4.5-5% B (with 4.5-5% thallium).

The borohydride bath is made with NiCl2 and operates at about 12 pH. According it will dissolve aluminum. Aluminum parts can only be plated if they are first encapsulated with Ni-P.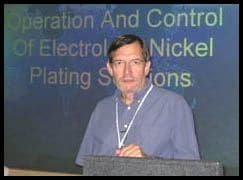 Ron Duncan
[deceased]
- LaVergne, Tennessee
It is our sad duty to note Ron's passing on Dec. 15, 2006. A brief obituary opens Episode 13 of our Podcast.
---
2006
Ron's answer is correct. To plate aluminum with high Boron content EN, one must first plate the aluminum with Nickel, of NiP to protect the Aluminum from the high pH NiB solution that uses sodium borohydride.
I achieved 10% boron using a DMAB solution by including fine (not nano) boron particles in the solution. It was stable enough to plate one object to a reasonable thickness before it plated out. With a little research on how to feed stabilizer while plating could work. 10% boron is the eutectic alloy (lowest melting point.

Don Baudrand
Consultant - Poulsbo, Washington
(Don is co-author of
"Plating on Plastics"
[affil link to the book on: Amazon or AbeBooks ])
---
2006
Thank you for your responses.

I was almost positive about the borohydrate yielding a higher Boron concentration, but I did not take into consideration the NI Phos.

Considering I am an Anodizer, you would think That I would anticipate an attack on the AL at an increased PH..

Thank you fellow Americans.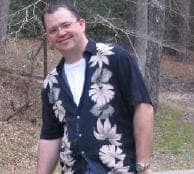 Ryan Cook
Toccoa, Georgia