Where the world gathers for
plating, anodizing, & finishing Q&As since 1989
-----
Alkaline Zinc on sheet metal - Recurrent Blistering!
2006
In the past few months, we have been struggling to eliminate recurrent blistering on our zinc auto lines. The blistering is latent, showing up after the pieces have left the shop. There are patterns, but they seem to have little rhyme or reason. The theories have been numerous, but there is a strong feeling that the use of paraffin based oils by the machine shops plays a role. Can anyone share success stories about effectively removing such oils? Or, any other help related to this issue and getting rid of it would be appreciated.
Murray Ritland
---
First of two simultaneous responses -- 2006

I'm sorry my English isn't very good but I try
-Maybe it isn't problem of the oil but too much Brightener, and it is problem which you can find in Hull cell test (if you have too much brightener often you have blistering on details from barrel or hang system
-maybe this is problem with to low HCl before plating ( but I think -no)
-Maybe this is problem with too long time for digestion and you have hydrogen in surface
-maybe you have too much electricity for plating and some hydrogen from plating goes to surface
- often when details come from CNC (numeric centre) have this problem with surface

Best regards,
Mirek Rusin
---
Second of two simultaneous responses -- 2006

Paraffin based oils are very hard to remove with many typical cleaners/cycles. they are best removed by precleaning in a cleaner formulated for buffing compound removal. I would suggest that you check with your vendor, supply them with samples of the oils and parts and let them suggest the proper cleaner/cycle to use.

If you are using alkaline non cyanide zinc you should also be aware of the possibility of latent blistering from high brightener concentrations.

A third possibility is that your substrate is porous and you are getting relief from gas pockets or trapped oils.
Gene Packman
---
2006
Sounds like a brightener imbalance.

Once upon a time, I recommended the addition of a very large quantity of brightener to such a bath, because the salesman told me that I should be getting a "bright end to end Hull panel." (I was just getting involved in this plating business - what can I say?) The result was a complete disaster. Every part came out flaking and blistered.

The cure was 1) carbon filtration to help remove the excess 2) addition of large quantities of carrier/stress reliever and 3) establishment of a routine of careful Hull panel testing to add just the right amount (the minimum) of brightener required to get the parts looking right.

It is absolutely unnecessary to have a bright end to end panel to make parts that look like jewelry. With experience, you can tell from a 0.5 A and a 2 A panel what one of these alkaline non-CN baths need.

This was all some years ago, and the technology may have improved. But, I would still need to be convinced that one of these baths can ever be as easy to run as a cyanide bath. They're very labor intensive and take very close watching - of the different brighteners, the metal content, etc.

Dave Wichern
Consultant - The Bronx, New York
---
2006
This is called latent blistering due to following

1. Poor cleaning
2. brightener over dosing
3. Silicon killed steel

Check point 1 and 2 and point 3 Skip electro cleaner and pickle 10% conc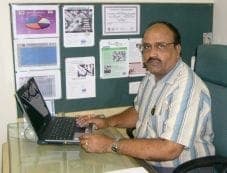 P. Gurumoorthi
electroplating process chemicals - Chennai, Tamilnadu, India