Where the world gathers for
plating, anodizing, & finishing Q&As since 1989
-----
Test to check clear for Iridite coating
TUTORIAL:
(to hopefully help readers more easily follow the Q&A's)
Aluminum is often 'chromate conversion coated' either as a corrosion resistant final finish or as a pretreatment for painting or powder coating. As with most metal finishing, the process actually involves many steps, usually including alkaline cleaning, etching, deox/desmut, the chromate conversion step per se, and water rinses between each step.
MIL-C-5541 / MIL PRF-5541 /
MIL-DTL-5541
[affil link or DLA]
is the most commonly cited specification for the process.
Alodine & Iridite are trade names of major suppliers of the process, so people sometimes refer to it as "Alodining" or "Iriditing". "Chem film" is another term for the process, used mostly in the USA.
Q. Is there a method to test if aluminum parts have been coated with clear Iridite?

Chem. or electronically
Joseph J. Maschin
Fort Lauderdale Florida
2006

Just trust the word of your plater ... kidding with you :-)

A. I don't think anyone has come up with any test for this clear Iridite verification.

How about conductivity test which is required in clear Iridite. But again this test itself does not tell you much from yellow to clear Iridite. I am only talking about my experience.

Thanks.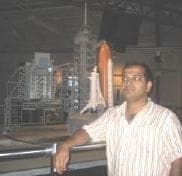 Hemant Kumar
- Florida, USA
A. Iridite is a trade name for generic chromate conversion coating for aluminum. Spot test kits are available from the supplier of the product. Also, non-proprietary formulations are available for detecting the presence of the chromate coatings.

Robert H Probert
Robert H Probert Technical Services

Garner, North Carolina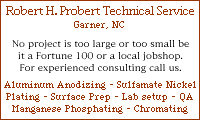 ---
Update Jan. 2022:

Chromating of aluminum was based on hexavalent chromium since its development many decades ago and, as Jeffrey implies, it is so strongly yellow/amber that it can be seen in contaminated wastewater at 1 ppm level, so if there's no color, there's no chromate. But as we've subsequently learned from new-generation trivalent chromating, you can have protection without that yellow/amber color as Robert asserts.

Due to the MIL-C-5541F development/acceptance of TCP (trivalent conversion process) in 2006, and its wholesale adoption in the 15 years since, hexavalent chromating is becoming increasingly rare, so we can probably say that it's no longer urgent to resolve the debate over whether hexavalent chromating on aluminum must be visible to work :-)

2006




A. "Clear" chromate coating is a myth. If there in NO color, there is NO coating. The color may be faint, but if there is a chromate coating, there will be color.

"Clear" chromate is as real as the Emperor's new clothes.




Jeffrey Holmes, CEF




Spartanburg, South Carolina






2006




A. MIL-C-5541 [affil link] Class 3 "clear" (but it does not have to be to meet the spec to the naked eye) will increase salt spray, indeed, is frequently required to pass 168 hours salt spray. It is not a myth. It can be unseen by the naked eye and you have to submit a drop test to prove that it is there.




Robert H Probert




Robert H Probert Technical Services





Garner, North Carolina